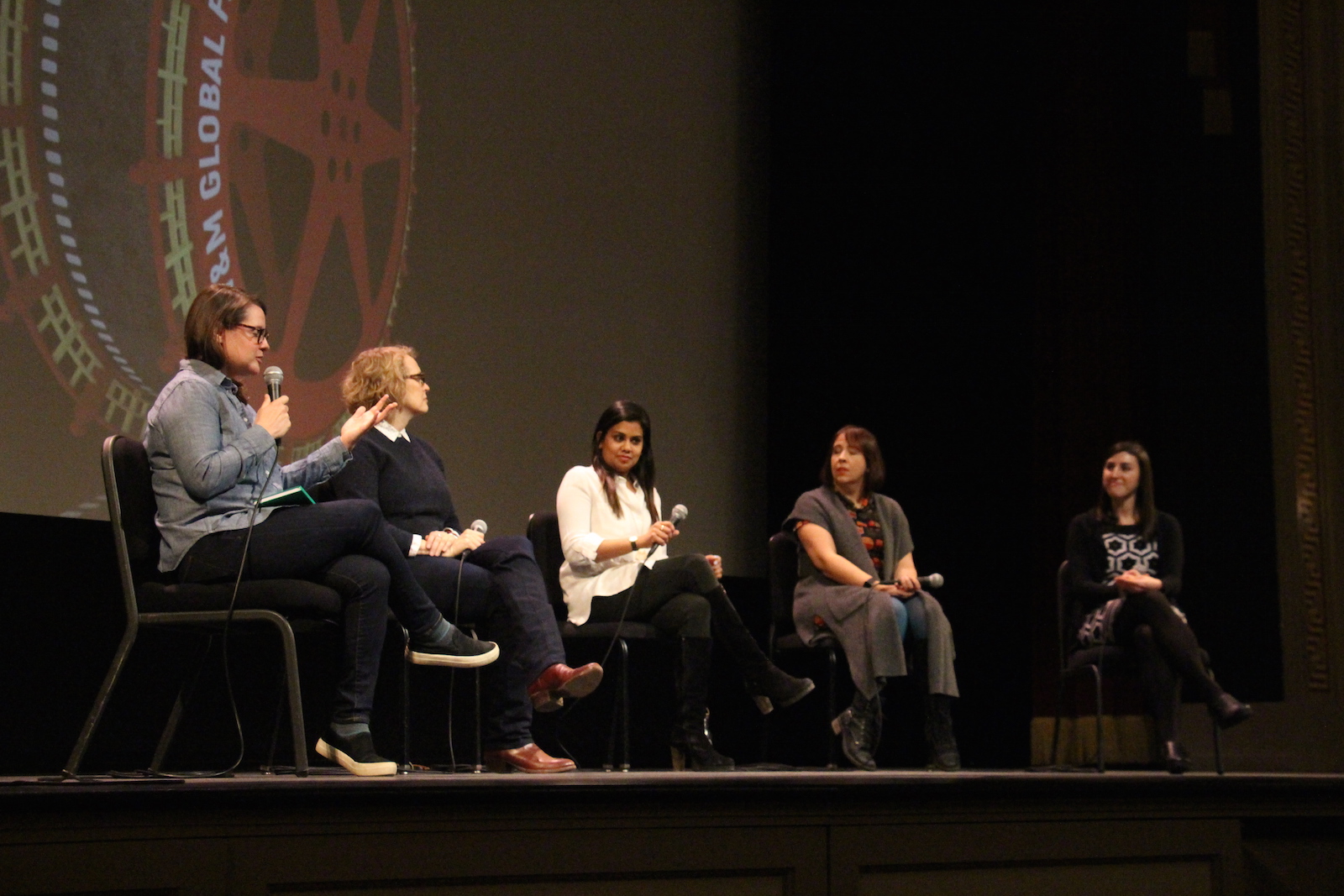 Although the 12th Annual W&M Global Film Festival was a showcase for the best of the film world, for 90 minutes on Feb. 2, the audience at the Kimball Theatre had television on the brain. Costume designer Kim Wilcox '88, comedy writer Jill Twiss '98, drama writer Chitra Sampath '06, and network creative director Kristin Boos '08 gathered for a discussion with Megan Gilbride '00 about their varied roles in the television industry. The group offered laughs along with advice for the spellbound audience.
Each of the women sketched out their often-winding paths into the industry. Wilcox, who designed costumes for the Netflix show "Stranger Things" and USA's "Mr. Robot," was the only one of the women who actually majored in theatre. However, she admits that while in college, she did everything except costume design, and only came to the craft through a chance encounter. Meanwhile, Boos, who works for TNT creating advertising and marketing campaigns for the network's programming, shared that she got into the field of television simply because watching TV was one of her favorite pastimes.
"I was a music major in college — I played the clarinet. Clearly that worked out for me," deadpanned Twiss, who is currently a staff writer for HBO's "Late Night with John Oliver" and the best-selling author of "A Day in the Life of Marlon Bundo." "I worked on Capitol Hill, thought about law school and I even became a stand-up comedienne, but I hated it when people clapped!"
Sampath, who currently writes for an as-yet untitled Aaron Paul vehicle on Apple TV, majored in operations and information systems and literary and cultural studies. After graduation, she moved to Los Angeles after college thinking she'd get into the business side of the entertainment industry. However, she started having second thoughts once she arrived.
"The business major had been for my mind, but the literary and cultural studies had been for my heart. Looking back I realize I moved to Los Angeles because I wanted to write," Sampath reflected. "It just didn't occur to me at first that someone who looks like me could do the job that I'm doing now."
Despite the disparate careers of all the women on the panel, they all converged on the vital importance of networking in securing the positions they held. Sampath confided that at one point she had eight roommates in order to have enough money for going out and making more contacts. Boos shared her strategy of setting up coffee dates with people in the industry, always making sure to come away with at least three more leads by the end of the meeting.
"That way, your trail never goes cold," she promised.
Ultimately, the women all agreed that William & Mary prepared them well to take on the entertainment industry.
"People who go to William & Mary are usually curious, driven and interested in many different things," said Twiss. "Do the research, show you're interested and don't give up. You will make it somewhere."