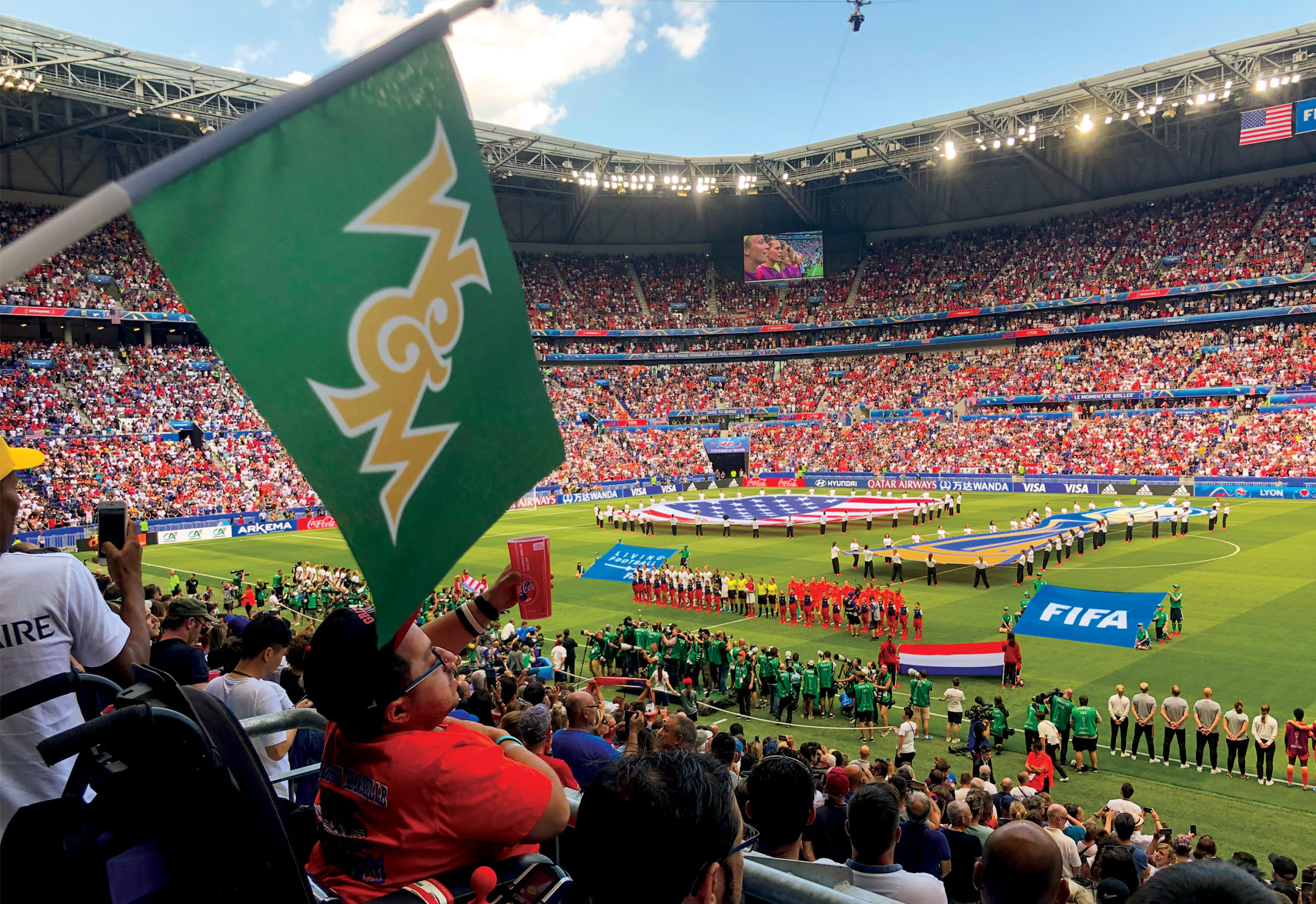 There are very few moments in our lives that give us the opportunity to be witness to history. For me, going to the 2019 FIFA Women's World Cup was one of those moments.
If being part of history wasn't enticing enough, the semifinal and final matches would be played in Lyon, a city that is known for its cuisine and gastronomy, in France, the land of wine and champagne.
Check, check and check.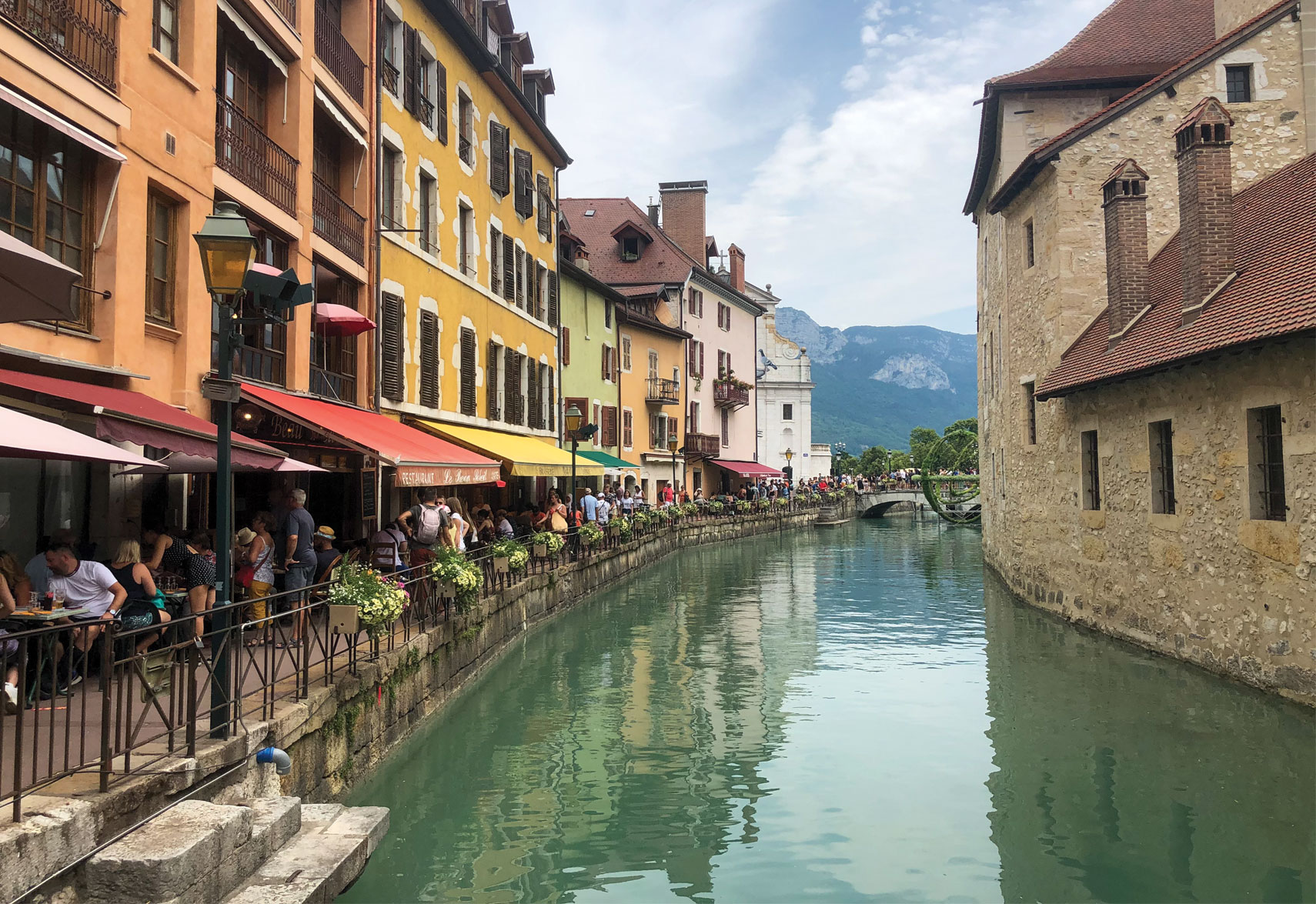 My first real meal in France was with Lily and Betsy, the daughter and wife of U.S. Women's National Team (USWNT) Head Coach Jill Ellis '88, L.H.D. '16. Lily was in charge of finding us a place to eat and that led to a walk in a rainstorm around the block for some sushi. I learned about their month-long jaunt from city to city throughout France and how enjoyable it was to get to know the friends and family of the U.S. National Team players. After dinner, we hopped into an Uber and went to a pre-semifinal game party. As we were about to enter the building, a fan grabbed Betsy's arm and said, "Make sure you read the name tags, Alex Morgan's family is in there!" Betsy smirked and replied, "Isn't that cool." Lily and I looked at each other and chuckled.
The whole place was decked out in all things USA, and at one point in the night the DJ played the national anthem and sparklers were lit — there wasn't a dry eye in the place. Pride was overflowing and everyone was game ready.
The next day I joined thousands of people who were walking to the tram station to catch the shuttle to the Parc Olympique Lyonnais. Despite the fact that it was three hours before kickoff, no one wanted to be late and miss a moment of the action, even if that action was watching field operators pick up clumps of dirt from the turf. The stadium was buzzing with fans from all over the world and joy was everywhere. Once the game began tensions rose and fell with each spin of the ball.
There wasn't a bad seat in the stadium, and from every angle, watching professional soccer players and their footwork was fantastic. All of a sudden there went a cross by Kelley O'Hara and finish by Christen Press — GOOOOOAAALLLLLL — the stadium exploded and then sighed in relief as we became one step closer to a World Championship. A later goal by Alex Morgan sealed the deal and the victory.
The next day I met up some of the Tribe crew also attending the games: Katy Neumer '07, former basketball player, Meg Barber, a former basketball coach at William & Mary and current head coach at New York University, and one of Katy's best friends, Natalie Patton. We rode around Lyon on electric scooters, doing our best to not get hit by cars or scramble our brains by riding over cobblestones.
We started our day at Les Halles de Lyon Paul Bocuse, a "13,000-square-meter indoor market of regional delights" and enjoyed house wine, escargot and oysters. Meandering through the market only made us hungrier, seeing cases of cheese and meats arranged beautifully. We continued to zip about and stepped into a shoemaker's store and other neighborhood boutiques. Before we left for semifinal game two, we walked up the seven stories of stairs to Katy's Airbnb to catch a view of the Cathédrale Saint-Jean Baptiste, a quick change and a toast of course!
This time at the stadium the experience seemed very different. First off, getting there by subway was sweaty. Have I mentioned that there was a heat wave? Certainly not a problem if the place you are staying has air conditioning and there was no one else in the city. Both were not the case.
One hundred and twenty-eight minutes. That's a long time. Luckily we decided to only stay for half and watched the overtime game from the comfort of a local Lyon restaurant.
The final was now set: USA vs. Netherlands. But I would have to wait four days.
During that time I was able to live like a Parisian: I ate duck, lamb and rabbit, visited the lake city of Annecy and drank local champagne.
Now back to the main event. With the earlier game time and the fact that it was Sunday, many fans were in their game-ready gear, looking for something to do.
The game atmosphere was beyond bubbling and then I saw Jill. Jill was cool, calm and collected and I was bursting with happiness. This is the day she had been working for, fighting for. Today was the day.
The game was intense from the onset, and to add to the drama, goals would not be scored until the second half. Nail biter. Rapinoe penalty kick, clutch. Now victory within reach, and then Rose Lavelle twinkle-toes her way through the midfield and adds the cherry on top.
I believe this to be true about Jill and in my story as well: We are audacious. In our own hearts we are driven to make an impression on the world in our own way. We take refuge in our work. From the outside people might question what we are doing or how we are doing it, but in the end our success shows and we are not surprised.
And that is exactly what it felt like when the final horn sounded. There she was, embracing staff and players, goal accomplished — actually, goal crushed. During her time as head coach she has reimagined and reconfigured the USWNT while winning eight tournament championships and letting each team and those members be true to who they are.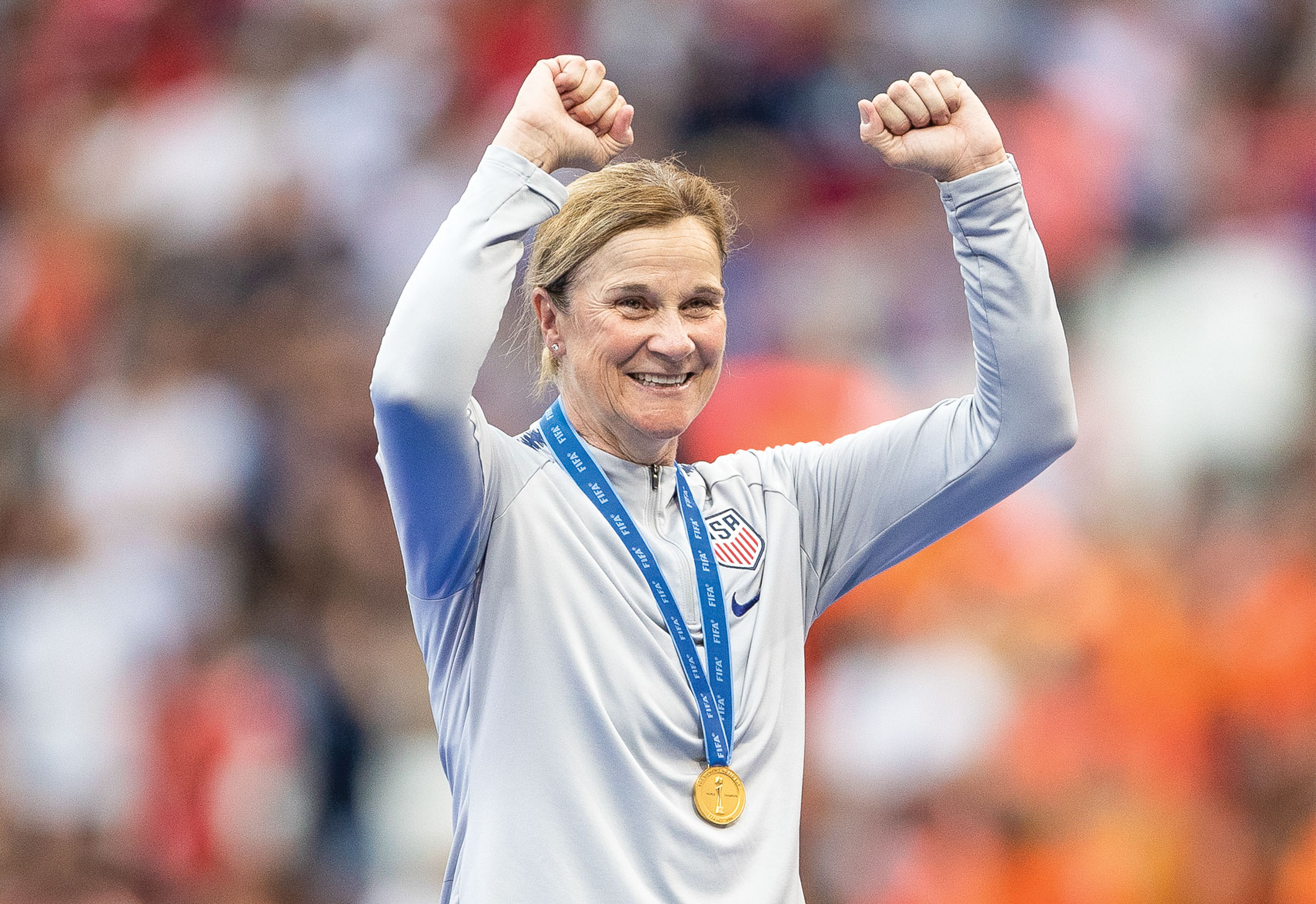 In times such as these we need more leaders like Jill. She is a model for everyone. She is hard working, courageous, persistent and a brazen member of our Tribe.
On July 7, I watched Jill and her team being crowned as world champions yet again, with a smile and the knowledge that as William & Mary graduates we can take on the world ... and win.
Over the past decade, Martin has spent her professional career in college athletics as a student-athlete, coach and administrator. Originally from California, Julia has worked up and down the East Coast over the last 10 years. She holds a B.S. in kinesiology with a minor in art from William & Mary and an M.S. in organizational dynamics from the University of Pennsylvania. On her best day she stands tall at 5'1''.