Football started at William & Mary in 1893 through the efforts of two students: Charles L. Hepburn, who established an athletic association on campus and organized the team, of which he was the quarterback and coach; and Harry Gass Humphreys, who captained the team. Three games were played, none against other universities.
The first football field, which was used through 1907, ran on campus-owned land alongside Richmond Road in the area where Monroe Hall stands. At that time the first Cary Field, primarily a baseball field with old bleachers seating 500, was used for football and situated where Blow Gym was later constructed. In the late 1920s Cary Field moved to where Bryan Hall now stands and, finally, in 1935, the present site for Cary Field opened. W&M played many of its home games in Richmond and Norfolk in the years prior to 1935.
One interesting side note: on September 24, 1927, lights were installed at Cary Field for the first college football night game on the East Coast. A 12-0 loss to Catholic University, the game attracted a then-record crowd of 6,000 fans. Night games continued until the opening of the new Cary Field in 1935.
W&M's first game against a college team was in 1894, a 28-0 loss to Hampden-Sydney. Its first intercollegiate win came in 1898, a 5-0 victory over Randolph-Macon.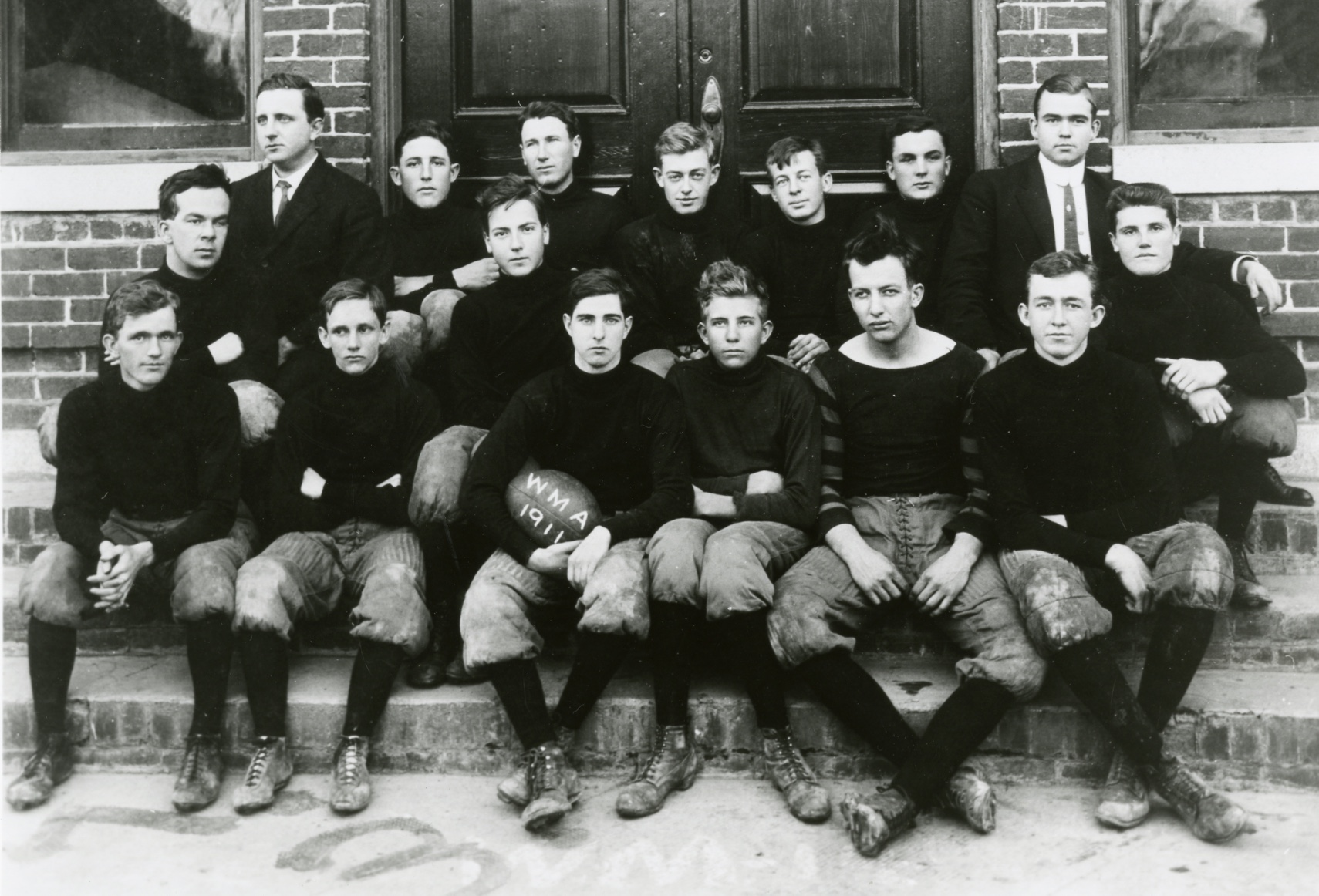 William & Mary's initial outstanding team was the 1926 edition, which won the Southern Intercollegiate Championship. The squad went 7-3 and won a post-season game at Chattanooga 9-6. Art Matsu, the Tribe's All-East quarterback, won the game on a last-minute 47-yard dropkick field goal. Matsu was truly the first big star for the Tribe and one of the first prominent Japanese-American football players in the country. Despite his small stature (5'6", 150 pounds), Matsu was an outstanding all-around player who impacted every phase of the game. He shared the spotlight with Melvin "Meb" Davis, who, as a receiver, caught many of Matsu's passes and made All-State teams for two years.
Two outstanding coaches, Branch Bocock (1928-30) and John Kellison (1931-34), were at the helm for the Tribe during eight-year period when W&M fashioned a 40-18 record (with an additional five ties). Those teams were led by W&M Hall of Fame players like halfback Clarence "Red" Maxey, lineman Otis "The Reedville Strong Boy" Douglas and halfback Billy Palese. Palese had a famous six-touchdown game, in which he reportedly carried the ball just seven times, in a 95-0 rout of Bridgewater in 1931. The six rushing TDs remain the W&M single-game record.
The biggest win of the era came during the 1932 season in the form of a 6-0 upset win over Navy at Annapolis. The decisive touchdown came courtesy of a 19-yard run by the 5'9", 165-pound Palese. It was the first win over a major Eastern football powerhouse by the Tribe and had such an impact it was front-page news in the sports pages of the New York Times and Washington Post.
The Voyles and McCray Eras
W&M football changed forever with the arrival of head coach Carl Voyles in 1939 and his successor, Rueben "Rube" McCray in 1944. Both recruited some of the greatest players and produced some of W&M's greatest teams during their coaching tenures. Voyles amassed a 29-7-2 record during his four years (1939-42) and McCray a 45-22-3 mark in his seven seasons (1944-50), playing against a major college football schedule.
Voyles recruited a fabulous freshman class that included all-time Tribe greats like guard Gerrard "Buster" Ramsey, center Tex Warrington, end Glen Knox, tackle Marvin Bass, fullback and placekicker Harvey "Stud" Johnson, back Jackie Freeman and end Al Vandeweghe.
As almost every player did back then, they played both offense and defense.
Ramsey, W&M's original First-Team Associated Press All-American, is in the College Football Hall of Fame and is considered by some as one of the greatest guards ever in Tribe football history. He teamed with his co-lineman, the formidable Marvin Bass, also a Phi Beta Kappa, to anchor one of the finest W&M defenses.
The pair sparked the Tribe's exciting 1940 Homecoming win over an undefeated University of Virginia squad. UVA was led by its all-time All-American running back, Bill Dudley. Ramsey and Bass were credited with creating havoc in the UVA backfield all afternoon and held Dudley to minimal rushing yardage to spark the signature 13-6 win.
Voyles' 1942 powerhouse team won 10 games, tied one (a 7-7 game at Harvard) and lost one (14-0 to North Carolina Pre-Flight, an NFL-loaded military all-star team). W&M won the Southern Conference Championship, the school's first, and recorded wins over Oklahoma (14-7), Navy (3-0), Virginia Tech (21-7), Dartmouth (35-7) and Richmond (10-0) and ended up the season ranked 10th in the nation.
In his four seasons, Voyles never lost to a major in-state opponent, winning nine and tying one. He left in 1943 when William & Mary did not field a football team due to World War II.
McCray continued to recruit outstanding talent to Williamsburg when he assumed the head coaching position in 1944. He brought in no less than a dozen eventual William & Mary Hall of Fame players (Fullback/DB "Flyin" Jack Cloud, end Bob Steckroth, center/lb Tommy Thompson, HB Tommy "The Kid" Korczowski, halfback "Jumping" Jack Bruce, ends Vito Ragazzo and Lou Hoitsma, guard George Hughes, tackle Lou Creekmur, QB/P Buddy Lex, halfback/DB Tom Mikula and guard Knox Ramsey).
Cloud was the team's poster boy. He rose to national prominence and his photo appeared on the front cover of Street & Smith's annual Football Magazine. Cloud was a relentless, powerful fullback. Mikula, his blocking back, once told me Cloud would "literally run right over me if I was in the way." Cloud was part Cherokee, which was natural publicity for a team called the Tribe. He scored 45 touchdowns for W&M in what amounted to his three seasons (he was injured most of his final year in 1949).
In 1949, Lex connected with Ragazzo for what was at the time an incredible 15 TD passes. The figured established an NCAA Division I record for many years and, remarkably, STILL stands as the school's single-season mark.
Eight players from the 1946-49 teams played in the NFL with Creekmur, eventually earning pro football's highest honor: election to the NFL's Hall of Fame.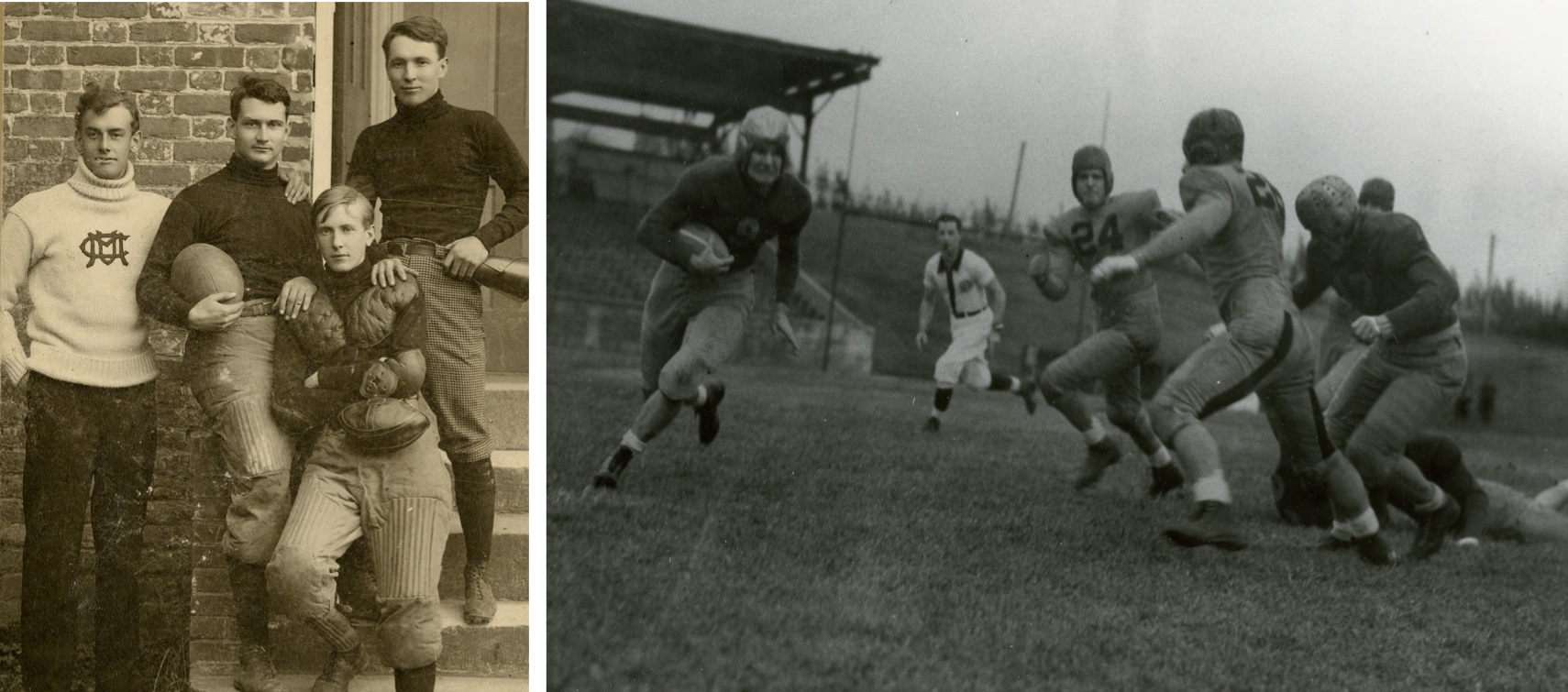 Three games stand out among McCray's 49 wins. In 1946 at Cary Field, his 49-0 thrashing of a very good Virginia Tech team signaled the Tribe was a program on the rise. A year later, in 1947, Cloud and Lex powered another statement win, this time a 21-0 domination of a previously undefeated and fifth-ranked Wake Forest. The shutout win powered W&M to the Southern Conference Championship that season. And in 1948, W&M faced an undefeated and second-ranked North Carolina squad, led by All-American Charlie "Choo-Choo" Justice, in Chapel Hill. The two teams represented the best the Southern Conference had to offer and W&M shocked the heavily favored Tar Heels by scraping out a 7-7 tie. The Tribe defense was able to contain the explosive playmaking of Justice, while Hoitsma caught a pass to tie the game. The Tribe came tantalizing close to an upset, as it intercepted a Justice pass late in the game and returned it 80 yards to the UNC 10-yard line, but time ran out before William & Mary could line up for the game-winning attempt.
The 1947 and 1948 squads each played in bowl games. The 1947 unit played in the Dixie Bowl in Birmingham, Alabama, and fell in a hard-fought 21-19 contest against the University of Arkansas. In the 1948 post-season game William & Mary thrashed Oklahoma A&M (now Oklahoma State) 20-0 at the Delta Bowl in Memphis, Tennessee.
McCray resigned after the 1950 season due to a major recruiting scandal that involved high school transcripts and was replaced by his former lineman, Marvin Bass. Bass coached just one year, winning seven of 10 games in 1951, and was followed by another former player from the Voyles/McCray era: Jackie Freeman.
The Iron Indians
Freeman was also athletic director for W&M and his ability to win was hampered by the aftereffects of the scandal, low financial support and few scholarships, despite continuing to play a major Southern Conference Division I schedule.
Jackie had one remarkable season during his six years as head coach, the famed 1953 "Iron Indians" squad that is now part of the program's legend.
In that year, playing with just 24 men on the squad against another major schedule, the team posted a 5-4-1 record. Wins included a 16-14 upset of Wake Forest at the Tobacco Bowl in Richmond, a 7-6 triumph at NC State, and a 21-0 pasting of Richmond. But the highlight was a 6-6 tie at Navy, a game that drew tremendous national attention as the undermanned Tribe battled a heavily favored Midshipmen squad. Receiver Tommy Martin took a pass from quarterback Al Grieco for the tying score in the fourth quarter.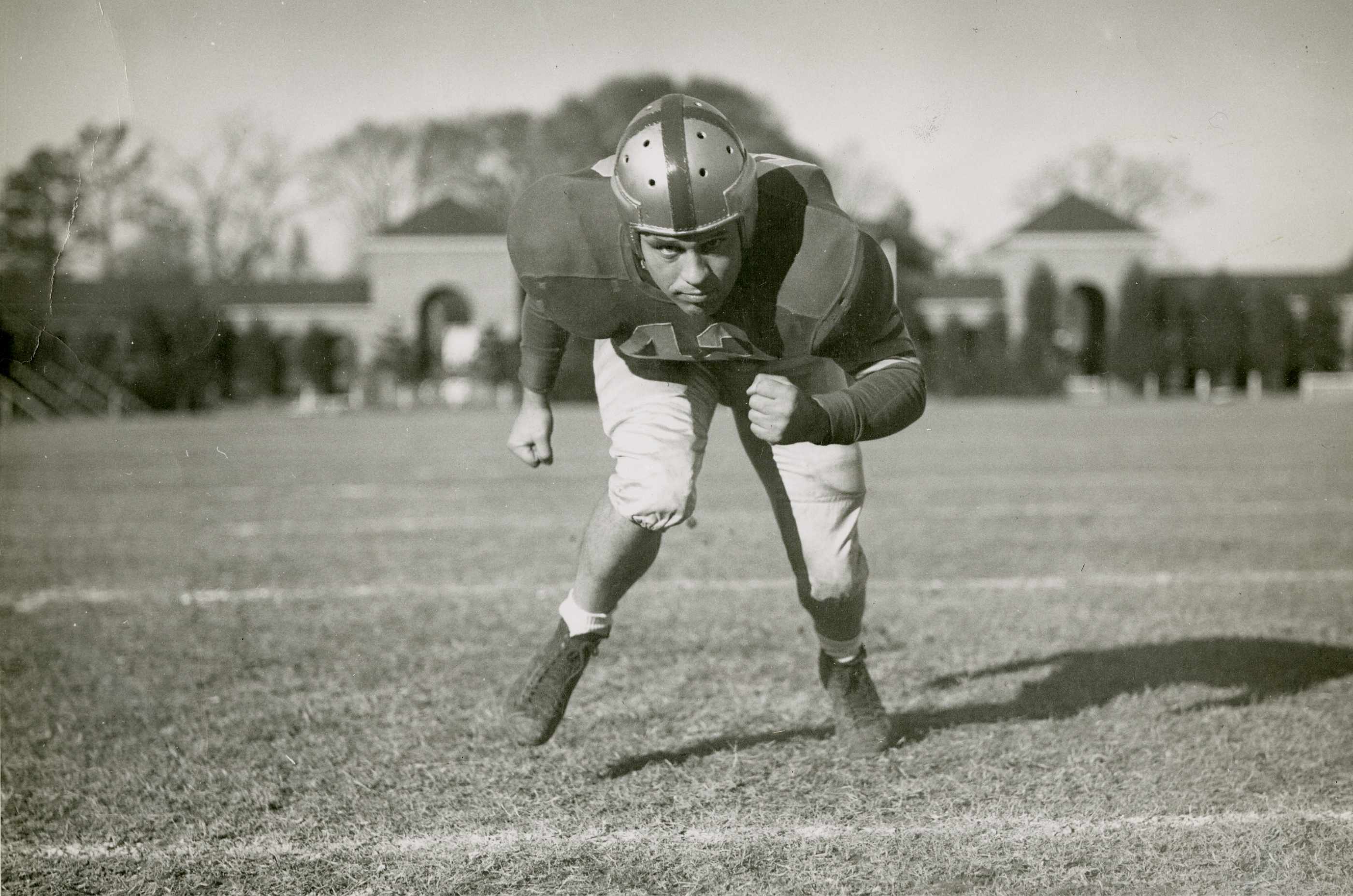 The game was featured in the next week's issue of Life Magazine.
During the team's final three games, all losses, they dressed as few as 18 men, injuries having knocked six players out of action. A recruit from the student body who had never played a game of football, John Risjord, was playing by that time.
Two players on that team went on to NFL careers: the multi-talented Charlie Sumner and fullback/DB Bill "Bullet" Bowman. Sumner went on to play six years in the NFL and was long-time NFL defensive coordinator who won three Super Bowl rings, while Bowman started for two NFL Champion Detroit Lion teams as fullback.
However, victories were hard to come by in the ensuing years as financial support remained at low ebb. Freeman left after the 1956 season and was succeeded by Milt Drewer. Drewer had sporadic success before he left after the 1963 campaign.
In his first season, 1957, the Indians had a sensational upset of then-undefeated No. 10 North Carolina State, 7-6 in Raleigh. The game was the Wolfpack's only loss of the regular season. Entering the game as three-touchdown underdogs, William & Mary scored in the fourth quarter and the Tribe's quarterback, Bob Hardage, kicked the winning extra point even though he hadn't attempted one since high school. The team's defense, led by end Larry Peccatiello, stifled the Wolfpack's explosive offense in recording the upset.
The Levy Years
The 1964 season saw the dawning of a new era, as then-William & Mary president Davis Y. Paschall took a chance with the hiring of Marv Levy. The gamble paid off big time. Levy came to W&M from the University of California with added financial dollars behind the program and brought with him a knack for recruiting, a passing-oriented offense and a personality that worked well with alumni and the media. He also recruited top assistants like Larry Peccatiello, Augie Tammariello and Lou Tepper to his staff.
A Phi Beta Kappa graduate of Coe College with a master's degree in history from Harvard, Levy perfectly fit his football program into the academic rigors of William & Mary.
Levy, of course, went on to great heights with the NFL's Buffalo Bills, guiding his team to a record four-consecutive Super Bowls. During his five seasons at W&M, Levy reinvigorated the program and, while not developing championship teams, posted some terrific victories — including the greatest upset in W&M's annals, which recharged the program.
His teams won games over Southern Miss, Villanova, Ohio University, East Carolina, Temple, VMI in the Tobacco Bowl, tied a very strong West Virginia team and pleased alumni with three wins over Richmond. 
However, the game that defines Levy at William & Mary and forever earned him fame in Williamsburg occurred on October 21, 1967, at Navy. The Midshipmen were ranked No. 1 in the East and fifth nationally. The Midshipmen were coming home after major wins over Syracuse and Michigan and were heavily favored over the Tribe.
W&M, trailing 16-0 with 15 minutes to play, scored 27 consecutive points to shock the football world, 27-16. (Note: this writer and my wife Marsha were at this game. We were so energized by not only the win, but how we won it, that we and another W&M couple, Polly and Dick Rowlett, drove a car through Academy ground, honking the horn repeatedly ... how we were never stopped and thrown out or arrested I'll never know!)
W&M's quarterback, Dan Darragh, led the comeback with several TD passes including the winning score with four minutes remaining — a 55-yard toss to the smallest player on the field, 5'7" 155-pound halfback David Slotnick. The Tribe defense, led by linebacker Adin Brown (who had blocked one Navy punt) stopped Navy cold in the fourth quarter as the Middies failed to move the football effectively.
It was the lead sports story on television that night and the lead in all the Sunday papers. The Flat Hat come out with a special edition and the entire student body, President Pascall, and perhaps half of Williamsburg greeted the team when it returned to campus that evening.
The allure of the professional ranks powered Levy's departure from W&M after the 1968 season, but he always cites William & Mary as one of the great experiences of his life. "The College," he told me several years ago, "is a wonderful university … we had smart and dedicated young men and I am always excited to return to the school."
Holtz's Teams
Levy's successor was another eventual Hall of Fame caliber coach, Lou Holtz. Holtz came to Williamsburg from Ohio State. Holt's diminutive appearance hid a fiery and passionate leader. Holtz brought his new version of the triple option offense to Cary Field and it flourished for three seasons under his mentorship.
His three teams (1969-71) played high-scoring close games with major powers and did well within the Southern Conference, including a championship in 1970 that earned the Tribe a Tangerine Bowl invitation to Orlando, Florida. That team won the title with two remarkable comebacks in its final two conference game: a 29-28 win at Davidson on a field goal with 14 seconds remaining, and a last minute 34-33 win at Richmond. The Richmond remains memorable in Tribe gridiron history, as Steve Regan threw a 12-yard TD pass to a future Tribe Hall of Fame receiver David Knight to secure the victory.
Holtz had some excellent players along with Regan and Knight: guard Jackson Neale and fullback Phil Mosser were All-Southern players. Holtz also recruited and signed defensive back Warren Winston, the first African-American scholarship football player at William & Mary.
The ambitious Holtz left after the 1971 season for the head coaching job at N.C. State, and a new college president, Thomas A. Graves, succeeded Davis Pascall and hired Jim Root, a former head coach at New Hampshire. Root coached for eight years, and worked through a challenging time for the Tribe's program. Still, Root produced some impressive wins over teams like UVA, Navy and twice over Virginia Tech. His eight years at W&M was the longest tenure as head coach for any Tribe coach up to that time.
But after Root left in 1979, a new era launched — the Jimmy Laycock era.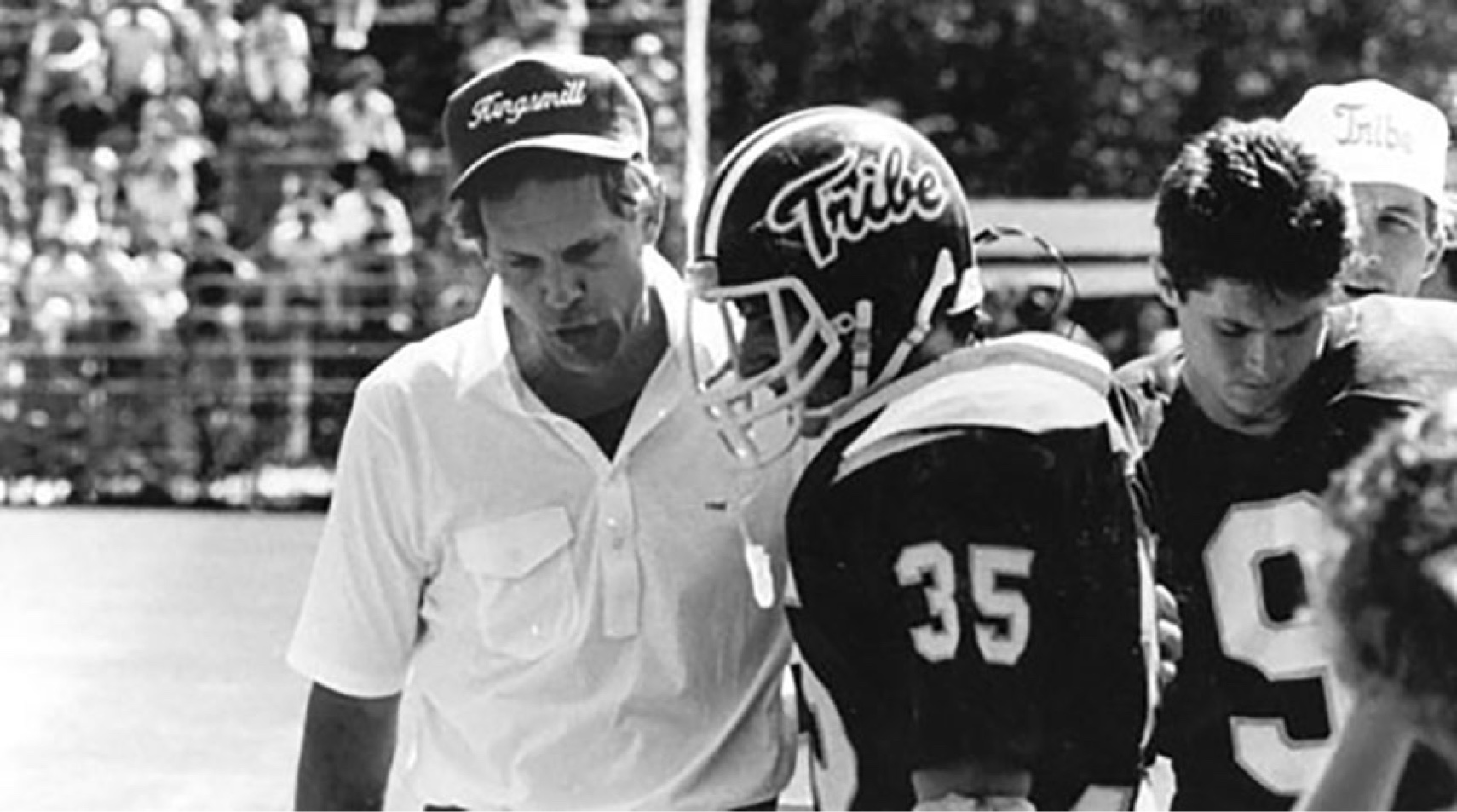 1980-1999
The Start of the Laycock Era
A new and far brighter era of football at William & Mary began with the hiring of Jimmye Laycock as the school's head football coach for the 1980 season. Laycock, a 1970 graduate of W&M and a Virginia native, became the first alumnus to coach the team since Jackie Freeman back in the 1950s.
A quarterback under Marv Levy and Lou Holtz at W&M, Laycock returned to Williamsburg after successful assistant coaching stints at The Citadel under Bobby Ross and offensive coordinator of outstanding Clemson teams. He brought with him a wide-open offensive system and an ability to recruit intelligent, talented players. And despite a paucity of talent upon his arrival and depleted financial support, he quickly showed Tribe fans that he could win with his entertaining, sophisticated schemes. Additionally, Laycock's style of play began to attract top talent to his program.
The decade of the 1980s became the first winning decade at William & Mary in 40 years, dating back to the 1940s, as his teams won 57 games, lost 53 and tied 2. The program became more than competitive against state and Southern Conference opponents and produced several outstanding upsets over big-time teams. Alumni support, fan and student enthusiasm all rekindled with the start of the Laycock Era.
He was just 31 years old when he coached his first squad at W&M in 1980, making him the youngest head football coach in Division I football at that time.
His first year was difficult, with just three wins; but even then there were indications of future success. His first win came on Oct. 11, 1980, in a comeback home victory over Dartmouth. The Tribe fans discovered an exciting new quarterback in Chris Garrity. Just a week later, his team recorded an upset road win over a nationally regarded Rutgers squad 21-18.
Down 10-7 at halftime, W&M rode the passing of Garrity, who connected with WR Ed Schiefelbein for a crucial score and defensive end Paul Tyner's two interceptions to power the improbable win.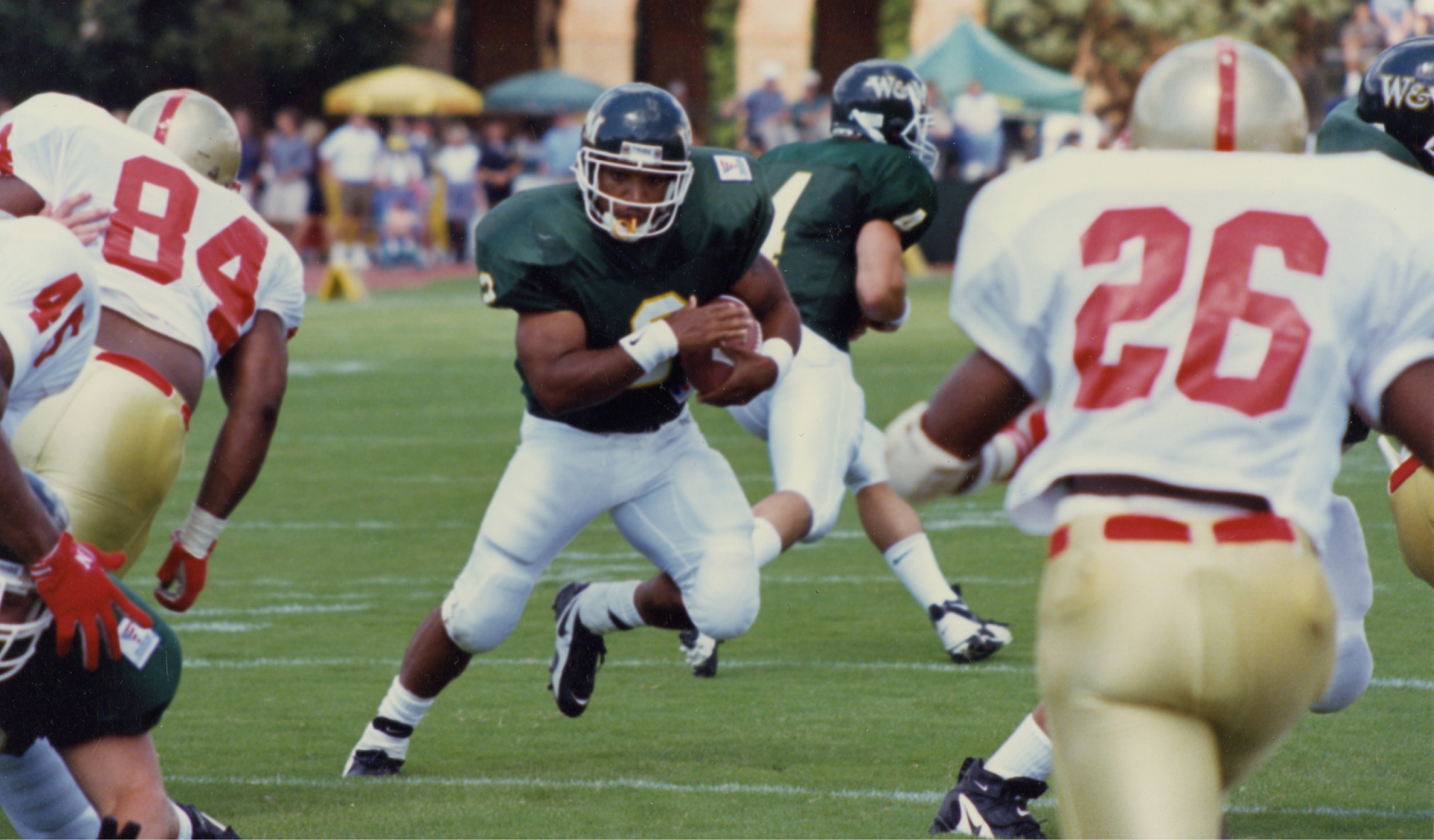 The standard for winning under Laycock really arrived during the four-year group of teams between the 1983-86 seasons; these squads strung together a winning record of 28-17, the first winning stretch of this kind since the great W&M teams of the 1940s. This cohort featured W&M Athletics Hall of Fame standouts like WR Kurt Wrigley, DB Mark Kelso, OT Archie Harris, RB Michael "Pinball" Clemons, LB Dave Pocta and QB Stan Yagielllo. Yagiello, from Livingston, New Jersey, established the standard for nearly every passing record in the school's annals. Clemons, just 5'5" and perhaps 165 pounds, had a sensational year in 1985, earning a first-team All-America with 714 yards rushing, 12 TDs and 70 pass receptions. Kelso went on to play in four Super Bowls as defensive captain of the Buffalo Bills. Harris made every All-American team for two of those years; at 6'6" and 270 pounds he dominated defensive opponents.
A memorable victory took place in the 1984 season, a 23-21 win at No. 8 Delaware, the first win over a Blue Hen team since 1923. This game featured one of the great endings of a Tribe game. With the Tribe trailing 21-17 with just over a minute remaining, Yagiello helped fashion a 70-yard drive. Facing a fourth-and-one on the Blue Hens' 18 and with just seven seconds remaining, he scrambled away from several defenders and found receiver Jeff Sanders in the end zone with no time remaining on the clock.
The 1985 team also defeated Delaware 17-16 on a last-minute touchdown; Harvard for the first time 21-14; Princeton 33-28; and played in a wild 28-14 win over Richmond. That Richmond game saw one of the more incredible scenes ever at Cary Field; it was, remarkably, Homecoming despite the late November date, and, with 18,000 fans shoehorned into Cary Field, the William & Mary faithful pulled down the goal posts after the victory. The squad finished the season 7-4 and earned a No. 15 national ranking.
But perhaps the best team of the decade came along the next season, in 1986. The group was led by a transfer senior quarterback from UVA, a lanky 6'4" 190-pound athlete named Ken Lambiotte. Lambiotte came out and established himself immediately in the season opener by throwing three touchdowns for 303 yards in a 42-21 romp over Colgate.
Clemons was back for his senior year as was the imposing Archie Harris, playing his final year while attending W&M Law School. Arriving with this team was an unknown freshman kicker from Canada named Steve Christie, who went on to set every Tribe field goal record and eventually played 15 years in the NFL. Linebacker Dave Pocta, who set school tackle records, was one of the Tribe captains, along with Clemons and Dave Szydlik. And a fine receiver, Harry Mehre also arrived with this team.
W&M shut out Harvard 24-0 in Williamsburg and followed with a 44-34 wild win at Lehigh that featured a flea flicker touchdown pass thrown by Clemons to Mehre.
The season was highlighted by an impressive 24-18 road win against a Rich Gannon led Delaware team. The profile victory vaulted William & Mary to No. 3 in the nation, and the match-up of the elite quarterbacks saw Lambiotte outplay the future NFL starter by throwing three TD passes.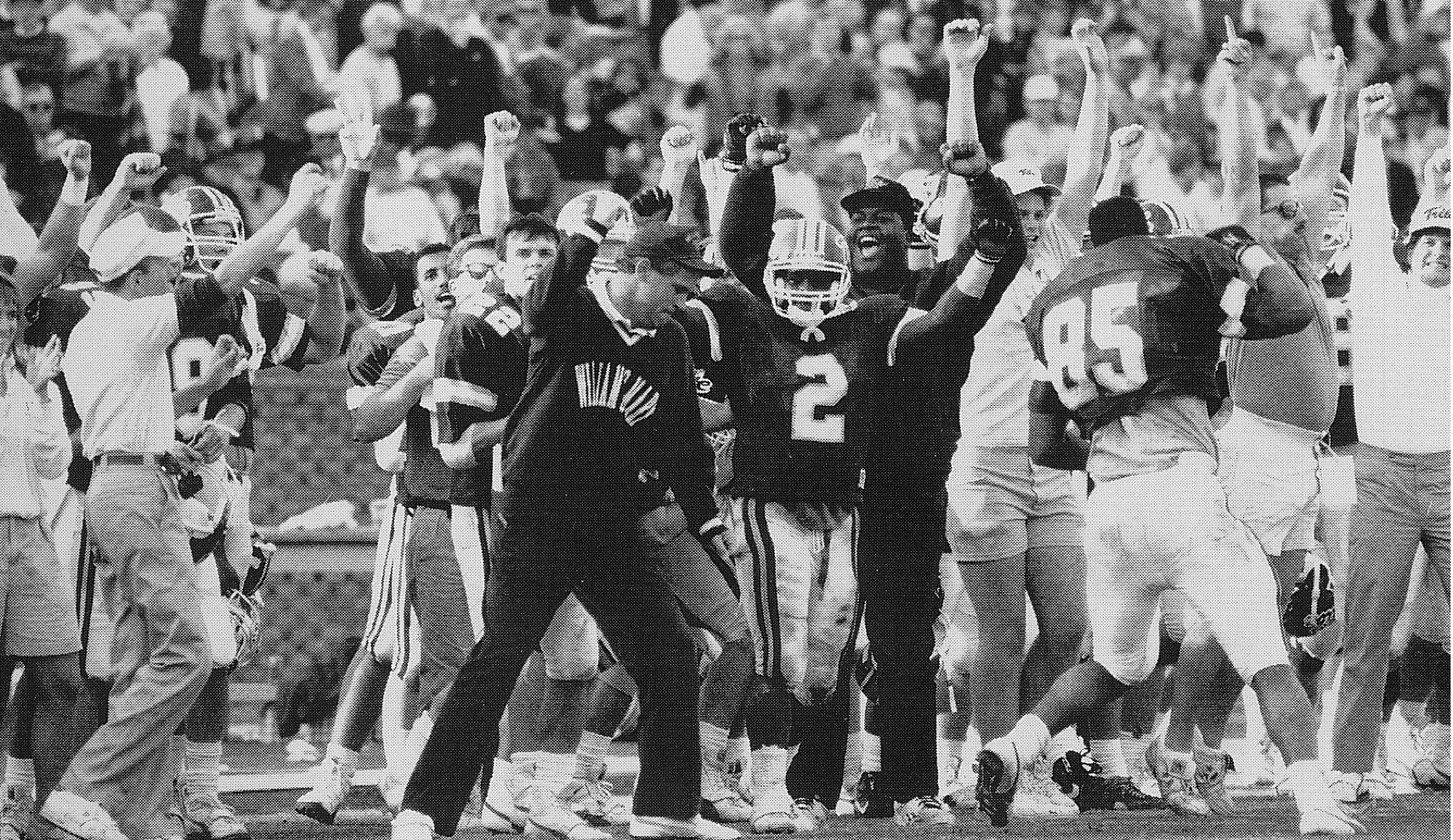 A close loss to JMU followed, but the Tribe rebounded the following week on Nov. 1 at UVA's Homecoming in Charlottesville. Lambiotte's talents were never better showcased, as he led the squad to a remarkable 41-37 upset of Virginia before 40,000 stunned fans. It was a statement win for Laycock and the program, with Lambiotte being named as Sports Illustrated's NCAA Player of the Week for throwing for three touchdowns (and 307 yards) and running for an additional pair of scores, gaining some sweet revenge over his old team. Christie also contributed two clutch field goals for the Tribe.
After beating Richmond, the team qualified for the I-AA Playoffs but was routed by Delaware in the rematch. No doubt, however, this team, with a 9-3 mark, was a great Tribe team and an exciting one to watch.
With major graduation losses from the roster, records in 1987 and 1988 suffered some, but Laycock showed William & Mary could remain very competitive while rebuilding in posting 5-6 and 6-4-1 records against very tough schedules.
The 1987 season was highlighted by another upset, this time at Annapolis — a convincing 27-17 defeat of Navy, 20 years after the legendary upset of the Mids in 1967. The Tribe led 27-0 at halftime, silencing the Mids and the stadium. Junior quarterback John Brosnahan led the offensive effort. Brosnahan was another of Laycock's talented quarterbacks and passed for 17 touchdowns and more than 2,000 yards during the season.
In 1988, the team's winning record reflected the restocking of talent with players like a new quarterback, Craig Argo, an exciting new back in Robert Green, another exciting ball carrier in fullback Tyrone Shelton, veteran receiver Mehre, kicker Christie, and a terrific offensive lineman, Scott Perkins.
The 1988 season was capped, however, by William & Mary's post-season bowl appearance in Tokyo at the Epson Ivy Bowl to play a team of Japanese all-stars. Played on Jan. 9, 1989, and nationally telecast back to the United States, the game was arranged by W&M grad, Mark McCormack, the famed sports agent, to promote a sports-culture exchange between the nations. W&M won, as expected, 73-3, as Robert Green starred with 106 yards rushing. It was so successful that W&M was invited back after the 1992 season.
The 1989 season resulted in the second of the two exceptional teams of the decade, an 8-3-1 squad that defeated teams including Colgate, VMI, Boston University, JMU and Richmond.
Shelton and Green, with combined career rushing totals of more than 6,000 yards (Green - 3,543 and Shelton - 2,534), ran over and through opponents and formed one of the most imposing 1-2 running duos in school history. Argo had his best season, and receiver Alan Williams, along with Green, gave opponents fits with their playmaking abilities. Christie set Tribe field goal records, defensive end Alan Garlic and the great offensive guard Reggie White made many All-Conference and All-American teams.
The Delaware game again provided a thrilling highlight, another come-from-behind effort, with Christie's 53-yard field goal in the final quarter providing the winning points. Christie again provided a big win, with three field goals to help defeat JMU 24-21.
The team defeated Richmond in the final regular season game, winning 22-10 at Cary, as the defense smothered the Spiders' nationally ranked offense. This team garnered W&M's second I-AA playoff invitation and earned a trip to play at the defending National Champions, Furman. Once again, the team was defeated, this time 24-10.
But, playoff loss aside, it was a wonderful season for the Tribe. Many predicted that the wealth of talent Laycock was bringing in promised even better days ahead. This proved an accurate prediction as W&M Football continued to soar in the 1990s.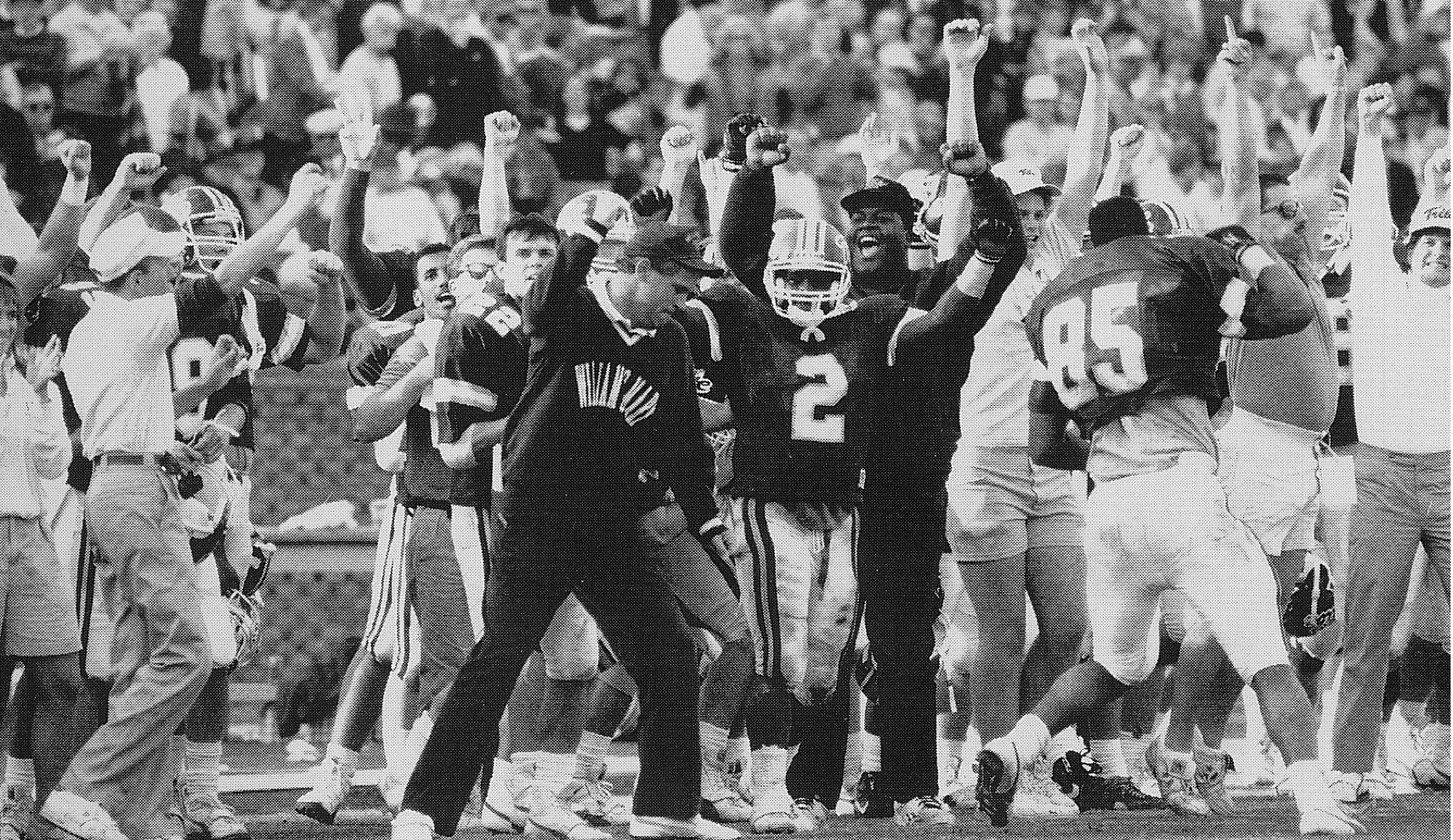 The Nineties
Jimmy Laycock's second decade as Head Football Coach of William & Mary was among the finest in the 125 years of the game in Williamsburg. His teams, sparked by a high scoring offense featuring great quarterbacks, receivers and running backs, won a record 78 games 1990 through 1999 — losing just 37. Solid defenses rescued several key games when the offense faltered, featuring some remarkable defensive backs, linebackers and defensive ends.
It included the first conference championship for the Tribe since 1970, as the 1996 squad won the Yankee Conference Championship in what turned out to be that particular conference affiliation's final season.
The started the decade on a high note, fashioning a 10-3 season that included big wins over JMU (31-21), Richmond at home (31-10) in the 100th game between the two rivals, and a huge win over defending FCS champion Furman, 38-28 at Homecoming. Invited to the I-AA Playoffs (now known as FCS), the team walloped the University of Massachusetts 38-0 at Zable Stadium in the opening round.
The following week, a playoff game at powerful Central Florida, W&M led 28-24 at halftime, but CFU stormed back in the second half to win 52-38 in a wild offensive battle.
The 1990 team featured one of Laycock's most dynamic attacks; the Tribe scored 30 or more points 11 times and was equally dangerous throwing or running the ball.
Quarterback Chris Hakel led the Tribe all season, completing 245 passes. One of W&M's greatest backs, Robert Green, had a great junior season, running for 1408 yards. Another Tribe HOF running back, Tyrone Shelton, ran for 1082 yards.
Hakel finished his Tribe career with 43 touchdown passes.
Three Tribe performers made All-American: the marvelous offensive lineman Reggie White made every team and Green also made several AA squads.
Two three-year periods were especially remarkable: the 1992-94 squads went 26-8 and the 1996-98 team won 24 and lost 11. They were stocked with many All-American and All-Conference stars and both three-year powerhouses recorded some major upsets and last minute key victories.
The 1992-94 teams, which went 9-2, 9-3 and 8-3, were led on offense by a supremely athletic and savvy quarterback named Shawn Knight, who set and still holds the NCAA record for passing efficiency. His rare combination of speed, accuracy and command saw him complete .694% of his career pass attempts.
Knight had a bevy of standout Tribe receivers: Corey Ludwig, an elusive receiver with glue for fingers, who caught 140 passes for 2,349 yards; and the now famed coach of the Steelers, Mike Tomlin, who snared 20 touchdown passes, gained 2,054 yards, and still holds the W&M mark for most yards per catch at 20.1 yards.
During this run, the Tribe had an electric tailback combination of Derek Fitzgerald and Troy Keen. Fitzgerald, a 5-9 dynamo, slashed for 3,744 career rushing yards, while Keen was more of the power back, rushed for 2,949 yards for W&M during his career. The combined 6,693 yards made them one of the most productive tandems in W&M's history.
On defense, two All-Americans dominated opposing offenses. Craig Staub, a Yankee Conference Defensive Player of the Year at defensive tackle, was a consensus All-American, and Darren Sharper was a three-time All-American at safety, who still holds the Tribe interception record at 24 and tied the single-season mark with 10.
Like most great teams, there was a very good placekicker. Brian Shallcross was an accurate kicker who accounted for 33 career field goals for the Tribe.
The '92-'94 teams had some great wins. In 1992 recorded wins against Harvard (45-17), Penn (21-19) and a good Colgate team 46-26.
In a resounding win at Brown the same year, Knight had a stunning game, completing 14 of 18 passes for over 300 of the 606 yards W&M piled up that afternoon en route to a 51-6 win.
After defeating Richmond 34-19 in Richmond, the team, invited before the start of the season and precluding therefore a IAA playoff bid, flew to Japan to play a second time in the Epson Ivy Bowl in Tokyo, against the All-Nihon team. Knight ran for two touchdowns and passed for two more on January 9, 1993, to cement a Tribe victory 35-19.
The 1996-97-98 group equaled, or exceeded, previous W&M teams coached by Laycock. In the three-year period they won 24, lost 11. The 1996 team, which finished 10-3, won a conference title and advanced to the Quarterfinals of the NCAA Playoffs. Only some bad luck in the second playoff game prevented this team from reaching the semi-finals.
Mike Cook was a mobile, strong-armed quarterback who was the catalyst for the offense. The Tribe steamrolled numerous opponents, defeating Bucknell 47-0, New Hampshire 31-7, UMass 30-6, Richmond 28-13 and Jackson State 45-6. W&M's three losses were by six, five, and three points respectively to Central Florida 39-33, JMU 26-21, and in the second round of the playoffs to Northern Iowa 38-35.
A huge 30-21 win at No. 9 Villanova saw Cook hit 19 of 27 passes for 279 yards. An outstanding running back, Alvin Porch, run for 121 yards. Porch had a great season, rushing for 1,210 yards, topping 100 yards in eight games. The defense sacked the Wildcats quarterback 10 times in the contest, establishing a school record.
William & Mary's first overtime game took place at home against Delaware on November 2 and ended in a 10-7 Tribe victory when senior team captain Mike McGowan sealed the thrilling win with an interception after Shallcross booted a 42 yard field in the first OT session. The Green & Gold's defense held the Blue Hens to 20 points under their scoring average and just 76 yards rushing, while Porch had his biggest game, rushing for 183 yards.
A 30-6 steamroll of strong UMass squad followed, led by Cook again and receivers Josh Whipple and David Conklin in the second half (two touchdowns apiece), scoring 24 points to break the 6-6 halftime tie. The defense again rose up, limiting the Minutemen to just 77 yards on the ground.
After pasting Jackson State 45-6 at Zable in the opening round of the NCAA playoffs, rolling up 480 yards of total offense, the second round game awaited at third-seeded Northern Iowa.
This was an amazing game. The Tribe trailed by 27-0 at halftime in Cedar Rapids but scored 35 second-half points and eventually managed to tie the game. At one point in the second half, Cook capped four consecutive possessions with touchdown passes (two each to Conklin and Whipple). The Tribe looked to be in position to win the game as the defense forced a punt from deep in Northern Iowa territory with the game tied, but an unfortunate fumble on the return turned into a short field goal and the game-winning points for the Panthers in the 38-35 loss.
No less than 13 W&M players were named to All-Atlantic 10 conference teams: Sharper (Defensive Player of the Year), OG Josh Beyer, DEs Mike Bertoni and Luke Cullinane, Porch, Cook, DT Brian Giamo, LB Mike McGowan, LBs Stephan Moody and Jude Waddy, DG Dan Rossentini and DT Peter Coyne.
There is no doubt in this writer's mind that the 1996 team was Laycock's best of the decade, featuring a wide-open, dynamic, muiti-faceted offense and a relentless, quick, and opportunistic defense, which finished the season second in the nation in total defense.
The 1997 and 1998 team both went 7-4, and the offense continued to excel behind Cook but graduation and injury losses on defense hurt during both excellent seasons.
In point of fact, the 1997 squad had the potential to equal, or exceed, the lofty achievements of the 1996 unit, as it brought back a significant amount of its firepower. After beating Hampton 31-6 to start the year, Cook authored one of the finest wins in Laycock's tenure, as he led a furious second-half comeback to defeat then FCS power, Georgia Southern, 29-28 in Statesboro, Georgia. The win was the only loss the GSU squad had given up on its home field in over a decade. But, the following week, the Tribe's fortunes took a turn for the worse, as Cook was injured during the team's 40-21 win at VMI and wasn't able to return to the starting role until the season's final game, a 10-7 home win over Richmond.
DE Cullinane finished a great career, making first team All-American and ending with 25 career sacks. Porch had another outstanding season to cap off his career in 1997 and finished with a career 2,750 yards.
The 1998 team had three big victories: beating Temple University in Philadelphia 45-38; No. 6 Delaware in Williamsburg 52-45 in one of the wildest games ever played at Zable; and a 41-34 win at No. 2 Hampton. Cook finished his career with 26 touchdown passes in '98 and 62 for his career, amassing 7,245 yards and a completion rate of .665% for the season,  establishing his place in Tribe history. A new Tribe receiver, Chris Rosier, emerged, and scored nine touchdowns on pass receptions including the decisive points in the win at Hampton. He teamed with Conklin as a formidable pass-receiving duo.
With the departure of Cook, who earned multiple All-American accolades as a senior, the 1999 season was a rebuilding year that ended with a 6-5 record. But another sensational Tribe quarterback, David Corley, came on the scene for the first of a record-breaking career and was named conference freshman of the year. Brett Sterba, a talented placekicker, began his career. Mike Leach was an All-American punter and a play-making tight end, while Rosier continued to shine at receiver.
Receiver David Conklin finished his brilliant W&M HOF career with career totals of 27 touchdown receptions and 3,269 receiving yards.
Highlights of the season were a 10th consecutive win over Richmond, 34-14 and a 45-10 win over No. 19 Villanova.
2000-2017
Any coverage of the period 2000-2017 has to revolve around five of Head Coach Jimmye Laycock's finest teams that highlight this time span: 2001, 2004, 2009, 2010 and 2015. Four of these squads won or shared conference championships and the fifth, which did not, may arguably have been the best of them all.
The '01 and '04 teams won Atlantic 10 titles while the '10 and '15 squads won CAA Championships. All teams, including the 2009 team, which didn't win the title, competed in the NCAA Playoffs.
2001-2008
The 2001 team finished 8-4 overall and 7-2 in the A-10. It featured a host of memorable players, 10 of which were named to the all-conference squad, including three future W&M Athletics Hall of Famers: QB David Corley, WR Rich Musinski and OT Dwight Beard.
This team faced some mid-season adversity, losing three of four games in one stretch, before rallying to win five-straight games to end the regular season. Huge wins were recorded at Delaware 21-17, No. 18 Maine 42-18, JMU 17-10 and at Richmond 23-20. This set up one of the more unique and exciting games in Laycock's tenure.
Due to the tragic events of Sept. 11, 2001, W&M's home game vs. Villanova the following weekend was postponed. This set up a dramatic winner-takes-all game in Zable with the 15th-ranked Wildcats to end the season. Villanova's offense featured one of the most electric players ever to compete at the FCS level. Consensus All-American (and future NFL standout) Brian Westbrook faced off against a Corley-powered Tribe attack. Fireworks ensued and the home crowd was treated to one of the more entertaining wins of the venerable structure, as W&M prevailed 47-44. The two teams combined for more than 1,000 yards of offense, with Westbrook rushing for 233 yards and Corley throwing for 301.
Ironically, in a game that was dominated by offense, Tribe defensive back Marques Bobo sealed the win with an interception with just 15 seconds remaining.
The win propelled William & Mary to the conference title and earned it a bid in the NCAA postseason. Unfortunately, the Tribe's season ended the next Saturday when the Tribe dropped a 40-27 game at No. 3 Appalachian State.
Corley cemented his place in Tribe annals, piling up 9,805 career-passing yards in 31 games. Corley combined uncanny elusiveness with an accurate arm and was always looking to 'make a play' downfield. Few pairings in Tribe history were a better match than Corley with Musinski. Musinski's long arms, sure hands and open field speed made him a perfect compliment to Corley's gunslinger mentality. Musinski eventually went on to become W&M's all-time record holder in career receptions (223), receiving yards (4,168 yards) and TD receptions (31). His 2001 season was transcendent, as he collected 1,393 yards on 'just' 59 receptions, averaging better than 23.0 yards per catch.
Supporting Corley in the backfield was steady and sturdy tailback Jonathan Smith. He was a workhorse who used a punishing running style to collected 2,546 career rushing yards and 39 TDs in his career. The 2001 season saw him collect 13 TDs in 12 games and lead the team with 712 rushing yards.
One of the great themes that transcended all 39 years of Laycock's tenure with the Tribe was that of attracting walk-ons to the program who emerged as contributors. In the 2004 season, William & Mary struck it big when a former walk-on quarterback emerged as not only the team's starter and captain, but quite literally as the best player on the FCS level. Riding the do-everything talents of Lang Campbell, the Tribe fielded the most explosive offensive in its 125-year history. Not surprisingly, this explosive attack also produced one of the most successful campaigns, as the Campbell-powered Tribe fashioned an 11-3 record (7-1 in the A10) and a league title.
Campbell had a season perhaps like no other at W&M — brilliant enough to win the Walter Payton Award as the Outstanding Player in the FCS level.
Campbell's record setting 30 TD passes, 3,988 yards passing and 298 completions (out of 455 attempts for a 65 percent completion average) are all W&M single-season records. He also ran for an additional 317 yards and eight more scores.
But it was not a one-man show, not nearly. He had great receivers in the remarkable Dominique Thompson and stellar freshman Joe Nicholas. By nearly every standard, Thompson had what can only be described as the best single season ever for a Tribe wide out, as he amassed 1,585 receiving yards on 79 catches for 13 TDs. All of this was accomplished and he didn't even become a starter until an injury at wide out moved him into a starring role by the season's third game.
Jon Smith, now a senior, was his usual steady self and scored 15 touchdowns as running back.
The team also could rely on the deadly accurate services of placekicker Greg Kuehn, second only to the great Steve Christie in W&M history in this writer's opinion. Kuehn scored 114 points for the season (343 for his career) and his key field goals proved the difference in close games. At one point he kicked 99 consecutive extra points and, for his career, had a record 59 field goals.
Adam O'Connor, a 6'7", 240-pound defensive end, made All-American along with Thompson, Kuehn and Campbell. O'Connor was a relentless pass rusher and used his strength and length to disrupt plays at and along the line of scrimmage. He had lots of help on the defense, too: LB Chris Ndubueze and DB Stephen Cason all made all-conference teams, as did an accurate punter, Mike Mesi.
There were some all-time great Tribe victories in 2004:
The 9-7 win at No. 10 New Hampshire, played entirely in a driving rainstorm, with Kuehn kicking three field goals through the heavy downpour and a 65-yard drive to set up the winning kick
An overtime 38-35 come-from-behind victory at Zable over Northeastern, won on a Kuehn 40-yard field goal — an early season big win where Campbell's 378 yards passing showed a new star had arrived
Two remarkable NCAA playoff wins, both at Zable
Perhaps the most memorable of all: the 27-24 win at James Madison where, with W&M trailing 24-21 and less than 100 seconds to play, a five-play, 43-yard drive culminated on the game's final play when, after a final JMU timeout to "freeze" Greg Kuehn, Kuehn calmly booted a game-winning 46-yard field goal. Kuehn said after the game that the wind, which was blowing straight at him before the timeout, actually lay down immediately after the time out was called.
In the first the Tribe stopped Hampton, 42-35, as Thompson caught two long touchdown passes and returned a Pirate kickoff 92 yards to spark a late-game W&M surge, which finally put the game out of the reach of the inspired Hampton side.
The second victory, a heart-pounding 44-38 double overtime win over Delaware, remains one of the three or four greatest Tribe wins this writer has seen. Trailing 31-10 after three quarters and looking futile (Laycock told the team at halftime Delaware might score 100 points with the way it was playing), the team came back with a 34-point scoring binge over the final 15 minutes and two overtime periods. The tying points came courtesy of a remarkable over-the-shoulder touchdown catch by Nicholas, who brought down a perfectly delivered pass by Campbell in the corner of the end zone near the end of regulation. Nicholas equaled his heroics in the first overtime, as he made a similar catch in the opposite corner of the same end zone, matching a UD score to send the game to a second overtime period. The Tribe took the ball first and Jon Smith burst seven yards for score, putting the Tribe ahead. Kuehn brought gasps from the frenetic home crowd when he missed the extra point (breaking his 99 consecutive streak) … this meant the Blue Hens could win with a touchdown and extra point. 
On fourth down inside the Tribe 20, O'Connor's strong rush caused Delaware to throw the ball harmlessly into the end zone as Tribe students poured on to the field. It is the only time I've ever seen our students flood the grid.
The next week, the National Semi-Final playoff against JMU at Zable was nationally telecast by ESPN, who installed lights for a night game telecast to millions. W&M students camped out at the ticket office by the hundreds for a night to get tickets. The next morning Laycock witnessed the 'tent city' of students for himself, proclaiming, "It's a sight I've never seen at William & Mary." The ESPN lights led to permanent lights being installed at Zable the next season.
In one of the most anticipated games in the history of the venerable structure, the two state rivals played on a sloppy, rain-soaked surface. Once again, the Tribe fought its way back from a big first-half hole, rallying from a 21-0 first quarter deficit to eventually close within 21-20 at the halftime buzzer. But W&M eventually fell to the Dukes, 48-34, mainly the result of two second-half fumbles by W&M that closed what still remains the most unexpected, amazing season in Tribe football history — one that led to program-altering transformations in facilities over the ensuing decade.
2009-2010: Two of W&M's Best
After all the excitement of the marvelous 2004 season it wouldn't be long until another Laycock powerhouse arrived on Richmond Road. The intervening four years building up to the marvelous 2009 and 2010 seasons saw the Tribe go 19-25, although the development of a 7-4 team in 2008 laid the foundation for the success ahead.
Some great players arrived to spearhead those teams, which went 11-3 in 2009 and 8-4 in 2010 (including a 12-4 record in CAA play), went to the NCAA semifinals in '09 and won the conference championship in '10.
During this era, running back and kickoff returner Jon Grimes, a three-time All-American, established himself as one of W&M's greatest players, scoring 34 touchdowns and piling up a school record 7,955 total yards for his four-year career from 2008-11. He piled up 17 100-yard rushing games. Grimes, a sturdy 5'11", 205 pounds with speed and power, could do it all. He was truly solid in every phase of the game, whether running the ball, catching passes or returning kicks. He was a threat that needed to be accounted for by the opposition.
The 2009 team was blessed defensively with two big, quick and light-footed All-American defensive lineman in Adrian Tracy (DE) and Sean Lissemore (DT). Both were devastating pass rushers and tacklers whose agility and speed made them difficult to contain. Tracy holds the school record for 12 sacks in '09 and 31 for his career, while Lissemore parlayed his talents into a 10-year NFL career.
Those three — Grimes, Tracy and Lissemore — are, in the writer's eyes, on a short list of all-time Tribe greats. But there were others on the 2009 crew who made up what may have been the best William & Mary team since the fabled teams of the 1940s. They include an All-American punter, David Miller, whose soaring punts kept the opposition constantly deep in their own territory. Add in a host of All-CAA players in safety David Caldwell, WR DJ McAulay, LB Jake Trantin, placekicker Brian Pate, and a flamboyant true freshman defensive back, B.W. Webb, and the Tribe was a force on a national scale.
Quarterbacking this team was senior RJ Archer who passed for 2,778 yards with 261 completions and ran for more than 200 yards, proving himself a very capable field general who ran the offense with efficiency.
The season got off to an appropriate start with the team stunning heavily favored Virginia 26-14. The game was no fluky victory, as W&M outplayed UVA in every category including holding the Cavs to just four first downs in the second half. B.W. Webb, playing his first collegiate game, was a big factor with three interceptions, including the win-sealing 43-yard INT and touchdown run with some three minutes remaining. It earned Webb the National Defensive Player of the Week Award for all classifications.
Miller's booming punts kept UVA pinned down deep for much of the game and the Tribe defense forced four Virginia turnovers. Pate's four field goals set the offense.
There were some key wins during the record-tying 11-win season:
A big home win against No. 7 New Hampshire 20-17 was spiced by a Lissemore interception that led to a short-field touchdown for the Tribe
The biggest CAA victory, in another memorable Tribe win, was a 24-3 thrashing of James Madison highlighted by a Grimes halfback pass to DJ McCauley for a touchdown that broke open a close battle. In this game, six W&M sacks stymied JMU's high-scoring offense.
Two big NCAA Playoff wins propelled the Tribe into the national semi-final. The first, at Zable, saw Archer toss two TD passes and Grimes run for two as the team pummeled visiting No. 15 Weber State 38-0. But it was the next week's game at No. 1 Southern Illinois that captured national attention … a 24-3 pounding of a high-scoring Suliki team. The offense was led by Jon Grimes' three touchdowns, but it was the Tribe's defense that set the tone for the afternoon, as it stifled what had been a prolific SIU attack into complete submission, with W&M outgaining the home team 373 to just 187.
The following week, in the national semi-finals at Villanova, William & Mary battled the Wildcats in a tension-filled four-quarter battle. Played in the bitter cold, the Tribe was edged out in a heartbreaking 14-13 loss. In a game that featured a school-record 98-yard TD reception (from Archer to senior WR Cam Dohse), the Tribe offense was mostly contained by a swarming VU defense. The Tribe defense was perhaps even just a bit more dominating on the evening for the majority of the night. That is except for one decisive play, where the Wildcats' eventual national player of the year, running back Matt Szcur, found a sliver of daylight along the line of scrimmage and dashed 62 yards to score in the third quarter. That play kept VU in the contest just enough for them to squeeze out a 13-play, 48-yard 4th quarter scoring drive that provided the decisive points.
The following week, the Wildcats essentially routed Montana to win the national championships, leaving the Tribe faithful dreaming about just what 'might have been.'
With many top players returning from 2009, a good season was forecast for W&M in 2010, but with the losses of its quarterback and some significant star power on the defensive line and backfield, some trepidation remained.
However, yet another walk-on made good. Mike Callahan answered the called at QB, while some returning stars from the '09 squad meshed with a mixture of new talent to propel William & Mary to the CAA title.
Several of the '09 players had great seasons: Grimes, Miller, Pate and Webb, plus blossoming players like MLB Dante Cook, TE Alex Gottfried, FB Jimmy Hobson, OL Keith Hill, TB Courtland Marriner, receiver Tre McBride and DE Mike Reilly all stepped up. Grimes, Gottlieb and Miller made All-American, while Hill, Hobson, Webb and Cook made All-CAA mentions.
The excellence of the team showed in a 21-17 loss to North Carolina at Chapel Hill. In a tough back-and-forth battle, the Tribe led until less than six minutes remained in the game, when a long UNC touchdown run rescued the Tarheels.
The team had some memorable wins:
After close road victories at Old Dominion 21-17, in which Grimes rushed for 230 yards, and at Maine, 24-21... on a last-second touchdown pass by relief QB Mike Paulus, the team recorded a huge home win over No. 1 in the nation Villanova 31-24, sparked by three Grimes' touchdowns.
On October 23, the team traveled to rival Delaware in a major matchup. After W&M trailed 13-3 at halftime, the team rallied for a 17-16 win on a surprise Grimes halfback pass to end Chase Hill.
After defeating New Hampshire 13-3 and losing at JMU 30-24, the team needed to defeat old rival and No. 18 Richmond at Zable for a piece of the CAA title. As excited Tribe fans watched, the team rolled over the Spiders 41-3, piling up 616 total yards behind Callahan, who had his finest day at the helm, completing 22 passes for 331 yards and two touchdowns.
A loss the following week in the NCAA playoffs at home to Georgia Southern could not dampen the enthusiasm for this surprise CAA crown.
2015: The Tribe Nabs Second CAA Title
After a couple of so-so seasons, winning records of 7-5 in 2013 and 2014 led to much anticipation in Williamsburg for the 2015 season as the team returned a host of outstanding players.
Laycock and his team did not disappoint as they racked up a 9-4 season, winning six of eight CAA battles for a share of the championship and also winning a first-round NCAA Playoff game at home.
The team was led by junior quarterback Steve Cluley, who was starting to come into his own at the controls of the Tribe attack. Cluley ended his career with 39 TD tosses. Helped greatly by some elusive receivers including the versatile DeVonte Dedmon and a 6'5", 240-pound tight end, Andrew Caskin. Two running backs, Kendell Anderson and Mikal Abdul-Saboor, not only piled up the yardage, but were able blockers in the backfield for Cluley.
Between them, the pair scored a combined 60 career touchdowns (Anderson with 34 and Abdul-Saboor with 26).
On the defense, All-American safety DeAndre Houston-Carson had one of the most spectacular seasons in Tribe history, leading the team in tackles, blocked kicks, interceptions and pass stops. He also scored two points on the return of a blocked opponent extra point in a huge win over JMU. Linebacker Luke Rhodes cemented the middle of the defense. The Tribe benefited from two exceptional kickers: punter Hunter Windmuller, with a 43.8 punting average, led the CAA, and placekicker Nick Dorka made several All-American teams.
After big CAA wins over Stony Brook 21-0, at Villanova 38-16 on Cluley's clutch passing, and Delaware 17-16 on a Dorka 41-yard field goal, the biggest game of the season was set in Williamsburg on October 21 with powerhouse JMU.
The game remains one of the most thrilling Tribe victories of the Laycock era, a wild 44-41 win that wasn't decided until the game's final snaps. W&M trailed by as many as 11 points in the second half and held the lead for less than three total minutes for the entire game.
Trailing 41-37 with just over five minutes remaining, the Tribe methodically ate up the clock and moved down the field in an 12-play drive, using a mixture of short passes and a punishing running game.
With just 41 seconds remaining and W&M on the JMU two-yard line, Anderson took a handoff and burst into the end zone for the winning score as the crowd roared.
In a game that saw both offenses flourish, the Tribe faithful remained on the edge of its collective seats as the James Madison offense took possession with what seemed like an eternity remaining on the clock (:41). But the tension was quickly released as the JMU center's snap went past the JMU quarterback's head and DE Peyton Gryder recovered the fumble to seal the victory.
Cluley had one of his best games, completing 23 of 36 tosses for 235 yards. The two-headed tailback tandem of Anderson and Abdul-Saboor rushed for a combined 204 yards and 6 touchdowns on the evening, while Houston-Carson cemented his All-American status with 16 tackles, an interception, a sack and his 2 point xpt. Also, in a feat that may never be duplicated, stellar Tribe defensive tackle Tyler Claytor blocked THREE extra points (all in the first quarter). The first of his blocks was returned by Houston-Carson for the defensive extra point, as was his second — but this was nullified by a penalty during the return.
With a home playoff game as its reward, the 2015 Tribe again treated the home crowd to an incredible offensive onslaught, as it defeated Duquesne 52-49. Anderson, who carried the ball 24 times for 137 yards, scored two touchdowns. Cluley hit the versatile Dedmon with three touchdown passes. Anderson cinched the win with an eight-yard run with 3:17 remaining.
The team, banged up and with several starters out, lost the following week at Richmond in a second round NCAA playoff match-up, ending another championship season for the Tribe.