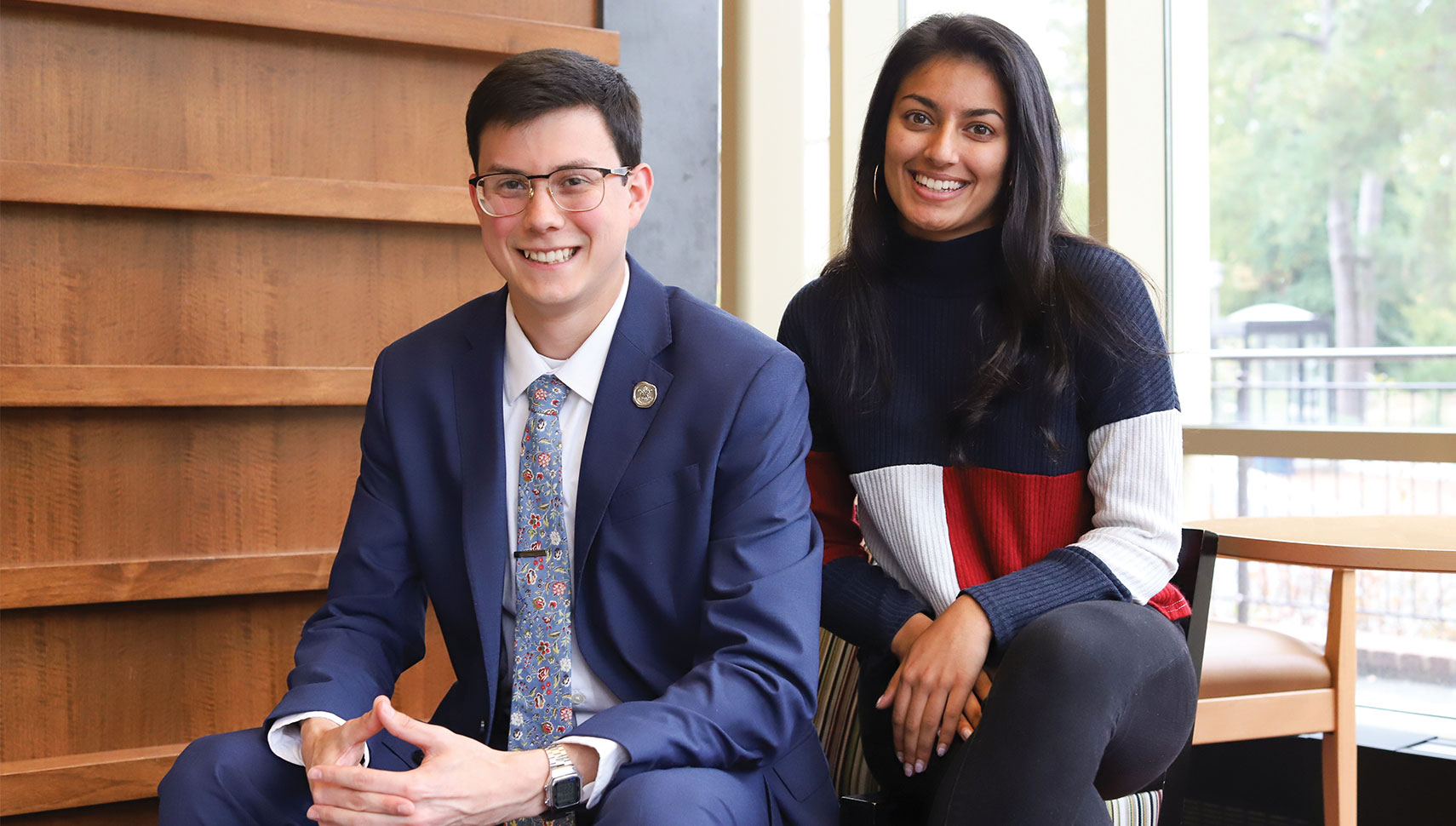 A psychologist at Boston Children's Hospital asked a 5-year-old girl to draw her family. Picking up a crayon, she sketched her biological older sister, but no one else. Her adopted parents were absent from the photo.
The psychologist asked if she meant to draw other family members. The girl picked up the crayon again and added a hair tie to the picture. Years before, she had been diagnosed with fetal alcohol syndrome. The effects of it still lingered.
"Her drawings were really telling and gave us a glimpse into what goes on in the young brain of a kid who has faced trauma at such a young age," says Ashwini Sarathy '21, who was an intern at Boston Children's Hospital this past summer and wants to be a physician. "That was her conception of family even though she had been in this new family a year or two."
Sarathy's internship was made possible through Funding for Unpaid Experiences (FUSE), which is provided by William & Mary's Cohen Career Center. This year nearly $71,000 was awarded in FUSE funding, with an average award amount of $2,500.
Since 2016, 88 students have received FUSE funding,which is supported through private giving. Students use FUSE funding to cover housing, food and transportation costs. While private funding continues to fuel the dreams of W&M students, more is needed. Because of limited funds, close to 60 percent of students who seek FUSE funding do not receive it.
"The dollars for our students create experiences that support career goals, skill acquisition and professional practice that will carry students into the professional world," says Kathleen Powell, associate vice president for career development at the Cohen Career Center. "William & Mary is on a great trajectory to support students and their career readiness. The private funds received for unpaid internships matter for our students."
W&M is ranked No. 6 in best schools for internships and No. 9 for best career services, according to the Princeton Review.
Sarathy, a pre-med student, wanted an internship where she could get clinical experience and be able to shadow physicians. During her internship with the hospital's neurodevelopmental phenotyping program, she was able to administer tests, conduct developmental scoring and make recommendations, under the direction of physicians and other medical professionals.
"FUSE funding took off the burden of me needing to find paid employment over the summer," Sarathy says.
The Parents Fund for William & Mary is one of the main sources of private support for FUSE, which contributed more than $30,000 to FUSE last year.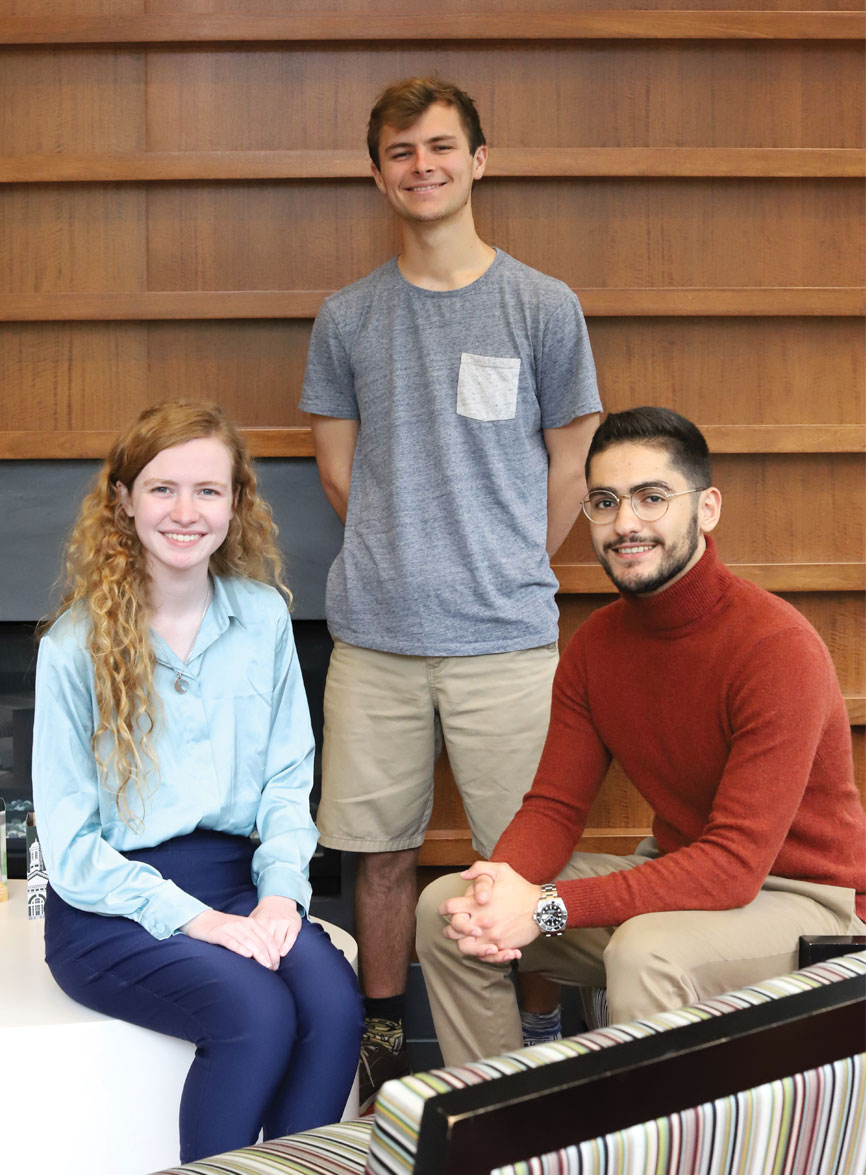 FUSE funding helped Cady Hammer '22 continue her lifelong passion for history. She grew up quizzing her grandfather, who she describes as a history buff.
"My grandfather was a key person in getting me excited about history," Hammer says. "We used to sit in the living room together and I would spin the globe and put a finger on a country and he could tell me something from the past or present about whatever country it landed on."
Hammer used FUSE funding this past summer to work as a research and development intern at the United States World War I Centennial Commission. Hammer's main task was to research the ancestry of high-profile individuals and families and compile information about World War I veterans in their family histories.
"Living in Washington, D.C., in general is incredibly expensive," Hammer says. "When I learned about FUSE funding, I was so excited that an opportunity like this was available."
For Malik Obeidallah '21, FUSE funding provided a chance to work as a health intern at the Lajee Youth Center in the Aida refugee camp, located along the West Bank barrier. His work focused on addressing the determinants of health in Palestinian refugee camps among patients suffering from chronic diabetes and hypertension.
"When I first heard of FUSE funding from my orientation aide in September 2018, I immediately knew that it would be something I would want to pursue," Obeidallah says. "After landing the opportunity to work abroad, I knew that the FUSE funding would be pivotal in facilitating my ability to afford to do so."
After his internship, Obeidallah wanted to study the Middle East in greater depth and changed his major from biology to Asian and Middle Eastern Studies. He now wants to be an internal medicine physician or neurologist who practices abroad.
"During my internship, in order to improve health outcomes, we had to overcome many barriers to health such as psychological trauma, medication costs, transportation difficulties and distrust of the health care system," Obeidallah says. "You have all these obstacles to getting care in such an impoverished region. These obstacles put people's health and lives at stake. This is why we do the work that we do on the ground to try to provide care to these people — care that they would not otherwise receive."
If you would like to support FUSE scholarships, visit impact.wm.edu/cohen.