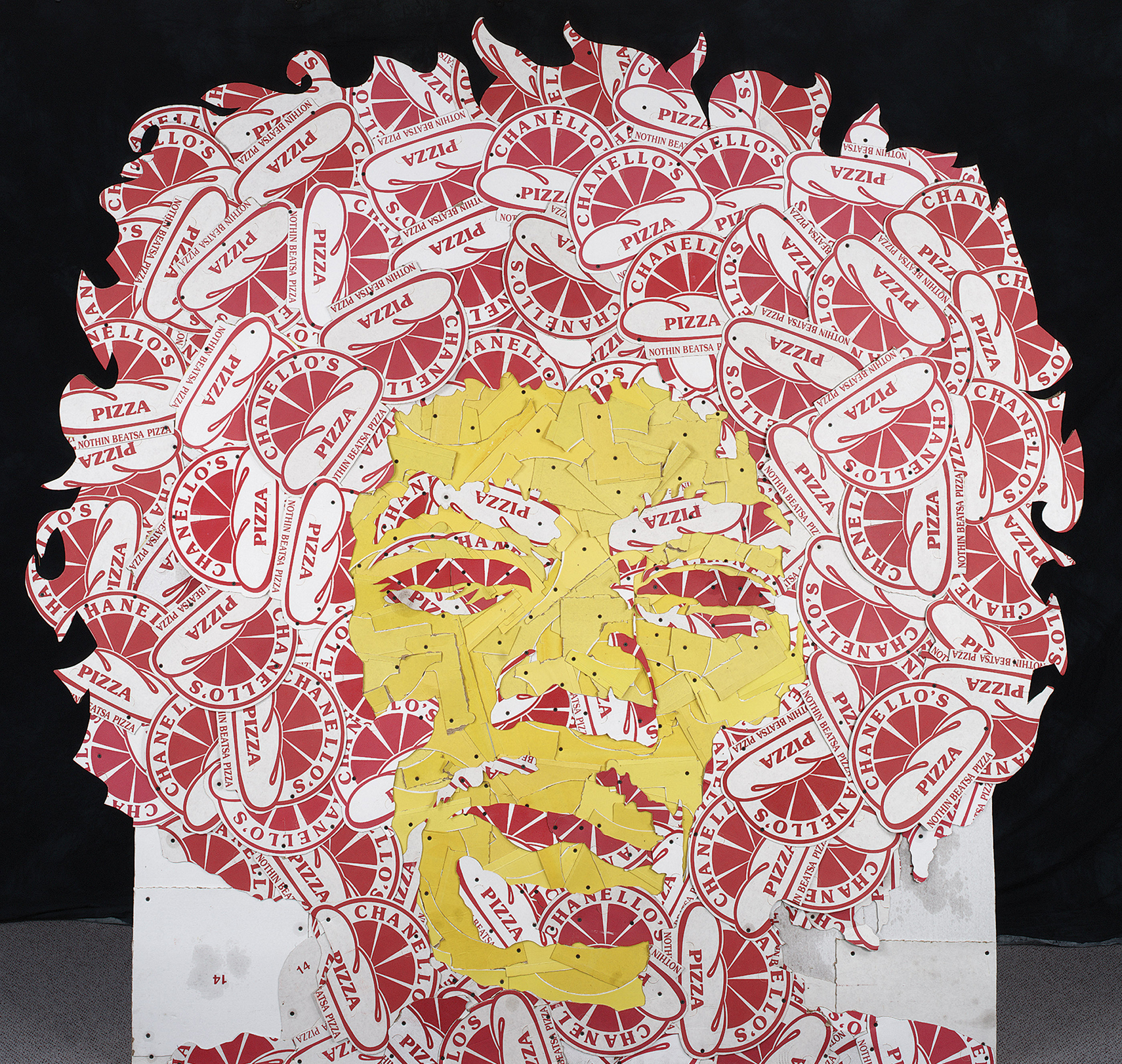 Chanello's Pizza, Sigma Phi Epsilon, art, engineering and rock 'n' roll.
To most, this may seem like a random list of words. To former roommates Jonathan Leahy '00 and Michael Fitzpatrick '00, these words are interconnected in a massive way — a 7-square-foot Jimi Hendrix portrait made of pizza boxes.
"Pizza Head" now resides in the collections of the Museum of Pop Culture in Seattle. Formerly known as the Experience Music Project, MoPOP was founded by Microsoft co-founder Paul Allen in 2000. Born in what was formerly the Fraternity Units and is now the Green & Gold Village, the pizza box portrait has been in the museum since its founding.
Details of the Hendrix portrait's origin story have become fuzzy to Leahy over the years. He recalls that it all began in Monroe Hall during his freshman year, when he met Fitzpatrick, who became his best friend.
"Sophomore year we lived together. We were eating a ton of Chanello's Pizza and at the time those boxes had a really bold, colorful design," says Leahy. "I was also going through a huge guitar phase. My freshman and sophomore year, I was teaching myself how to play by slowly learning my favorite Hendrix solos. So we have all these pizza boxes lying around and I'm butchering a bunch of guitar solos, and one day we just make the next logical connection, 'let's turn all of these pizza boxes into a giant portrait of Jimi Hendrix.'"
Both roommates love music and would leave songs queued up for each other on the stereo, Fitzpatrick says.
"Neither of us were particularly academic, so we decided to do a fun project," he says. "That plus a bunch of old, moldy pizza boxes led to the portrait of Hendrix. At the time, it seemed like a much more fun option than studying for exams. To Mike's and my surprise, it actually turned out to be a pretty decent portrait of Jimi Hendrix."
The portrait also required the combination of both art and engineering skills.
"The sides of the portrait actually come off to make transportation easier. We designed it so that the wings attached and it was seamless in the front, overlapping and weaving together," Leahy says.
But while Fitzpatrick may have been the one who helped get the job done, he credits Leahy's creative genius for the idea itself. "I mean, who sees pizza boxes and thinks Jimi Hendrix?" says Fitzpatrick. "Jon and I were a nice complementary match of idea and execution, which made the project and time together so much fun."
Once the portrait was complete, word of it quickly spread around the William & Mary community and beyond. Fitzpatrick put his marketing major to use in an effort to generate interest in their creation.
"We didn't know what to do with this giant thing in our dorm," he says. "At one point it was displayed in Sadler Center. We decided to see if anyone wanted it. I put together a press packet and it got picked up by MTV News and from there, donated to the Experience Music Project. It was an amazing cross-country college road trip taking it to the museum."
Another alum, Katherine Hughes '05, works at MoPOP as a registrar, caring for and maintaining the museum's collection — including "Pizza Head."
"It was hilarious! We have had Pizza Head in storage for a long time and one day I got curious about it. I pulled up its record and the first thing I saw was that it was made from Chanello's boxes. I couldn't believe its origin story," says Hughes. "One cool thing about W&M I've discovered in my career is how often there is a tie back to the university. It gathers likeminded people, trains them, sends them out into the world and we continue to help each other."
After W&M, Fitzpatrick joined the military and now works in finance as the vice president of business operations for Vector Remote Care. Leahy continued to pursue the arts. Most notably, Leahy worked on the music for all six seasons of the hit HBO show "Girls," for which he was nominated for a Primetime Emmy, and the movie "Bill & Ted Face the Music," which earned him a Grammy nomination. He credits his studies for preparing him for his career.
"One of the things that I loved about being an American studies major was that it allowed me to study film, music, literature, religion and philosophy — a variety of things I was interested in," says Leahy. "This eclectic mix is also reflected in my current job, which combines music and film. In hindsight, it was a natural fit and prepared me well."