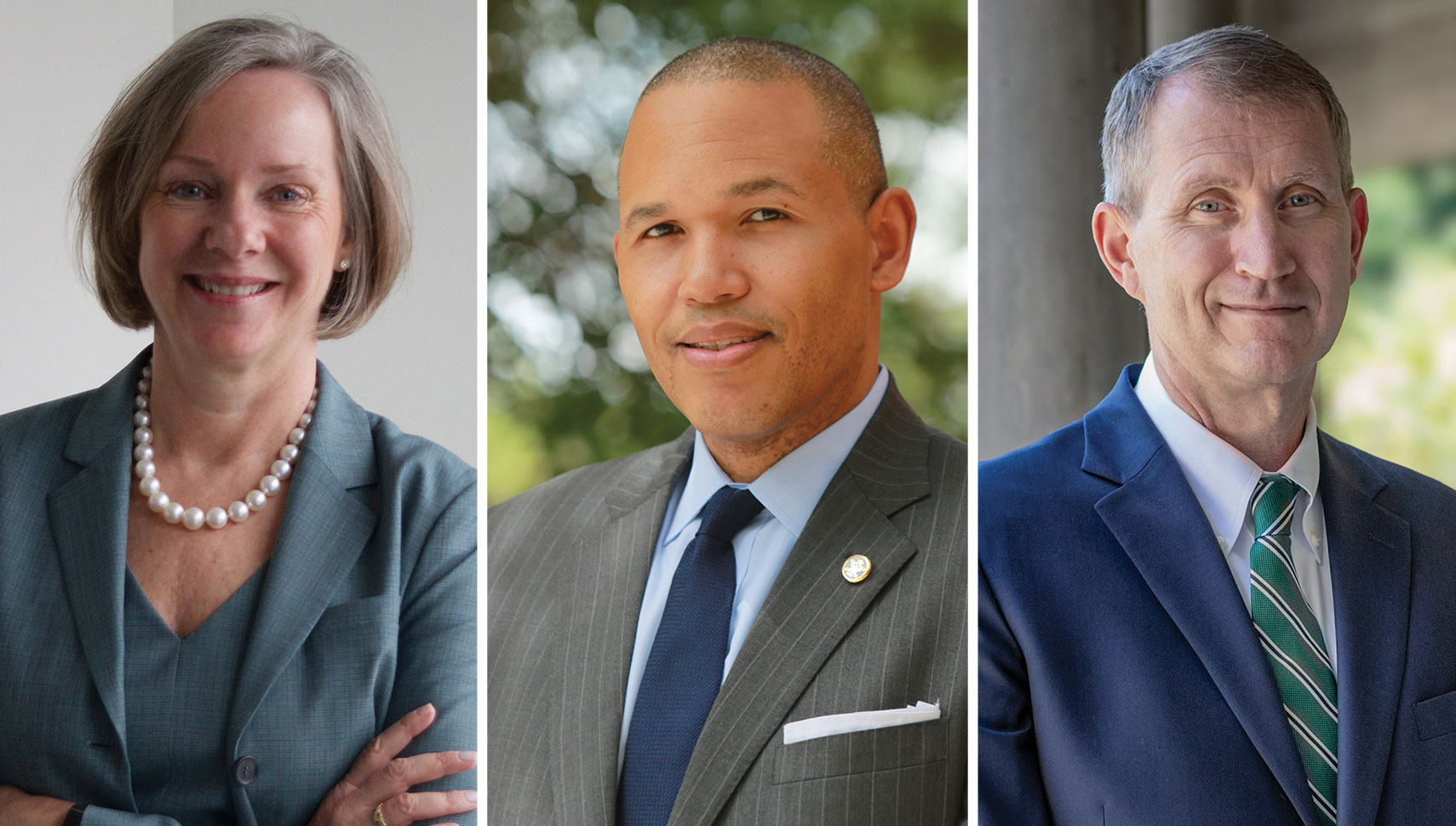 This fall, as new students began classes at William & Mary for the first time and returning students adjusted to a semester unlike any other, they were joined by three new faces — William & Mary's new deans of Arts & Sciences, W&M Law School and the School of Education. A nationwide search also commenced this fall to fill the position of dean for the Virginia Institute of Marine Science after Dean John T. Wells' retirement at the end of the academic year.
MARIA DONOGHUE VELLECA is an accomplished scholar and award-winning educator who served as senior associate dean for faculty affairs and strategic planning at Georgetown University's College of Arts & Sciences. A specialist in brain development, she began at William & Mary after Kate Conley stepped down from the role of dean at the end of June. Conley, who served eight years, returned to the classroom this fall to teach French and Francophone studies.
The dean of the Faculty of Arts & Sciences leads the largest of William & Mary's five schools. In that capacity, the dean oversees approximately 650 faculty — in 11 graduate programs and dozens of undergraduate majors and minors — as well as research centers and administrative offices that support the university's teaching and research missions.
BEN SPENCER, a nationally renowned civil procedure and federal courts expert and former professor of law at the University of Virginia, began at William & Mary Law School on July 1. Spencer is William & Mary's first Black dean of any school at the university, including the law school. Davison "Dave" M. Douglas has returned to the faculty after serving as dean for more than 10 years.
Spencer's teaching and scholarship focus on civil procedure, federal civil litigation and military law. Spencer, who will also serve as the Chancellor Professor of Law at W&M, has earned numerous awards, including a Virginia Outstanding Faculty Award, which is the highest honor for faculty working at the state's colleges and universities.
ROB KNOEPPEL, a longtime educator and noted scholar on educational finance innovation, joined William & Mary's School of Education on July 15, after serving as dean of the University of South Florida's College of Education. After seven years as dean, Spencer "Skip" Niles continues as a professor in the counselor education program at the school, which includes 48 full-time faculty members and about 600 undergraduate and graduate students.
As dean, Knoeppel serves as the school's chief academic and administrative leader responsible for overseeing strategic planning and implementation, operations, budgeting, fundraising and faculty research. He also will work to further develop programmatic offerings and expand the school's reach by growing its undergraduate student body and online graduate programs.
Watch a Community Conversation with the new deans