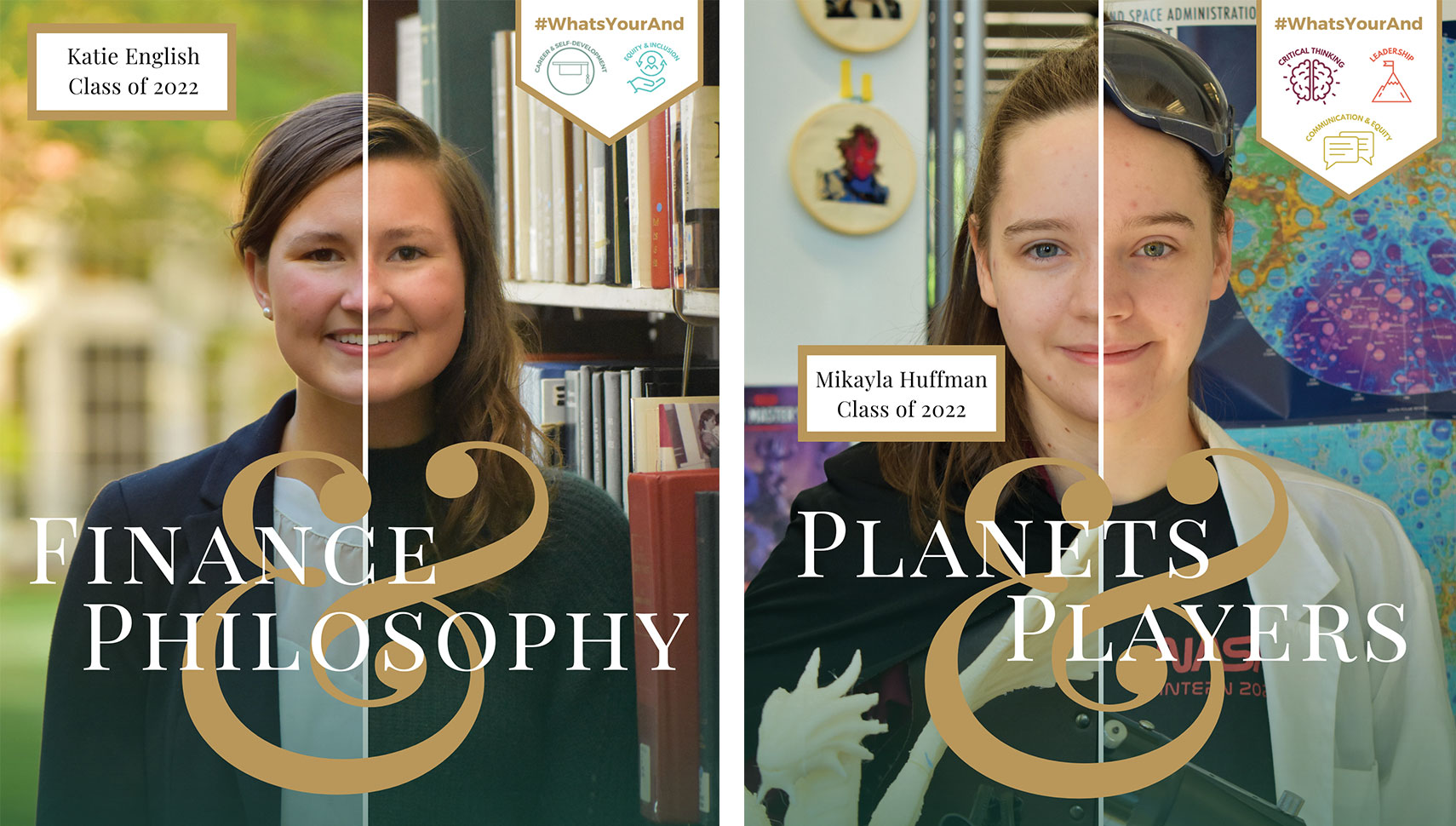 Finance & Philosophy. Planets & Players. Stats & Synergy. At William & Mary, the ampersand is more than a symbol. It connects and highlights the many facets of our students' lives.
W&M's excellence grows from the power of the "&," and the unlimited potential it offers our students. The "&" is often used to underscore W&M's unique culture of encouraging students to combine seemingly disparate opportunities and pursue them in a powerful way.
Each year, student "ands" are celebrated through the Office of Career Development & Professional Engagement's Ampersand Campaign. The effort is designed to visually showcase students' passions and accomplishments and feature how students are using their skills and becoming career-ready throughout their time at W&M.
One of the students recently featured in the campaign is Katie English '22, who balanced her role as co-president of Girls Who Invest, a national organization for women in finance, with ethics and social philosophy classes to explore a future finance industry career.
Mikayla Huffman '22, another featured student, combined research work in spectroscopy and planetary imaging with being a dungeon master for her Dungeons & Dragons (D&D) group, where she learned to build teamwork and community, skills she will use in her future research career.
"Students have great stories to tell, and if we can tell these stories and promote what we are doing at the career center, it's a win-win," says Cristen McQuillan, who oversaw the campaign for several years and is assistant director for creative careers in Career Development & Professional Engagement. "This campaign fits well into what W&M tries to do; we are not just one thing."
Adam Farris '24 is managing the student-run campaign this year. As a marketing assistant at Career Development & Professional Engagement, he helps plan every aspect of the campaign, from deciding whom to feature to the photo location and props.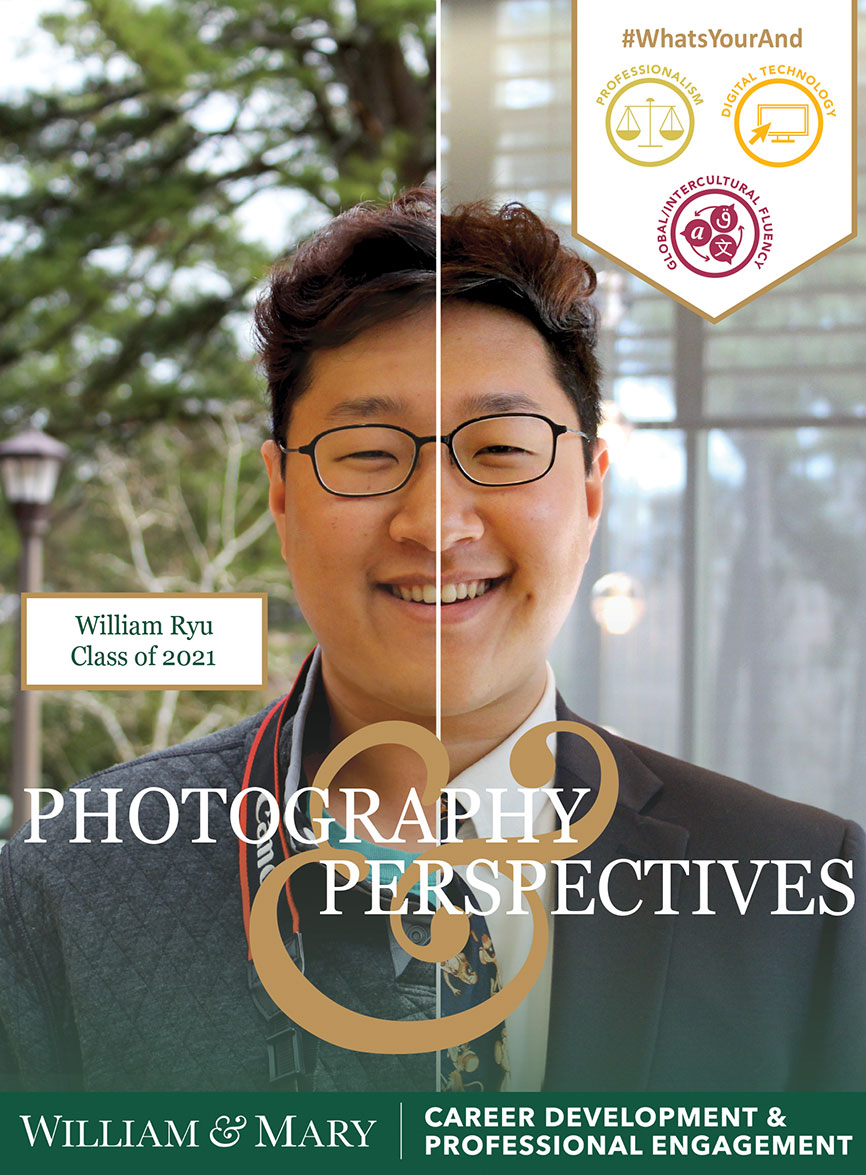 "I remember seeing the campaign posters in the Cohen Career Center window when I toured W&M as a prospective student, and I liked that they emphasized doing more than studying," says Farris. "The campaign helps showcase what is possible at W&M and how students here are different from students at other universities."
As an economics major and finance minor as well as a photographer and member of the Gentlemen of the College a cappella group, Farris has undoubtedly created his own "ands." One of his favorite parts of the project is meeting other students and learning about their "ands."
"It is great to hear how others combine their interests for their post-graduation plans," says Farris. "It is interesting to see how career aspirations align with what students are studying and how their activities on campus complement this."
Each year, Career Development & Professional Engagement receives as many as 30 nominations for students to feature in the campaign. The nominees are then asked to respond to a questionnaire to provide more details about how their academics and activities relate to their career goals.
In the questionnaire, students describe in detail something they are passionate about or involved in that shows their mastery of the National Association of Colleges and Employers (NACE) Career Readiness Competencies, which include career and self-development, communication, critical thinking, equity and inclusion, leadership, professionalism, teamwork and technology.
"The campaign is a way to highlight career-readiness skills," says McQuillan. "It's a great way for the Career Development & Professional Engagement to engage students in thinking about their career planning. Students really react to the campaign and want to get involved."
Once the nominee questionnaires are received, six students representing a diverse range of "ands" are selected, three in the fall and three in the spring. The students are featured on a poster, which is hung in the Cohen Career Center and around campus, in the Sadler Center and near the activities and departments represented in the student highlights. The campaign is also posted on the Career Development & Professional Engagement website and shared on the office's LinkedIn, Instagram, Facebook and Twitter accounts.
"I love the idea of pursuing many interests, and the campaign lets students know that whatever they are doing, it's really cool," says Farris. "Here, you can pursue a Ph.D. or D&D. It all builds important skills to use now and after graduation."