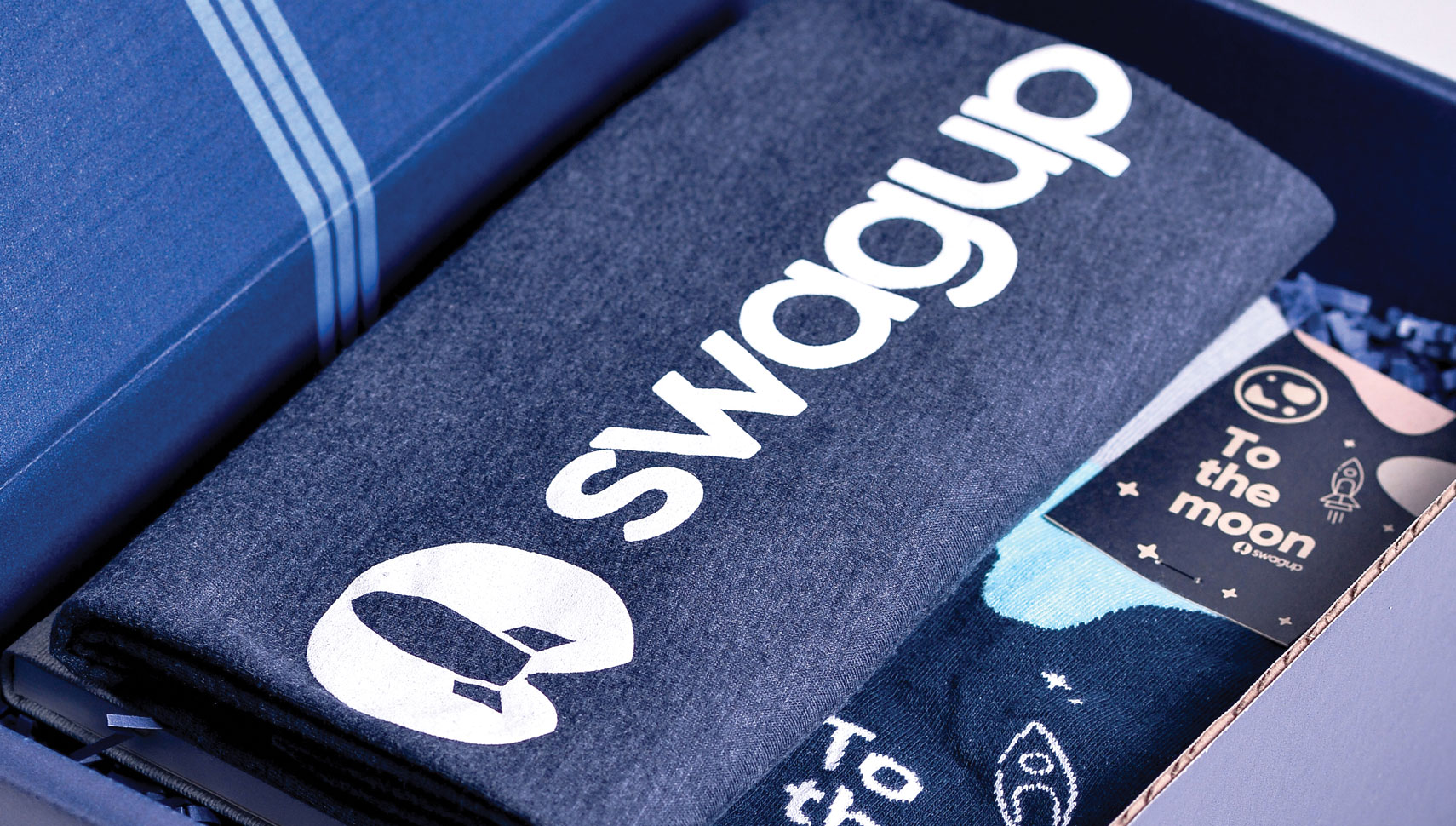 Turns out, there's a lot of money in free stuff.
The "swag" industry — logoed merchandise like T-shirts, stickers and mugs, which is often given away by companies, schools and conference organizers for free — is big business, accounting for about $30 billion in sales worldwide. Still, most businesses in this sector have been hurt by the pandemic, as in-person events worldwide have been canceled.
Michael Martocci '17, however, has taken the swag world by storm with his startup, SwagUp.
In 2020, when the industry was down 30%, SwagUp tripled its sales, grew from around 50 to over 100 employees and opened a new physical location in Florida. Martocci was named to Forbes' 2021 30 Under 30 list. EY named him a 2021 Entrepreneur of the Year for New Jersey. Inc. Magazine called SwagUp the 23rd fastest growing company in America.
How has he achieved this rapid growth, against all odds?
"There's a general need for connection, and building culture is top of mind for a lot of companies in a time when you're not able to interact in person," says Martocci. "We took entirely new approaches to this industry by looking at what other industries and disciplines were doing. We reinvented it."
SwagUp provides swag boxes — prepackaged, completely customized collections of branded merchandise — for companies to use for onboarding new employees, for colleges to welcome new students and for virtual conferences to send to remote attendees, for example. Their user interface allows businesses to easily order the boxes on-demand, and then SwagUp handles creating the merchandise, packing and storing the boxes and sending them to the final recipients.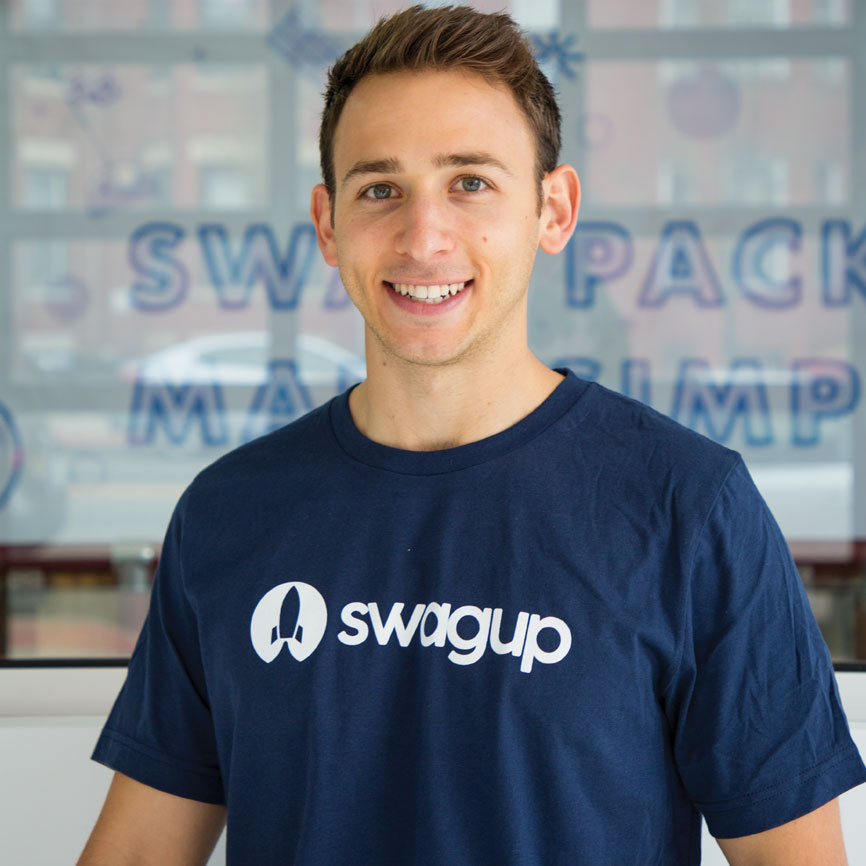 Much of their early growth came from courting other startup businesses to provide them with swag as they built their brands. Martocci has found a supportive community among other young entrepreneurs.
"Entrepreneurs are very growth-minded and everyone's here to help each other. Asking for help and having mentors allows you to move quicker and avoid mistakes," he says. "It can be hard to relate to people outside this world — running a company like this is a very different lifestyle and can consume your life. This network knows exactly what I'm going through."
This is not Martocci's first startup — not by a long shot. He's been founding businesses since he was 5 years old, selling everything from his family's groceries to sports trading cards. He bought his first stocks at 13.
When he started at William & Mary in 2013 — a university he chose for its traditions, beautiful campus and "kind and down-to-earth people" — he thought he would become a finance major and then start a career as a wealth manager. But the entrepreneurship bug kept biting. He and a friend started an app called "Clique" that enabled W&M students to find fellow students to do activities with (for example, "Anyone up for a volleyball game in Barksdale Field at 3 p.m.?").
Clique was his first foray into swag — after discovering how expensive it would be to print banners and signs to advertise Clique, he started a web service that allowed fraternities on campus to order cheap swag from suppliers overseas.
Then, midway through his junior year, opportunity struck. NFL player Steve Weatherford, whom Martocci met through his father's sports and entertainment travel company, asked Martocci to help him start a fitness training business.
"I was very into fitness, and he was trying to figure out the next step in his career. I knew that I could help him monetize what he had built in the NFL," Martocci says. "I loved W&M and the experience and the people that I met, but I was ready to take next step. So I decided to leave and pursue this opportunity."
Martocci dropped out of William & Mary to run Weatherford Fit full time. They made $1 million in the first year.
Never one to rest on his laurels, Martocci then joined a venture capital firm. It was there he came up with the plan for SwagUp, which he launched in 2017. It's been on an upward trajectory ever since.
Though he didn't graduate, Martocci credits the liberal arts education he received at William & Mary as the basis for his later success.
"I have a really strong appreciation for what people call polymath thinking — understanding many different topics — because there's a lot of value in taking approaches from different disciplines and applying them in a way that is new," he says. "Broad-based knowledge makes you a much more interesting person, who can relate to many more people."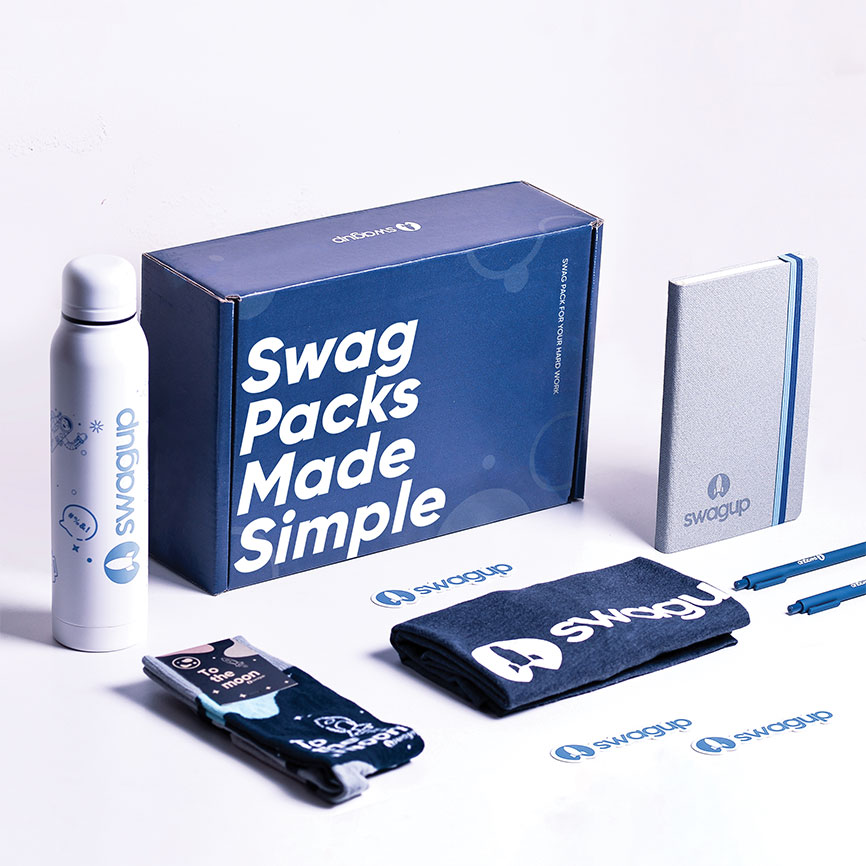 Being at William & Mary helped him become more social, and the experiences he gained as social chair of Kappa Delta Rho helped him as a manager and in developing clients. He took a wide variety of classes, becoming exposed to principles of philosophy, psychology and sociology that help him understand people and the world around him.
"You don't know, yet, what you don't know when you are 17 years old. Some people think they have their life figured out at that point, especially high achievers, but there is value in exploring the many paths your life might take you," he says. "Had I gone straight into business school, it would have put blinders on me too quickly. Society is better when people are well-rounded and have well-formed opinions. I appreciate that I don't think the same way a lot of other businesspeople do."
Martocci stays connected to the Raymond A. Mason School of Business and the Cohen Career Center, and SwagUp offers internships to students each year. Fellow alumni Grayson Kilgo '17 and Jake Wang '18 also work at SwagUp, and Martocci says they frequently come across other William & Mary community members in the course of their work.
Though running this business is not without its challenges, Martocci is excited for what the future will hold.
"SwagUp is the first company I've started or been a part of that feels like there are endless possibilities," he says. "Every day feels new and exciting."