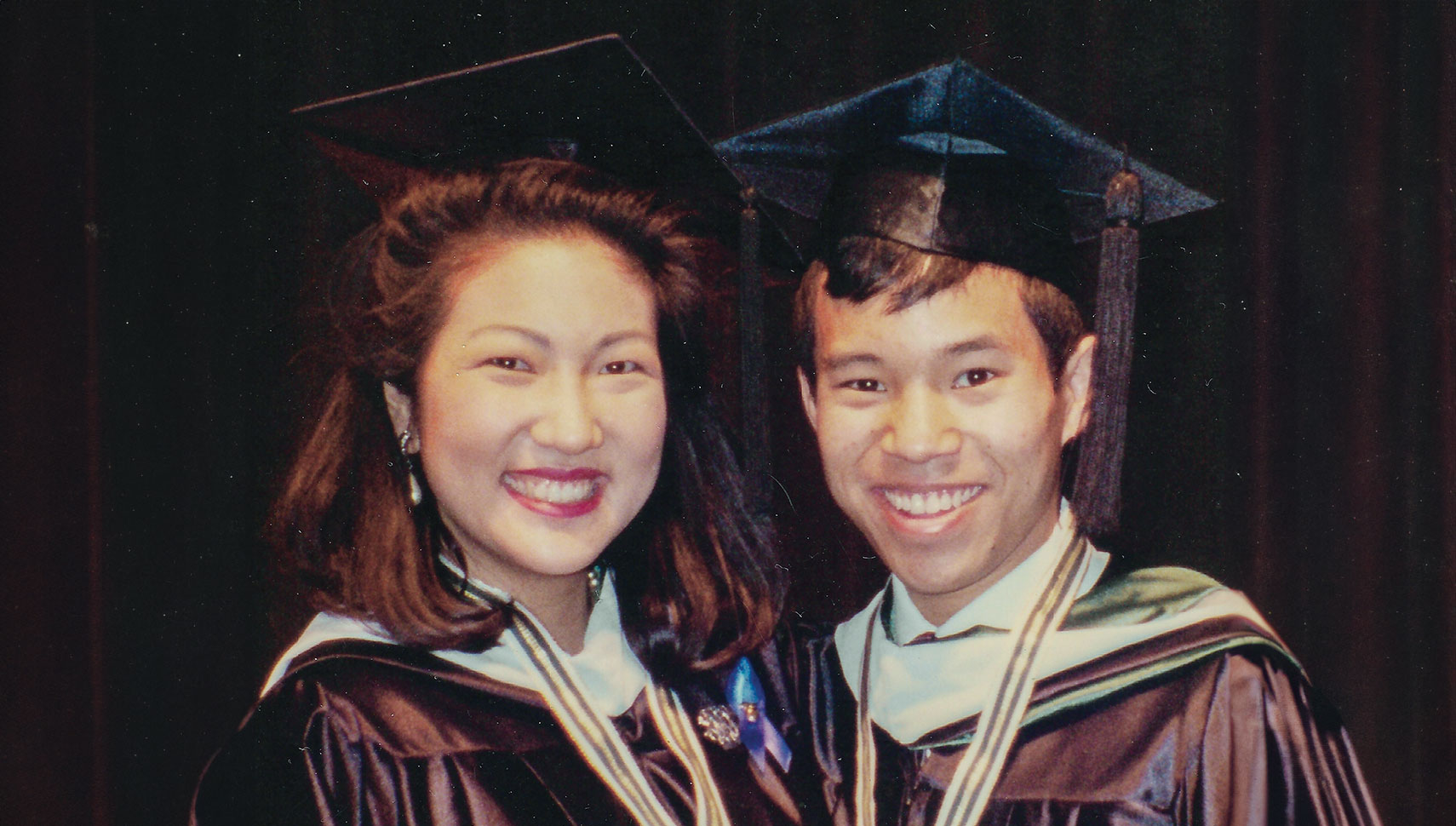 Robert Wone '96 loved reading about American history as a young boy, and even dressed up as a Revolutionary War-era minuteman for Halloween one year. His family later took a trip from their home in New York City to Williamsburg, where he immersed himself in the Colonial capital's rich past.
The minuteman costume may have provided a clue that Robert would grow into the kind of person who was ready to spring into action at a moment's notice to support a cause he believed in. Whether that involved volunteering throughout high school at then-U.S. Rep. Charles Schumer's district office, helping organize a bone marrow drive at William & Mary or assisting low-income clients at the University of Pennsylvania law school's Civil Practice Clinic, Robert cheerfully contributed his time and talent.
Early American history captured Robert's imagination because he was fascinated with how the country started, its founding principles and the role of government, say his parents, William and Aimee. Robert's widow, Kathy, notes that "As he got older, that helped him understand the politics of our country and what it meant to be free and what that cost, the sacrifices that were made, the importance of the Constitution and government."
Michelle Kang '96, a close friend of Robert's from William & Mary, describes him as one of the most extraordinary people she's ever met. Without seeking recognition, he made an impact in a generous and positive way.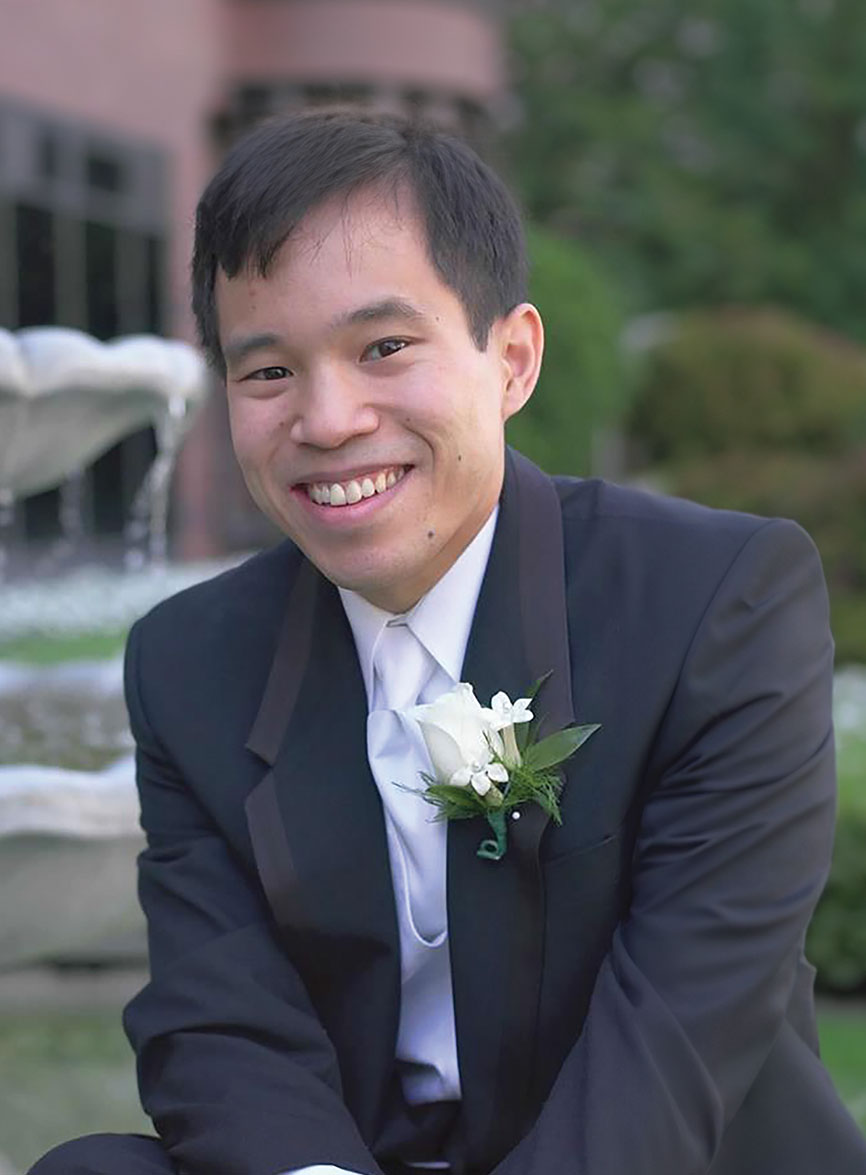 "He had an unlimited well of compassion and caring that played out in actions like dropping off cookies for someone who might be studying in Swem Library," says Kang, now chief executive officer of the National Association for the Education of Young Children. "He would be in the right place at the right time to say the words or do the thing that lifted your spirits."
A descendant of Chinese immigrants, Robert was proud that his grandfather had purchased war bonds to support America's efforts in World War II. It likely came as no surprise to Robert's family that he chose to attend William & Mary, where he could walk in the footsteps of the nation's founders. Admitted as a Monroe scholar, he studied public policy and received the Algernon Sydney Sullivan Award at Commencement, recognizing his characteristics of "heart, mind and helpfulness to others."
After graduating from the university, Robert went to law school, clerked for a federal judge and started working at the Washington, D.C., firm Covington & Burling as a commercial real estate attorney.
Robert was drawn to the firm in part because of the opportunity he would have to provide pro bono legal services to those in need. He was also involved with the Asian Pacific American Bar Association of the Greater Washington, D.C., area (APABA-DC), where he organized the inaugural Judicial Clerkship and Internship Conference in 2003. Now named in Robert's honor, the annual conference continues to help minority law students meet judges and learn about the judicial clerkship experience.
In 2006, Robert was ready to make a change, and he accepted a position as general counsel for Radio Free Asia, a nonprofit news service that reaches countries where access to accurate, uncensored information is limited. Even though it was a different area of law than he'd been working in, Robert believed in the organization's mission and wanted to be part of it. Around the same time, he was preparing to be sworn in as president of APABA-DC.
But he never had a chance to develop those new opportunities. In a devastating blow to those who knew and loved him, Robert was killed on Aug. 2, 2006, while staying at the home of a friend from William & Mary after working late at Radio Free Asia. The case remains unsolved.
In the aftermath of Robert's death, there was an outpouring of love, support and collective grief, says Kathy, who remarried in 2018 after a long journey of healing. Friends, family members, classmates, colleagues and strangers contributed funds to a memorial trust established in his name.
Although created out of tragedy, the trust provides an opportunity to honor Robert's memory by advancing the kind of work he cared about so deeply. For example, funds from the trust have supported the Civil Practice Clinic at Penn's Carey Law School, where he received his law degree. Now, Kathy is directing resources from the trust to support a new scholarship at William & Mary, which she says had a significant impact on her late husband's life.
"The friends he made at William & Mary and the experiences he had there were extremely influential," she says. "The outlines of all the good that he wanted to do for the world were starting to take shape."
Kathy says she often joked with Robert that he had a love affair with William & Mary. Early in their relationship, she met his circle of friends from the university. She heard stories of how he would arrange visits to talk with former W&M President Davis Y. Paschall '32, M.A. '37, P '64, P '68, who was in declining health and living alone.
The campus even factored into the couple's honeymoon when they married in 2003. After spending a few days in Hawaii, they visited Williamsburg and stayed in a bed-and-breakfast recommended by Robert's friend and mentor Sam Sadler '64, M.Ed. '71, then vice president for student affairs.
The Robert E. Wone Scholarship Endowment will provide funds for research projects and initiatives run by students involved with the Asian Pacific Islander American studies program. Deenesh Sohoni, a sociology professor and director of APIA studies, expects to begin distributing scholarship funds in the fall of 2024. Students will be able to apply for funds, and a committee of faculty members will evaluate their proposals.
It will be another tangible sign of Robert's connection to his beloved alma mater. In October 2011 — the weekend of what would have been his 15th class reunion — two benches and two Chinese pistache trees were dedicated in his memory.
Kang muses about what Robert would have thought of this latest tribute: "He would be embarrassed, I would say, and delighted and honored that there is an effort to support students in being able to make a difference in their community and the world around us."
To contribute to the Robert E. Wone Scholarship Endowment, look up the name or fund number 5292 at give.wm.edu.