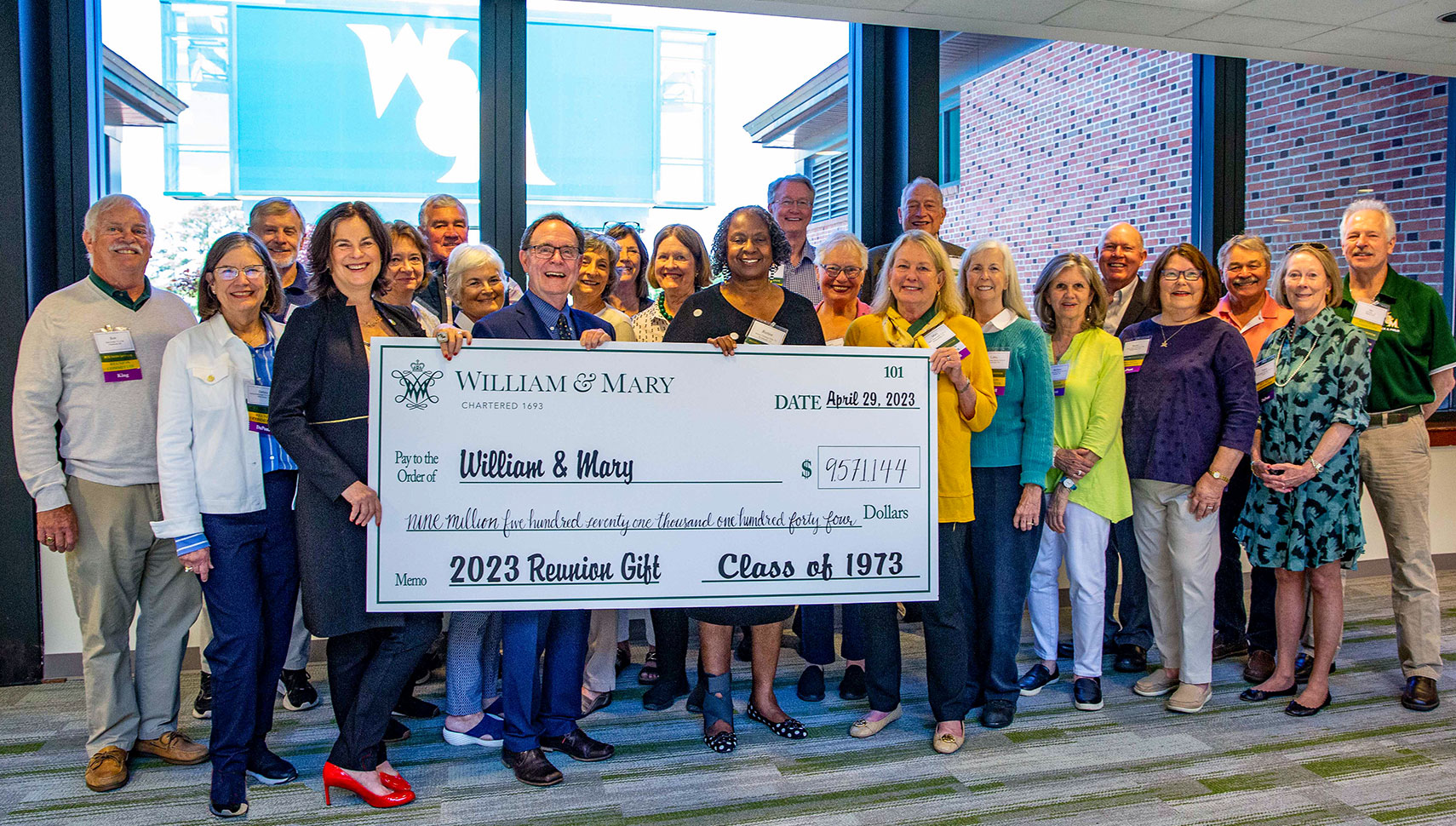 Since their graduation 50 years ago, the members of the Class of 1973 have built on their experiences as students to create rich and varied lives. Their careers, families and travel took them around the globe — and on April 28-30, they returned home to William & Mary's campus to reunite, reminisce and celebrate.
The annual Traditions Weekend brings together the 50th reunion class, the Olde Guarde (alumni who graduated 50 years ago or more) and the Boyle Legacy Society (those who have included W&M in their estate plans) for special events and programs. Among the highlights this year were inside looks at new additions to campus, including the Arts Quarter, Hearth: Memorial to the Enslaved and the Entrepreneurship Hub, as well as a presidential conversation connecting student activism in the 1970s to how W&M prepares today's students to tackle complex issues in a democratic society. The Boyle Legacy Society heard from pre-med students about applied learning opportunities offered in partnership with VCU Health and explored items from William & Mary Libraries' Special Collections commemorating the 300th anniversary of the Brafferton Indian School.
Attendees also had many opportunities to reconnect and share memories of their student days, as well as celebrate their continued impact on the university and its future. At a reunion luncheon on Saturday, the Class of 1973 presented President Katherine A. Rowe with a check for over $9.5 million, representing gifts from 45% of the class. Part of this total is designated for the Class of 1973 Internship and Applied Learning Endowment to provide support for internships and/or applied learning experiences for undergraduate students. 
"This will be our legacy gift to the generations of W&M students who follow in our footsteps," wrote co-chairs J. Thomas Flesher '73, Renee Fleming Mills '73, Mary Mann Smith '73, P '11 and Jeffrey B. Trammell '73 in the Re-Echo, the yearbook for the 50th reunion class.
Read about how four members of the Class of '73 — aka the "Facebook Divas" — used social media to promote and celebrate their reunion.
In a moving ceremony on Sunday, the 50th reunion class was inducted into the Olde Guarde and held a service of remembrance for those who had passed away. This year's Olde Guarde Distinguished Service Award recognized Don Beck '64, P '90, P '93 and his late wife, Susie Beck HON '01, P '90, P '93, who are also grandparents of two current students. The Becks were nominated by their peers for their longtime support of W&M Athletics and their warm hospitality that brought the W&M community together.