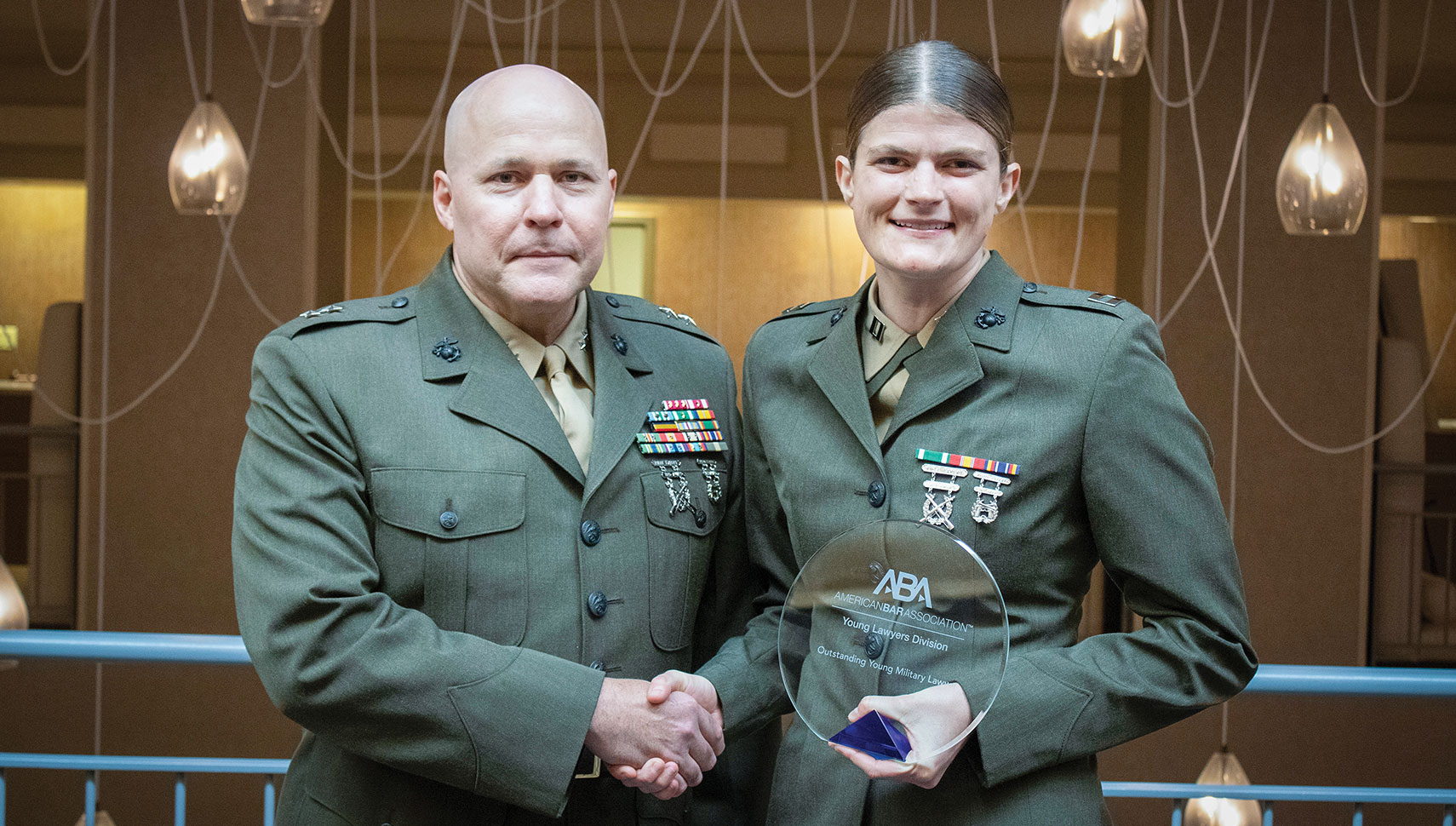 "It feels strange talking about myself," begins Maj. Shannon Beydler Hillery '12, "but I want to tell my story to inspire current students who are interested in the military, in legal practice, and who maybe didn't see this as a career path. This wasn't the path I saw myself going down at William & Mary."
After all, it was hearing from the personal experiences of others and seeking the advice of trusted mentors that got her to where she is today. Hillery is a Marine Corps judge advocate — a lawyer serving as a Marine Corps officer, not the same as a JAG, she notes — and this role has allowed her to practice law and serve her country in locations from Washington, D.C., to the middle of the Pacific Ocean. For her service, she was awarded the 2022 Outstanding Young Military Lawyer Award by the American Bar Association.
Hillery comes from a military family — her father retired from the Marine Corps and younger brother is currently serving as a Marine Corps officer — but she didn't think she was going to follow in their footsteps. When she started her freshman year at William & Mary, she was excited to stay in one place for four years in a row after moving so frequently growing up.
Before long, though, Hillery was taking advantage of all the opportunities W&M had to offer around the world. The summer after her freshman year, she studied abroad in Cambridge, England, learning about Jane Austen. The summer after her sophomore year, she went to the Masai Mara region of Kenya with the MASA American Student Association to teach. Her junior year, she spent a semester at W&M's Washington Center, studying new media and policy. And every January, she traveled with Students for Belize Education on a winter break trip to Belize to work with communities there, eventually leading the trip as a senior.
These experiences were personally meaningful and aligned with her goal of joining the Peace Corps or perhaps the State Department after graduation. But one class and one inspirational professor changed her plans. She loved Professor Christine Nemacheck's Civil Rights/Civil Liberties class and it opened her eyes to the idea of studying law.
Around the same time, she crossed paths with a female Marine Corps officer who told her she would be a great fit to join the Marines.
"After that, I just couldn't get the idea out of my head, that I could practice law in the Marines," says Hillery. "But I was taking a nontraditional path. I was already a junior and I wasn't in ROTC, and I didn't know if I could do it."
Nemacheck, the Class of 2024 Associate Professor of Government, was William & Mary's pre-law advisor when Hillery was a student. She helped connect Hillery with alumni who have military experience and with W&M Law School. She also counseled her through taking her LSATs. Hillery became the well-regarded lead editor of the Pi Sigma Alpha honor society Undergraduate Journal of Politics, which was housed at W&M at the time. 
"There are so many different ways to serve in the legal field," says Nemacheck. "Shannon is just a really committed person, conscientious and hardworking. When you have students like Shannon, you know they are going to go on to do something really fantastic, no matter what it is."
They are still in touch to this day, and Nemacheck was at Hillery's wedding to her husband, Kevin — a Department of Defense lawyer who is the first paraplegic U.S. Naval Academy graduate. 
"Professor Nemacheck really changed my path and perspective," says Hillery. "I would offer to students that if you are having a tough time, identify mentors — faculty, staff, alumni — who have done something that sounds interesting to you. It doesn't necessarily need to be something you know you want to do — if anything it's a conversation where you learn more about what you might not want to do after graduation. It can only help."
Hillery chose to attend law school at American University in Washington, D.C., inspired by her semester at the W&M Washington Center. Meanwhile, she went through Officer Candidates School in Quantico, Virginia, where she earned her commission as an officer in the Marine Corps.
She passed the Virginia bar exam in summer 2015, clerked for a year at the U.S. Court of Appeals for Veterans Claims, then returned to Quantico to spend six months in the same basic training as all other Marine Corps officers. Then she was off to Naval Justice School in Newport, Rhode Island, training with Navy and Coast Guard lawyers as well — and she graduated from that course at the top of her class.
Her first orders were to Hawaii. There, she started as a military prosecutor, bringing criminal cases against Marines on behalf of the United States. She then was assigned as a defense counsel — gaining perspective on both sides of the aisle. By the end of her tour in 2021, she was the headquarters company commander for the Headquarters and Service Battalion on Marine Base Hawaii in Kaneohe Bay, leading over 400 Marines, Sailors and civilians.
"I loved the courtroom and it made me such a better lawyer, especially my time in defense. It truly made me appreciate what public defenders, our civilian counterparts, do with higher volumes, a more varied population and fewer resources," she says.
While based in Hawaii, she had the opportunity to participate in two special assignments. In summer 2018, she served as a staff judge advocate for the Rim of the Pacific Exercise, the largest multinational naval exercise in the world, and was embarked on the USS Bonhomme Richard. She also spent two months supporting an integrated training exercise in the desert in California, as an on-hand judge advocate — providing advice on investigations and legal issues, as well as operational planning considerations — for the Marine regiment that was going through pre-deployment training and live fire training ranges. She lived for two months in metal Cold War Quonset huts.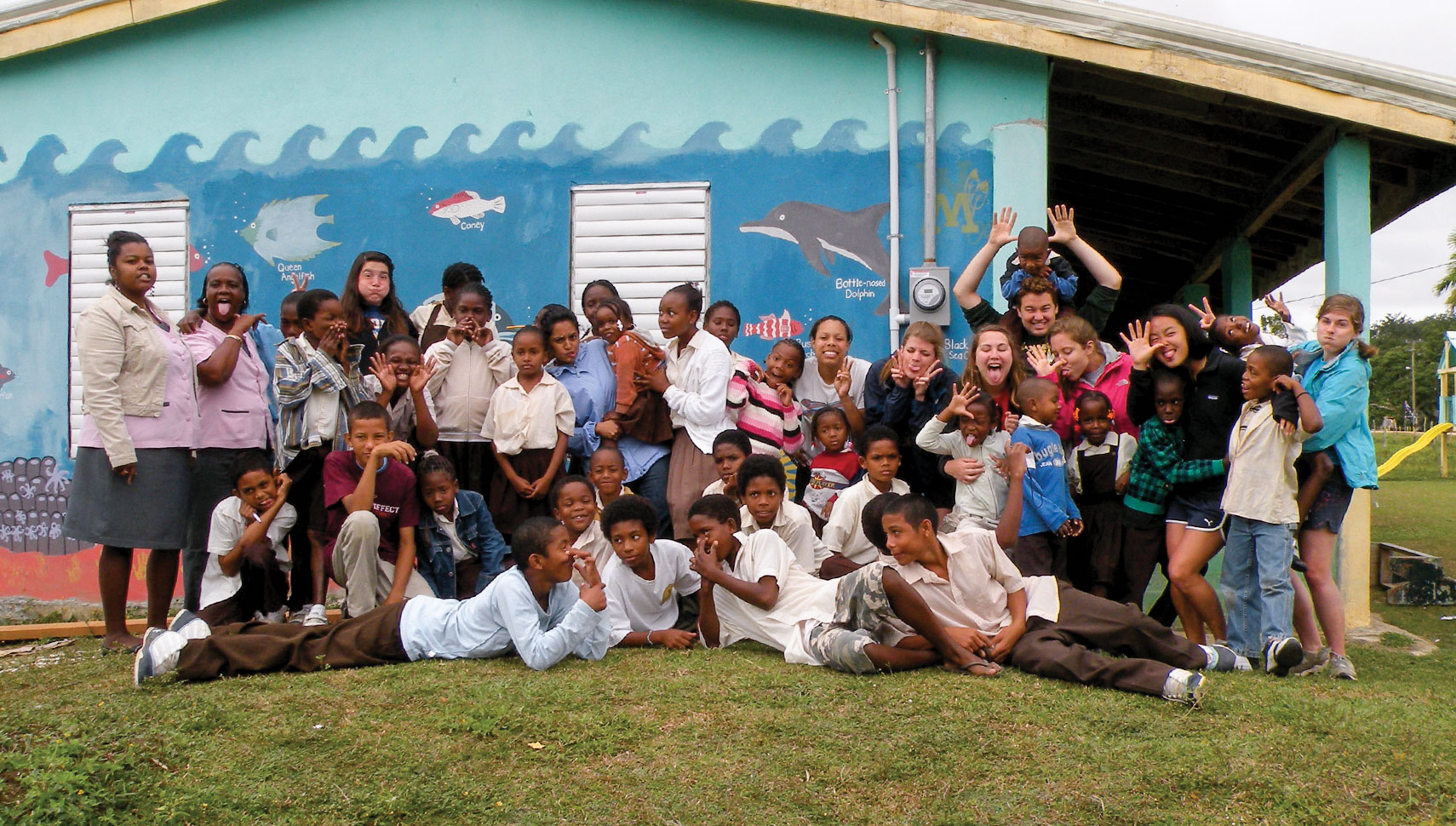 "It was a phenomenal experience, and very humbling to see what Marines are able to do, when all the different elements come together to achieve a mission," she says.
Last May, she returned to Washington, D.C., stationed at the Pentagon as a community manager in the Plans and Innovation Branch at Judge Advocate Division, Headquarters Marine Corps. Her role is to help prepare junior Marine judge advocates for their next assignments, and provide career counseling to help those officers determine what they might like to do next in their service.
In this assignment she also serves as a liaison between the Marine Corps and the American Bar Association and helps with recruiting efforts.
"Coming off this assignment I will know every member of the legal community in the Marine Corps," she says. "You are serving the community that's serving, so there are some feel-good moments when you find the right person for the right job and get them to where they need to be going next."
Last fall, Hillery started a part-time Master of Laws (LL.M.) program at George Washington University in national security and cybersecurity law. While she appreciated her time in the courtroom, she's enjoying the different pace of her work now.
"My current assignment allows me to have a lot of self-reflection. I'm talking to these men and women who are exactly where I was. It forces me to think back on how much I had to do, with the support of mentors and loved ones, to get me to where I am today," she says.
As to what her next assignment will be:
"That's up to the needs of the Marine Corps," she says. "I'll go where I'm needed."