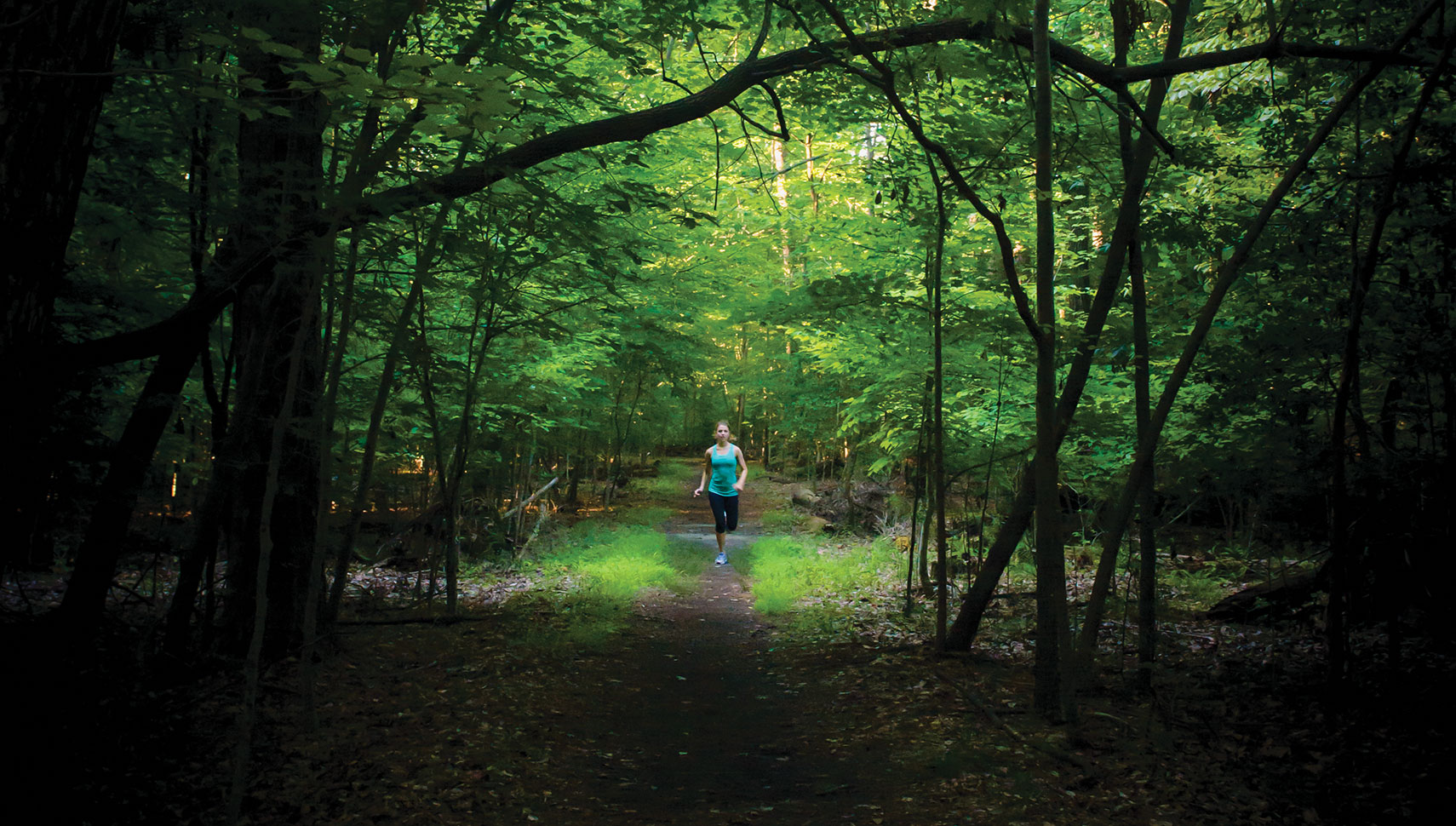 What's your favorite place on campus? Is it the same now as it was when you first came to William & Mary?
In a new video series on William & Mary's YouTube channel, current students share their go-to spots on and around campus, including the Wren Building, the volleyball courts at the Bryan Complex and a comfortable bench at the School of Education. Watch the videos and share what you would choose as "My Spot" on our Instagram and Facebook pages @wmalumni!
As spring blooms in Williamsburg and prospective students visit campus, we asked staff who are also alumni or parents of students to make a strong case for why their spot is the best on campus.
The Matoaka Trails on the campus of William & Mary have always been special to me. When I was a student at W&M, I would often walk the trail behind the Rec Center to decompress and spend time in nature. I loved exploring the beautiful College Woods and Lake Matoaka. Now as an adult, I have enjoyed introducing the trails to my family. My daughter and I had a particularly fun hike during the pandemic, during which she enthusiastically participated in the exercise stops along the way.
— Julie Sommer Leach '99
Executive Director of the William & Mary Foundation
It is ironic that of all the spots on our beautiful campus, my favorite place as a student was a room with no windows in the basement of a 1970s building that sometimes floods — the basketball locker room. I was not on the team until tryouts in October of my freshman year. I still remember the first time I was allowed into the locker room even before I had officially made the team. It was the site of team meetings, film sessions, pre-game speeches, post-game celebrations and stops throughout my daily routine. The camaraderie and brotherhood of the locker room made me feel like I belonged at William & Mary and led to many of my closest friendships that continue to this day.
During my time on staff, many of my favorite memories have taken place in the Sunken Garden. This includes a wide range of activities throughout the history of One Tribe One Day: riding a zipline, running through inflatable obstacle courses, eating Sno-To-Go with my kids and riding a mechanical shark, to name a few. It was the site of the launch of our For the Bold campaign at Homecoming & Reunion Weekend 2015, which was the first time we had the massive tent that has become a staple of Homecoming.
— Chris Stratton '08
Senior Director of Finance and Administration
As I have transitioned from a student to my newer roles of alumna and now staff member, my favorite spots around campus have transitioned as well. As a student, my favorite place on campus was the Center for Student Diversity (CSD). The CSD not only housed me while I studied or binge-watched TV, but it also allowed me to curate my community on this campus and find purpose in advocating for myself and my fellow students. My new favorite spot on campus has become Lake Matoaka. I enjoy sitting by the lake on a sunny day while reading a book and experiencing the peacefulness the water creates around me.
— Faith Odom '22
Assistant Director, Alumni Engagement and Inclusion Initiatives
My favorite spot on campus is the back patio at the School of Education. It's a lovely courtyard patio with comfortable tables and chairs where you can enjoy nice days outdoors studying, catching up with friends or just relaxing and getting some fresh air. Since the School of Education is a bit removed from the rest of campus, it's very peaceful and I love that I can always find a place to sit!
— Ashley Dustin Bronsky M.Ed. '20
Associate Director of Regional Engagement and Volunteer Management
The Sunken Garden. Without question. Although the answer is easy, the explanation is a bit complicated. I'm not sure if I like it because of the time that I've spent in the Sunken Garden, or more because of the way others spend their time in the Sunken Garden. I've seen students paint and dance there and sing and throw frisbees, while others sit and read a book in the shade of the trees. Sometimes it's a shortcut and other times it's a long leisurely walk. In the summer it's quiet and green, and other times it's loud and packed from one end to the other. It doubles as a classroom and a study space. It's where you meet your friends and then reunite with them years later. And as I write this, I'm looking forward to the coming weekend, where once again with my fellow coworkers and friends and William & Mary students we will be enjoying time on the lawn of the Sunken Garden for the Day for Admitted Students.
— Alfred Herczeg P '23
Art Director