All

Online Exclusives
W&M's AidData and Partners Receive $4.74M for Agriculture and Climate Research
Four-year grant from the Bill & Melinda Gates Foundation will broaden the use of satellite imagery to evaluate projects in developing countries
September 28, 2022
By Tina Eshleman

By analyzing satellite images generated over decades, the team at William & Mary's AidData research lab is able to accurately assess the benefit of rural irrigation projects for farmers in Mali and the economic impact of landmine-clearing efforts on remote villages in Afghanistan.
AidData's use of geospatial technologies in these and other cases studies dramatically expands the range and cost effectiveness of such evaluations, helping international development organizations decide how and where to invest their funds to achieve the best outcomes.
The lab's work caught the attention of the Bill & Melinda Gates Foundation, resulting in a $4.74-million, four-year grant for a new project led by AidData with two other partners: Mercy Corps and DevGlobal. Named GeoField — which stands for Geospatial and Earth Observation for Impact Evaluation, Learning and Development — the project will broaden the use of satellite imagery for studying agriculture and climate resiliency in developing countries.
"W&M has rapidly become the place to be for data and computational sciences applied to human questions and challenges," said President Katherine A. Rowe. "As research in our AidData lab has shown, these are critical tools for tackling our world's most urgent problems — and a leading edge for Arts & Sciences today. We thank the foundation for investing in the GeoField project."
Ariel BenYishay, chief economist and director of research and evaluation at AidData as well as an associate professor of economics, anticipates the GeoField project will include up to eight case studies. Among the potential studies is an initiative in Nepal to help farmers plant crops such as sugar cane that provide income while also preventing erosion along steep hillsides and river basins. Another could assess efforts in Asia and sub-Saharan Africa to produce strains of rice that need less water to grow and can better survive climate change-induced droughts and floods. A key component of the GeoField research will be examining the role of gender in agriculture.
AidData, housed in W&M's Global Research Institute, will share information about the studies and how to conduct geospatial research on a soon-to-be-launched GeoField website and through seminars and tutorials in collaboration with the project partners.
William & Mary's share of the Gates Foundation support, about $2.75 million, is expected to lead to new staff positions, as well as additional opportunities for students to gain experience working on global projects. It also provides a long-term source of funding, which allows AidData more time to focus on research, rather than on grant applications.
"We very much appreciate this vote of confidence by our friends at the Gates Foundation," said GRI Director Mike Tierney, '87, M.A. '88, who is also the George & Mary Hylton Professor of Government. "We look forward to continued collaboration with Mercy Corps and DevGlobal as we develop new methods to sustain agriculture in countries plagued by conflict, drought and natural disasters. I'm particularly impressed by the way Ariel has built a multidisciplinary team of students, faculty and staff to help farmers, governments and donors efficiently assess interventions designed to cope with climate change." 
"There's a lot of great evaluation work that's being done to learn about how to help farmers in developing countries use new climate-smart agricultural techniques, and just generally have more productive agriculture," said BenYishay. "But much of that still relies on actually sending survey teams to visit farmers in their homes or their fields. As a result, that research is expensive, doesn't happen as frequently as we would like, and it can only capture a limited scope."
Using satellite-generated imagery from NASA, the European Space Agency and other sources, AidData's researchers can view an entire country at a time, rather than just a few sites.
"We can get images over the same fields, even multiple times a day, and that gives us much more continuous data," BenYishay said. "And we have a lot of historical satellite data, in some cases going back to the 1980s. With satellite imagery, we can retrospectively reconstruct what was happening on the ground before and after projects were implemented or infrastructure was built, giving us broad lessons on what works and what doesn't, and how donors and governments can do better in the future."
Besides the visible spectrum in satellite imagery, the AidData team reviews other components such as near-infrared light that provide a better indication of how green a crop is than what our eyes can see, BenYishay says. In other research, AidData uses data from nighttime lights, which are picked up from the ground by satellites each evening, to assess things such as local economic development.
This research is paired with data such as household income to develop policy evaluations for governments and aid organizations.
Only a handful of other academic institutions are combining geospatial research with agriculture and climate studies, and those are much larger universities than William & Mary.
"We're swimming in some pretty deep waters," BenYishay said.
The interdisciplinary nature of AidData's staff is also notable, he added: "It's rare in the development world to have people who are trained in satellite imagery and environmental studies working together with people trained in social sciences or impact evaluation."
Key members of AidData's research and evaluation unit who will contribute to the GeoField project include geospatial scientist and co-principal investigator Kunwar Singh, senior research analyst Rachel Sayers, research scientists Seth Goodman M.S. '19, Ph.D. '21 and Katherine Nolan, senior program manager Jessica Wells and junior data analyst Madeleine Walker '21. Their fields of study include environmental science, remote sensing and geographic information systems, electrical engineering, computational geography, economics, public policy, international relations, development studies and French.
"This is going to be a great chance to have them increasingly take on more and more research leadership," BenYishay said. "The scale of this initiative is very ambitious, and the goal is over the four years to transition more and more leadership of the underlying research projects and the individual use cases to our staff team. This is going to be a journey for all of us."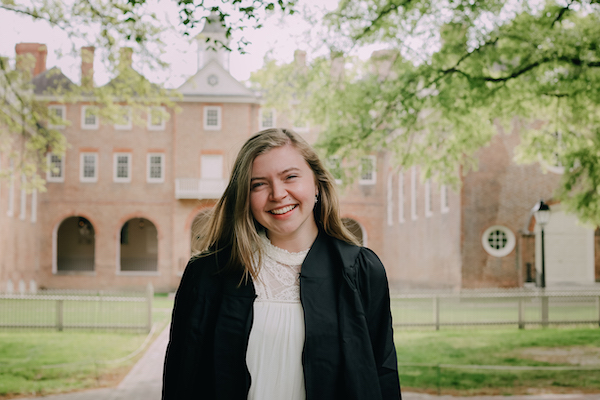 Walker, who majored in economics and French at William & Mary, was drawn to development research after taking a class in empirical microeconomics with BenYishay and participating in a Global Research Institute summer fellowship in Guatemala.
There, she observed an example of how international development projects don't always work out as planned: A 40-room hospital had been built in a rural area but was going unused because there were no doctors to staff it.
"Things like that made me think about how development aid could be used most effectively," Walker said. "That made me want to do research, to hopefully be part of the solution instead of the problem."
Since joining the staff at AidData a little over a year ago, Walker has worked on projects in Mali, Afghanistan and Ghana. She also is contributing to an academic paper for an economics journal about the lab's work in Afghanistan.
"I feel lucky to be a co-author on a paper like that a year out of undergraduate school," she said.
An important conclusion from the Afghanistan study is that clearing landmines can have a positive effect on economic growth, even during a time of conflict, she said, adding that this knowledge could make a difference in whether the United Nations decides to continue de-mining efforts in Afghanistan now that the Taliban are in power.
"It would be awesome if the U.N. read our paper and saw that, despite conflict, de-mining can still have very important impacts, and found a way to continue de-mining."
For the Mali project, Walker collected and aggregated household income data from the World Bank to determine whether irrigation measures had any effect on income. She also heard from some of the farmers themselves during a focus group she attended virtually. Walker's French studies at W&M helped her to understand the conversation.
She was especially interested in the perspective of women farmers, who said that irrigation made it easier for them to farm their plots and because of that, they made more income and gained respect from their husbands. 
"They also said that they were able to grow more nutritious crops, and so their kids were less sick and went to school more," she said. "These were amazing, amazing results."
The number of women farmers in the focus group was a small sample, Walker said. "So, we can't assume that these benefits were felt by everyone, but I did find them very exciting and promising in terms of how research can lead to impact."
About the Partners
Housed at William & Mary's Global Research Institute, 30+-person AidData connects decision-makers and researchers who have a shared interest in working together using granular data and innovative tools to solve pressing problems, precisely target resources, and use rigorous evidence to measure the impacts of policies and investments. AidData prioritizes working in areas where the team's expertise can have an outsized impact — data-poor environments where there is an unmet need for better evidence and insights.
Spanning Africa, India, and the United States, DevGlobal Partners supports the world's leading nonprofits, companies, philanthropies, multilateral agencies and government agencies on their innovation and sustainability initiatives. DevGlobal builds teams and brings organizations together to democratize technology, bridge divides and disrupt with intention. DevGlobal has extensive background in Earth Observation and geospatial technologies.
 Mercy Corps is a global team of over 5,400 humanitarians working to create a world where everyone can prosper. In more than 40 countries affected by crisis, disaster, poverty and climate change we work alongside communities, local governments, forward-thinking corporations and social entrepreneurs to meet urgent needs and develop long-term solutions to make lasting change possible. Across its humanitarian and development program and research portfolio, Mercy Corps explores and tests solutions to advance climate-smart agriculture. Mercy Corps has a total operating budget of over $550 million and last year reached over 50 million people.