There was much to celebrate during Homecoming & Reunion Weekend 2023, Oct. 19-22! More than 4,000 members of the W&M community returned to campus for the festivities, which included over 100 events hosted by the W&M Alumni Association, campus partners, and student and alumni organizations. Signature events included the dedication of the first phases of the Arts Quarter, the Homecoming Parade, class reunions, the Saturday Night Bash and more. 
Iconic actor and accomplished alumna Glenn Close '74, D.A. '89, H.F. '19 was a featured guest at several events in conjunction with the university's Year of the Arts, a yearlong celebration to amplify the crucial importance of arts education in the 21st century and highlight the vital role that the arts play in all facets of W&M's educational experience.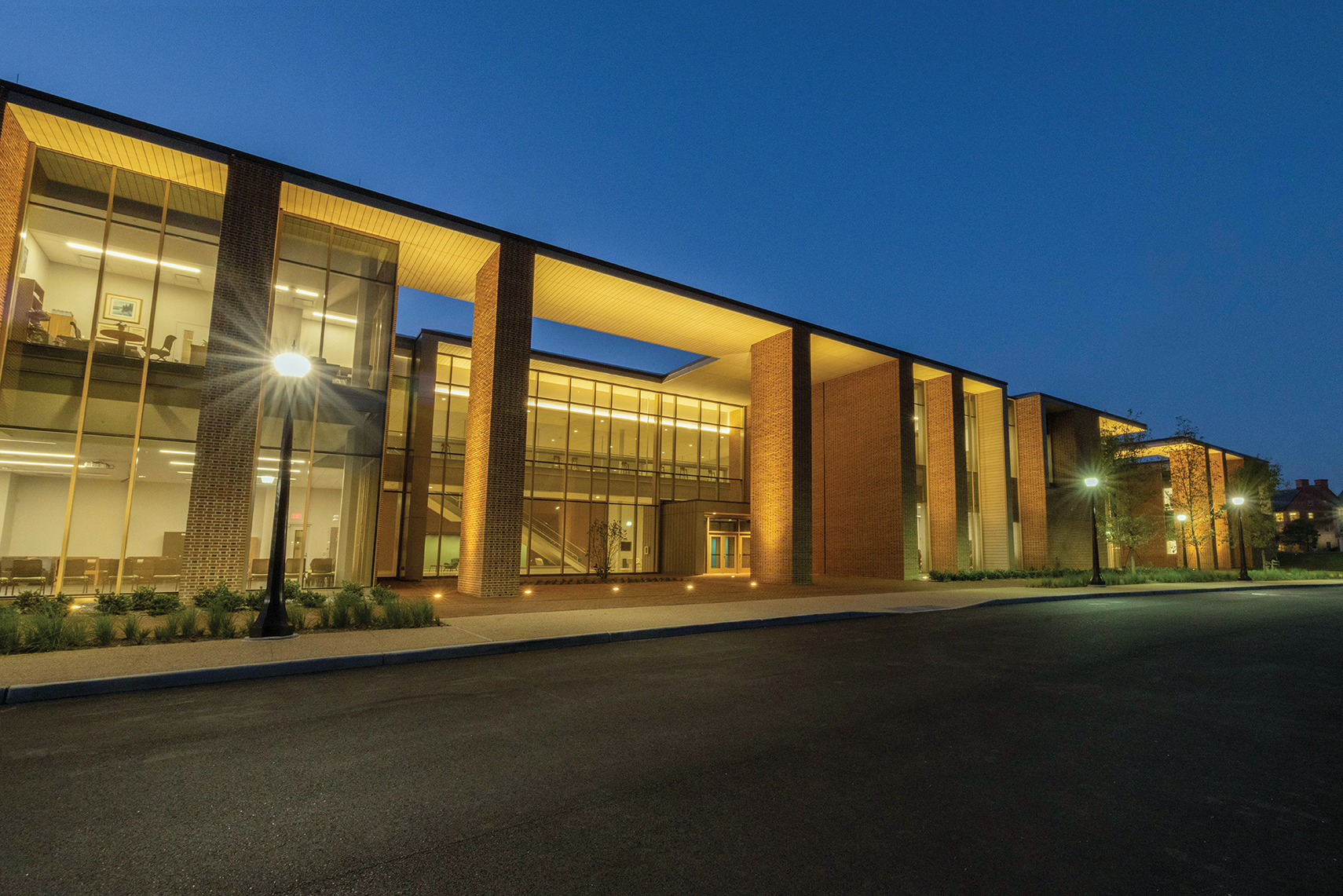 Photo by Alfred Herczeg P '23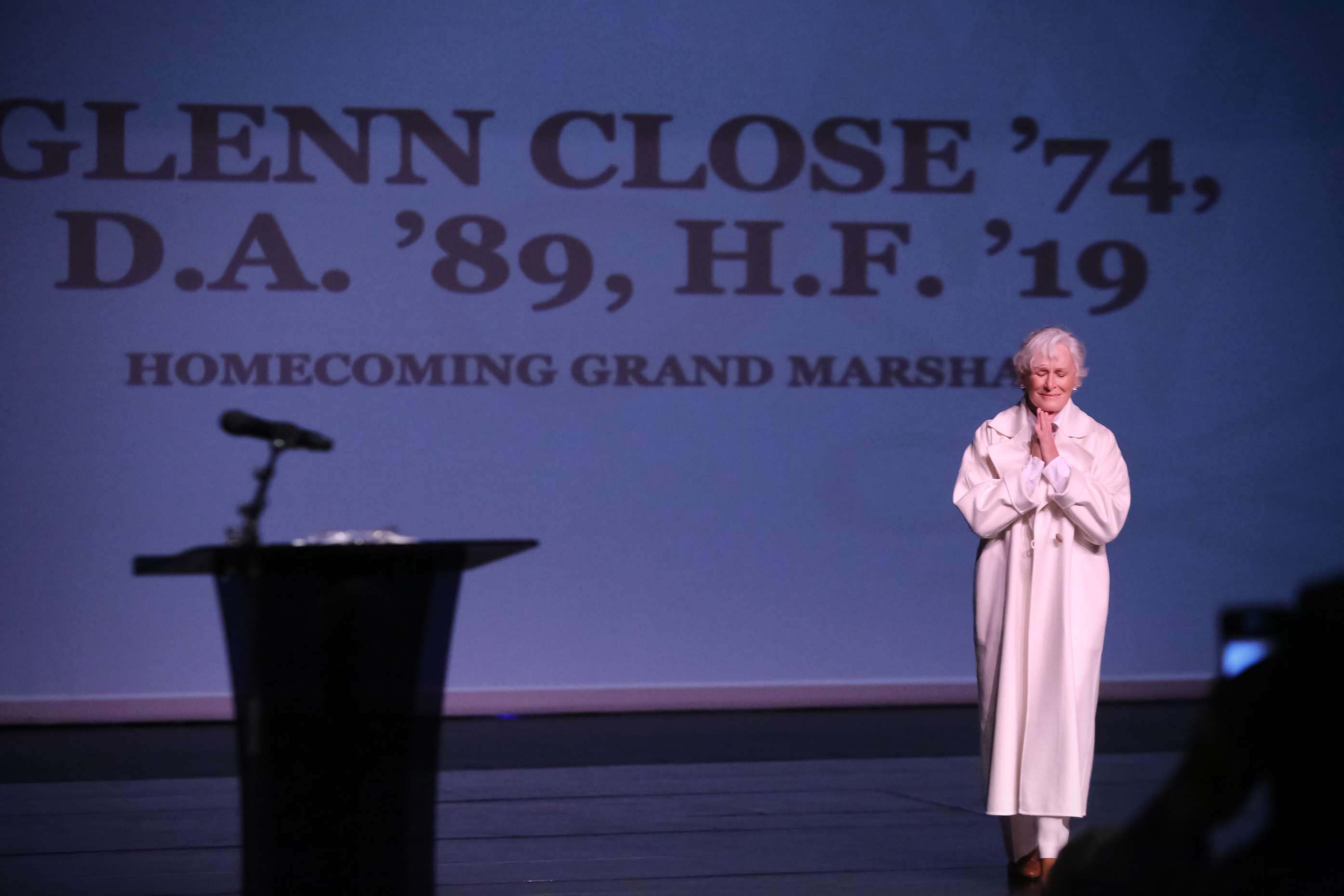 Photo by Stephen Salpukas
Arts Quarter Dedication and Open House
On Thursday, the university community welcomed Close, one of the nation's most distinguished actors of stage, television and film, for the dedication of the renovated Phi Beta Kappa Memorial Hall and new Music Building. These two state-of-the-art facilities, in addition to Andrews Hall and The Martha Wren Briggs Center for the Visual Arts which houses the Muscarelle Museum of Art (currently undergoing an expansion and renovation), comprise the new William & Mary Arts Quarter.
"William & Mary students, faculty and staff, neighbors in Williamsburg and beyond — now and in years to come — will bring our Arts Quarter to life. With every new performance, exhibit, showcase and creation, we will realize W&M's vision: to bring together people to understand the world and change it for the better," said William & Mary President Katherine A. Rowe.
The event included the formal naming of PBK's main stage to be the Glenn Close Theatre in Close's honor. William & Mary Rector Charles E. Poston J.D. '74, P '02, P '06, Dean of the Faculty of Arts & Sciences Suzanne Raitt and organ student Karino Gibson '24 also shared remarks, emphasizing the impact the spaces will have on future generations of students and community members alike. This video highlighted the arts at William & Mary.
Close was joined by her dog, Sir Pip, who helped pay tribute to the dog she had as a student, Penny. A seat will be dedicated in Penny's honor in the new theatre.
"My experience at this great institution was like water on my desert. Slowly I started to bloom. Now, 49 years later, here I am. Back in my first true community. Back to the place that looked at me as a whole human being with unlimited potential," said Close. "In this grievous, fractured world, may we never stop seeking community, connection and kindness. May we always be aware of the fact that everyone, no matter who they are, where they come from, or what they believe, has a story — a story which is important and worthy of our attention. Let us laugh together, let us wail together, let us continue to be informed and enlightened by theatre and the performing arts. And let it be in here, as it was for me, for generations to come."
After the dedication ceremony, guests explored the new spaces in an open house. Student musicians performed and costumes from some of Close's theatre, film and TV roles were on display.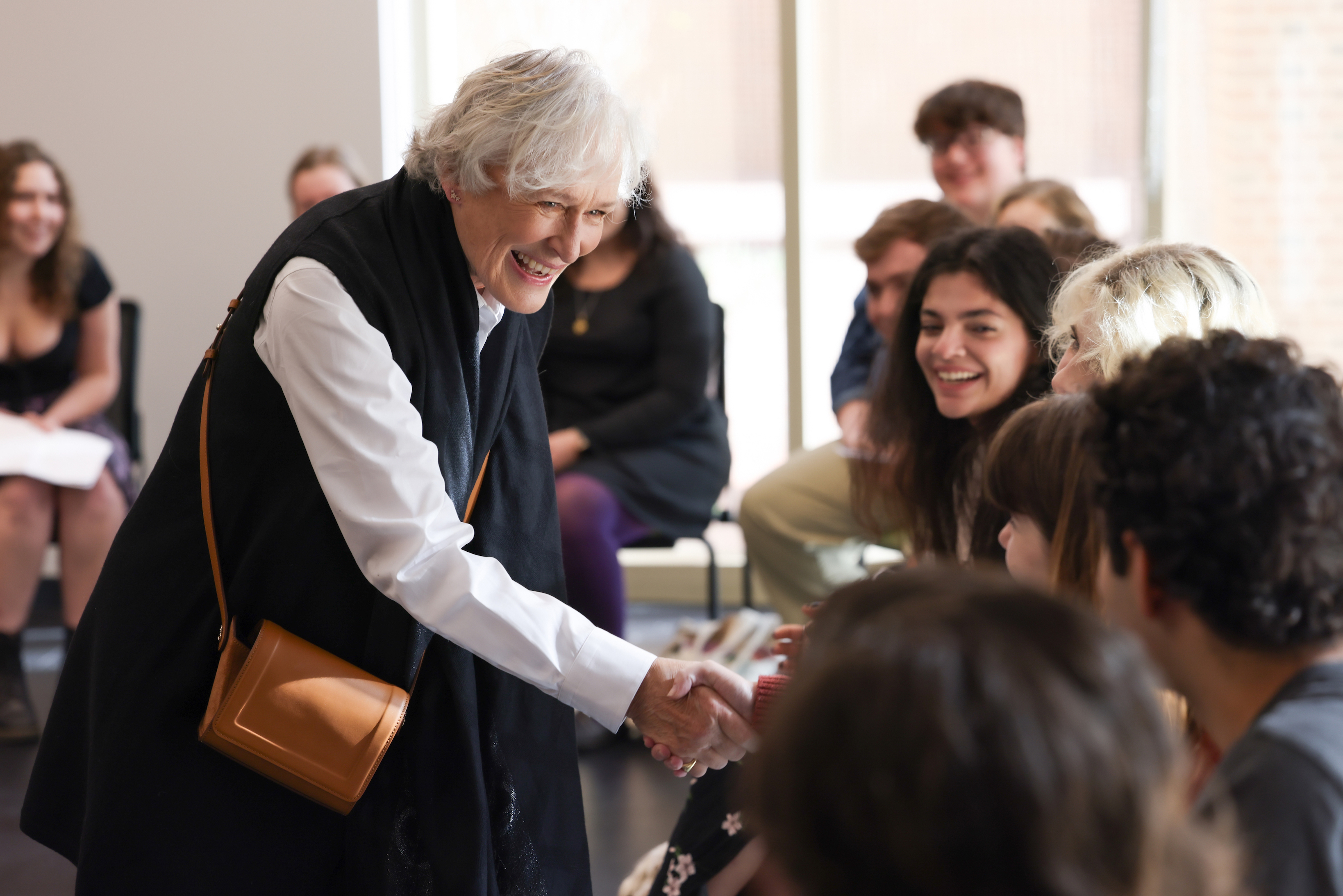 Photo by Alfred Herczeg P '23
Glenn Close Masterclass
Close also shared her insights with current theatre students in a private masterclass.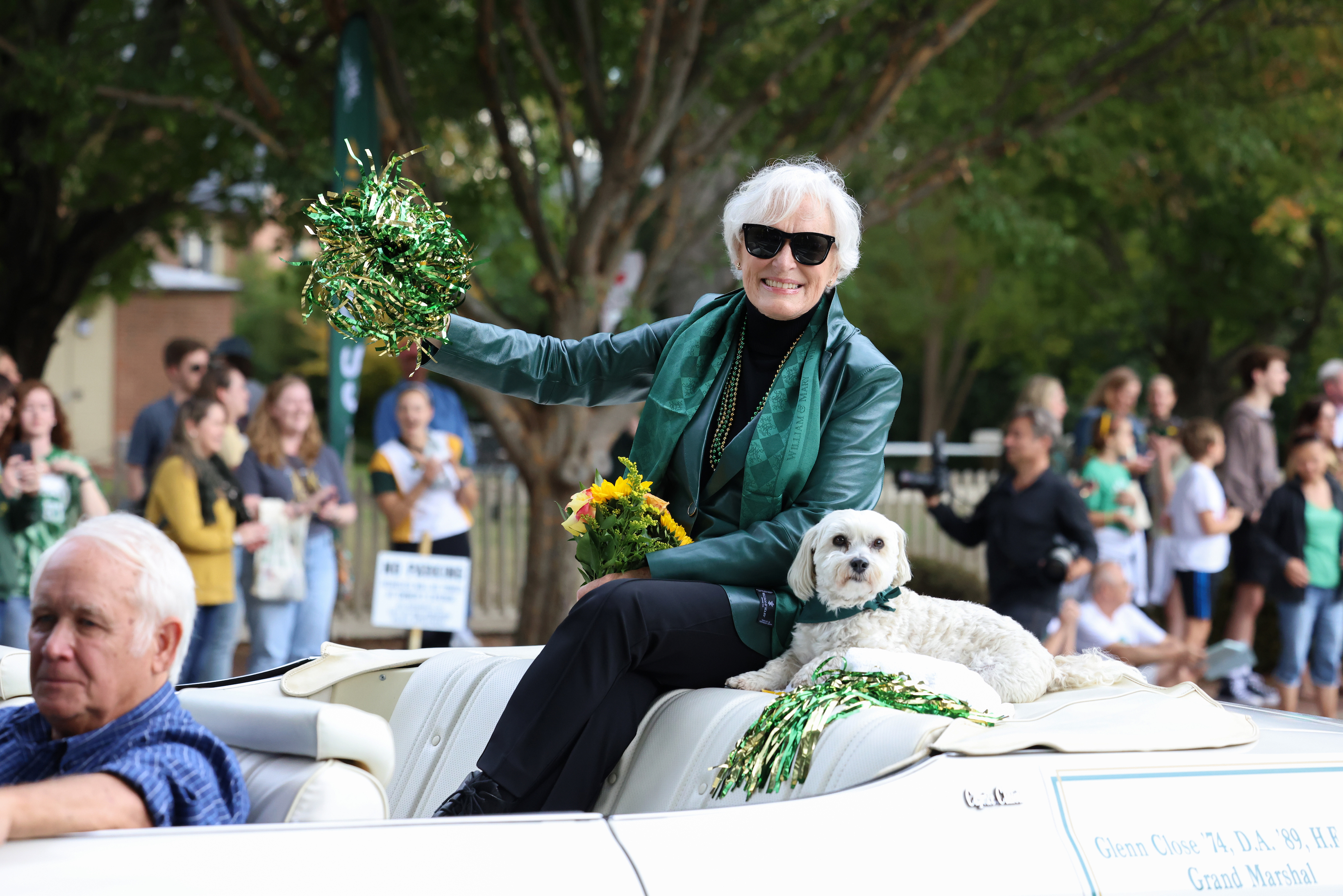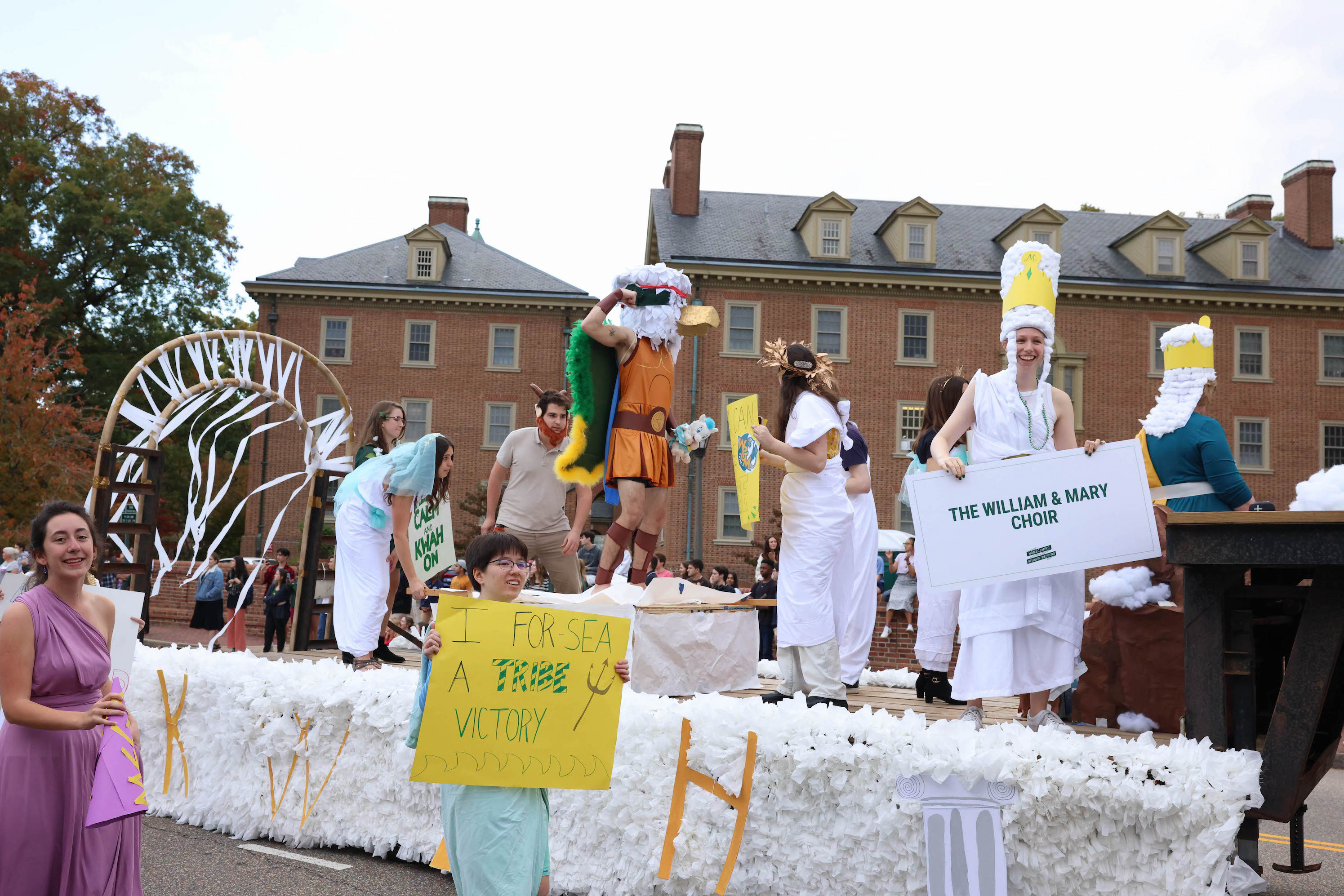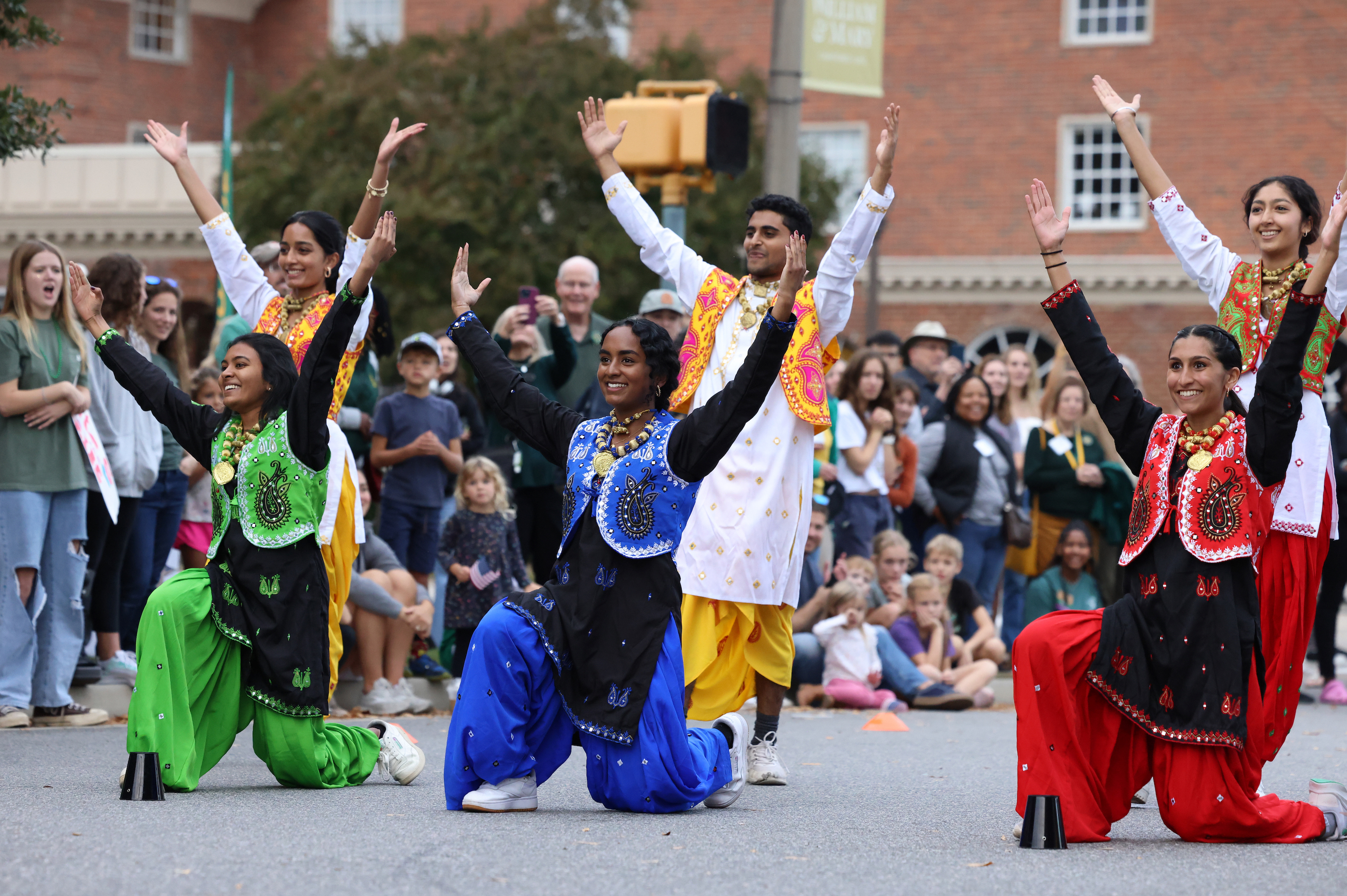 Parade photos by Alfred Herczeg P '23
Homecoming Parade 
Thousands of members of the William & Mary and Williamsburg communities turned out on Richmond Road to cheer for the parade, which featured more than 50 groups and 1,300 participants! Homecoming Grand Marshal Glenn Close '74, D.A. '89, H.F. '19 led the parade.
Walking groups, performances and floats were judged on creativity, effort and school spirit, and student organizations were eligible to win cash prizes. W&M Alumni Association Board of Directors member Bill Schermerhorn '82, creative director for Colonial Williamsburg's signature events, former creative director for the Macy's Thanksgiving Day Parade; Young Guarde Council Co-Chair Carlton Smith '15, M.A.Ed. '17, director for multicultural affairs at University of North Carolina Asheville; and Dean of Students Stacey Harris served as judges.
This year's winners were the William & Mary Choir, Delta Chi and Chi Omega, and the Barksdale Treble Chorus for best student floats; Griffin Bhangra, Syndicate Hip Hop Dance and the W&M Pep Band for best student performances; and Alpha Kappa Alpha Sorority, Inc. Nu Chi Chapter, the Cheese Club and Improvisational Theatre (I.T.) for best student walking groups. Club Sailing and Racing took the spirit award for "sailing" a boat down Richmond Road.
Scholarships Luncheon
Scholarship recipients and supporters gathered in the main tent on the Sunken Garden Friday afternoon for the Scholarships Luncheon, celebrating the impact of philanthropic investment in student opportunities and experiences at the university. President Rowe shared an announcement of a $2.5 million landmark gift establishing a scholarship endowment and applied learning endowment for out-of-state Pell-eligible students. William & Mary professor and Posse Scholars advisor John Riofrio hosted an insightful conversation with Posse scholar and theatre/data science double major Natalie Tubia '25 about the opportunities she has at William & Mary to pursue her varied interests. W&M Gymnastics alumna Keaghan Schafer '23 was featured in the video above, which was shown during the event.
"Scholarships fuel the personal learning experiences that matter so much at William & Mary. Our students are the best examples of the impact of a William & Mary education. They are both/and: athletes & artists, smart & fun, data savvy & creative thinkers. They are our future citizens & professionals. A new generation embodying the ampersand," said President Rowe.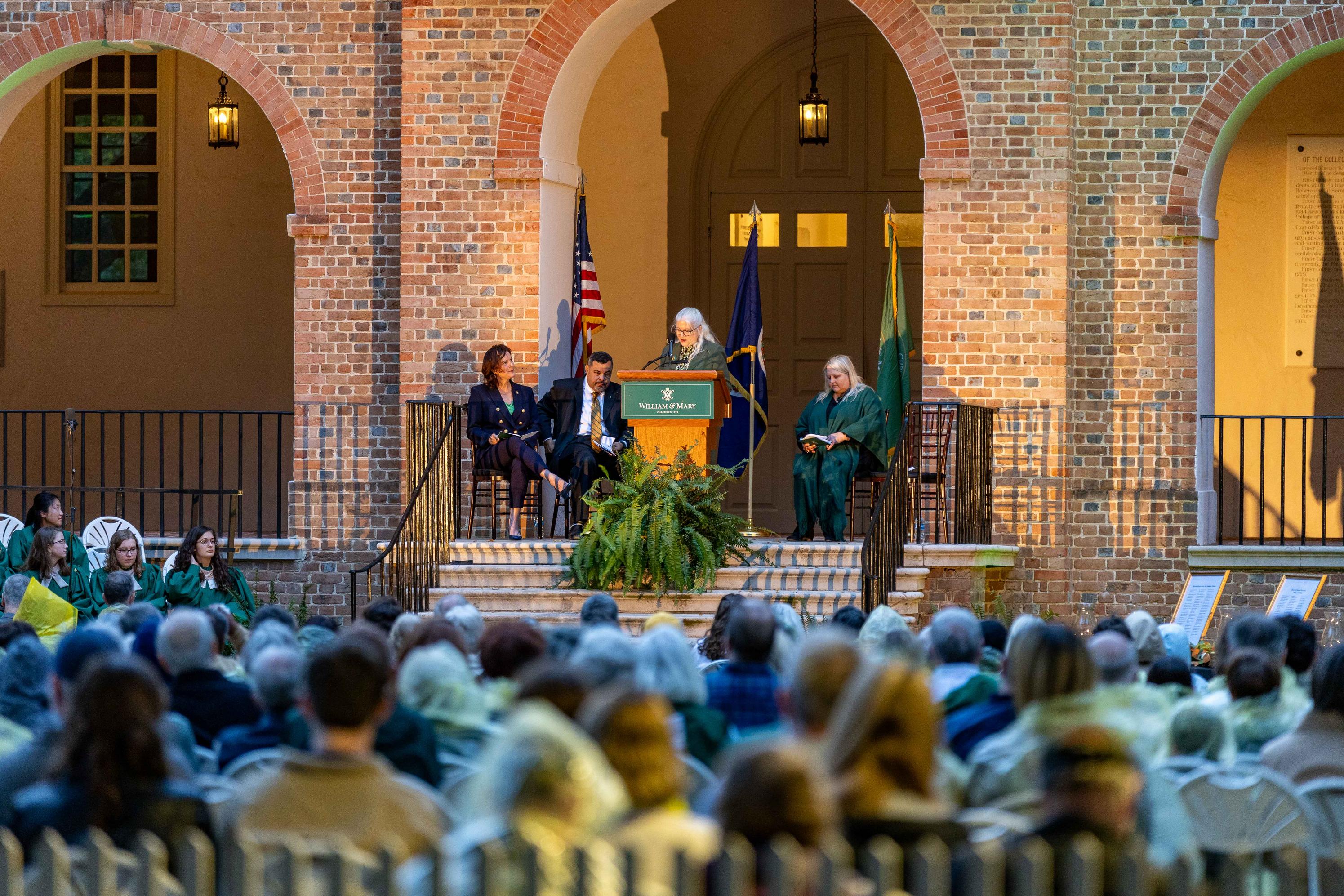 by Skip Rowland '83
Sunset Ceremony 
At Friday night's Sunset Ceremony, the university community honored more than 400 alumni, faculty, staff and friends of the university who had passed away since last year's Homecoming. President Katherine A. Rowe and Reverend Lisa Green '83, P '10 were among those who provided remarks, and the ceremony included selections performed by the W&M Choir, the lighting of candles and the ringing of the Wren Bell. A recording of the ceremony will be available on the Sunset Ceremony webpage after Oct. 30.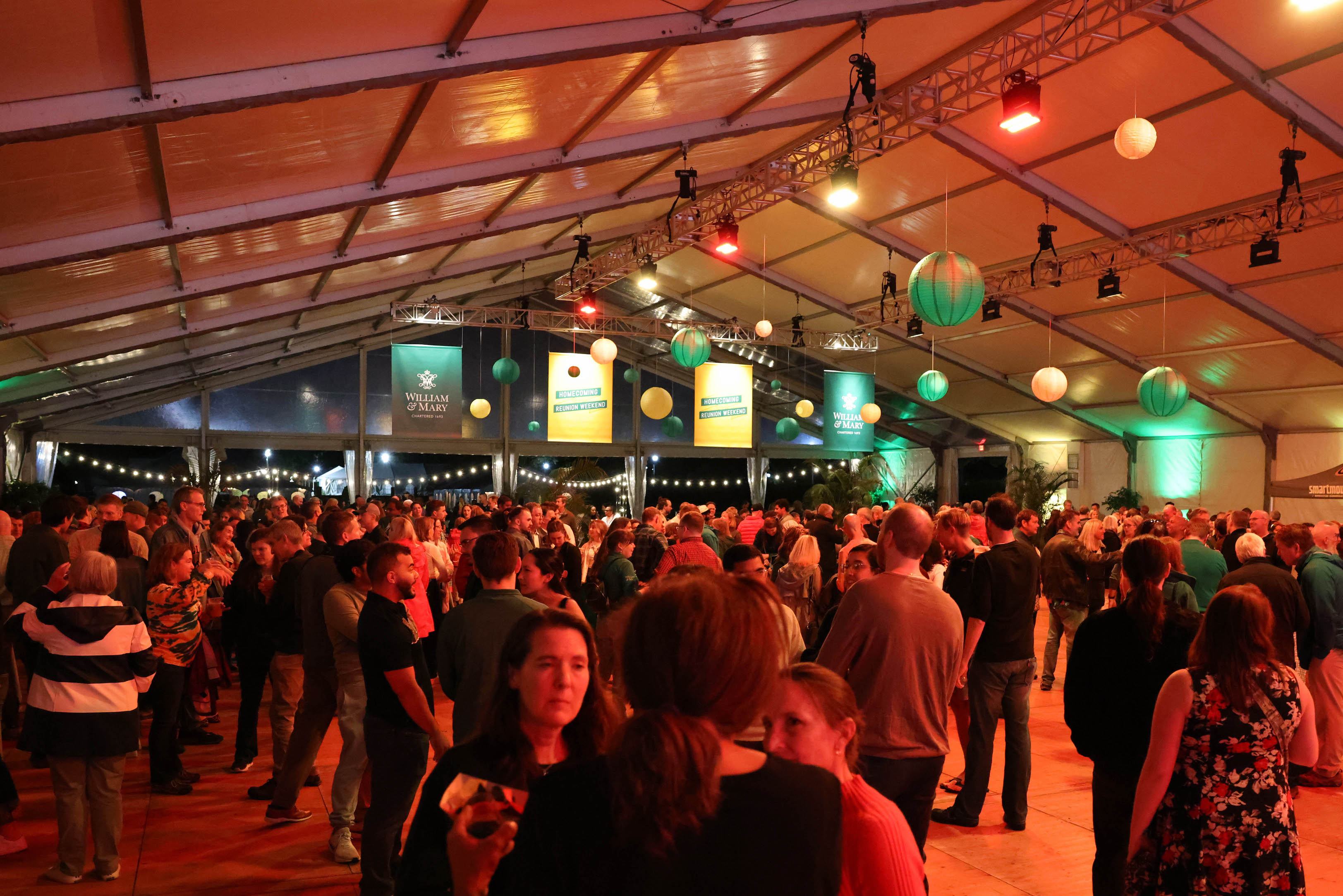 Photo by Alfred Herczeg P '23
Friday Night Fest
During a short downpour later that evening, hundreds of alumni and friends took shelter under the main tent in the Sunken Garden at the Friday Night Fest. Attendees reconnected over samples of Virginia beer, wine and spirits while swaying to the music of a jazz trio and nibbling on hot dogs, barbecue sandwiches and soft pretzels. Representatives from featured breweries, wineries and distilleries were on hand to talk about each drink sample and its backstory.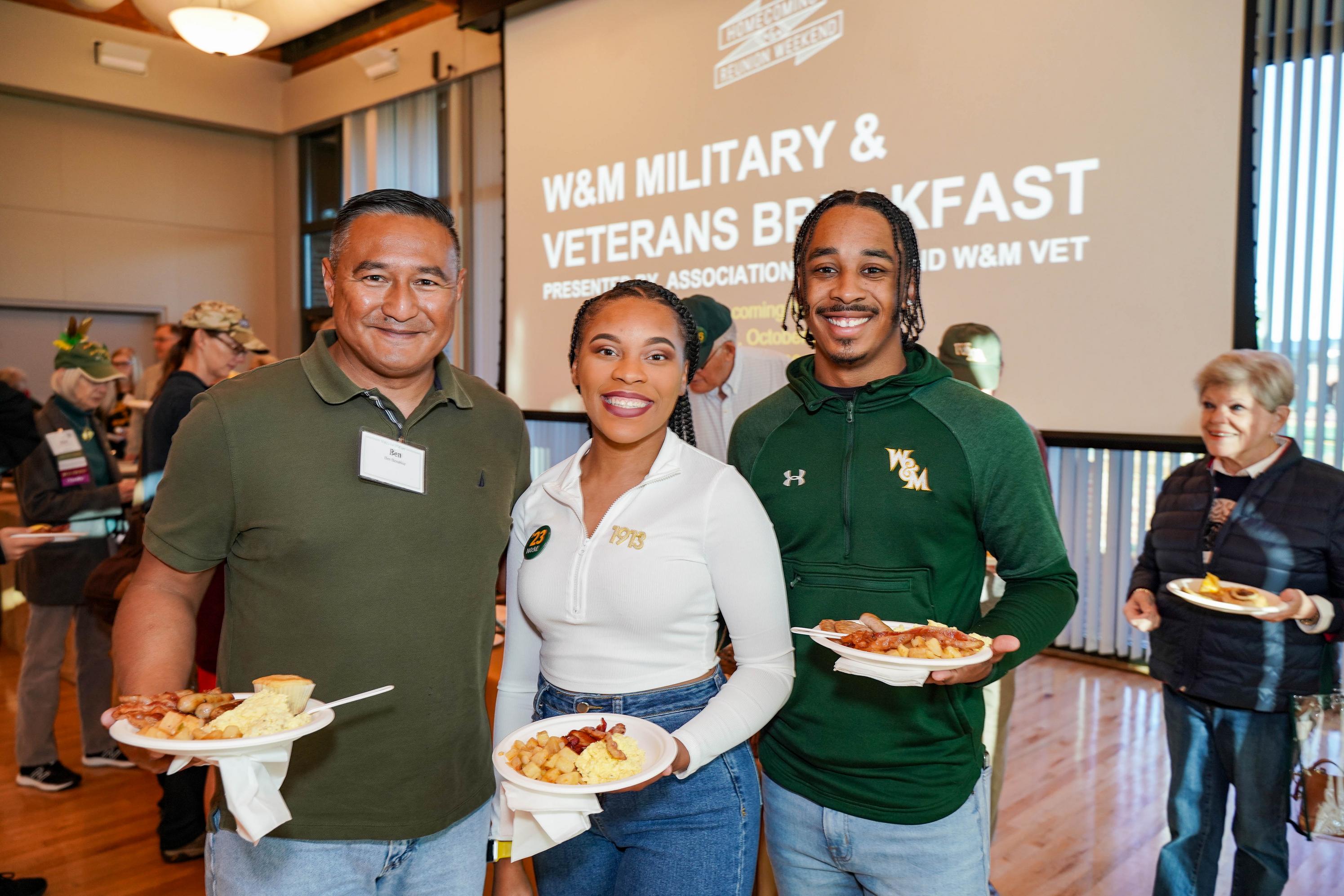 Photo by Skip Rowland '83
W&M Military & Veterans Breakfast presented by Association of 1775 and W&M VET
On Saturday morning, military and veteran students, alumni and their families gathered for the annual Military & Veterans Breakfast, presented by the Association of 1775 and W&M VET. Other W&M Alumni Association affinity and identity groups hosting receptions throughout the weekend included the Order of the White Jacket (alumni who worked in food service to finance their college education); Hulon Willis Association (alumni of Black or African descent); Latinx Alumni Association (Latino/a); Crim Dell Association: William & Mary LGTBQ+ Alumni and Asian-Pacific Islander-Middle Eastern Alumni of William & Mary.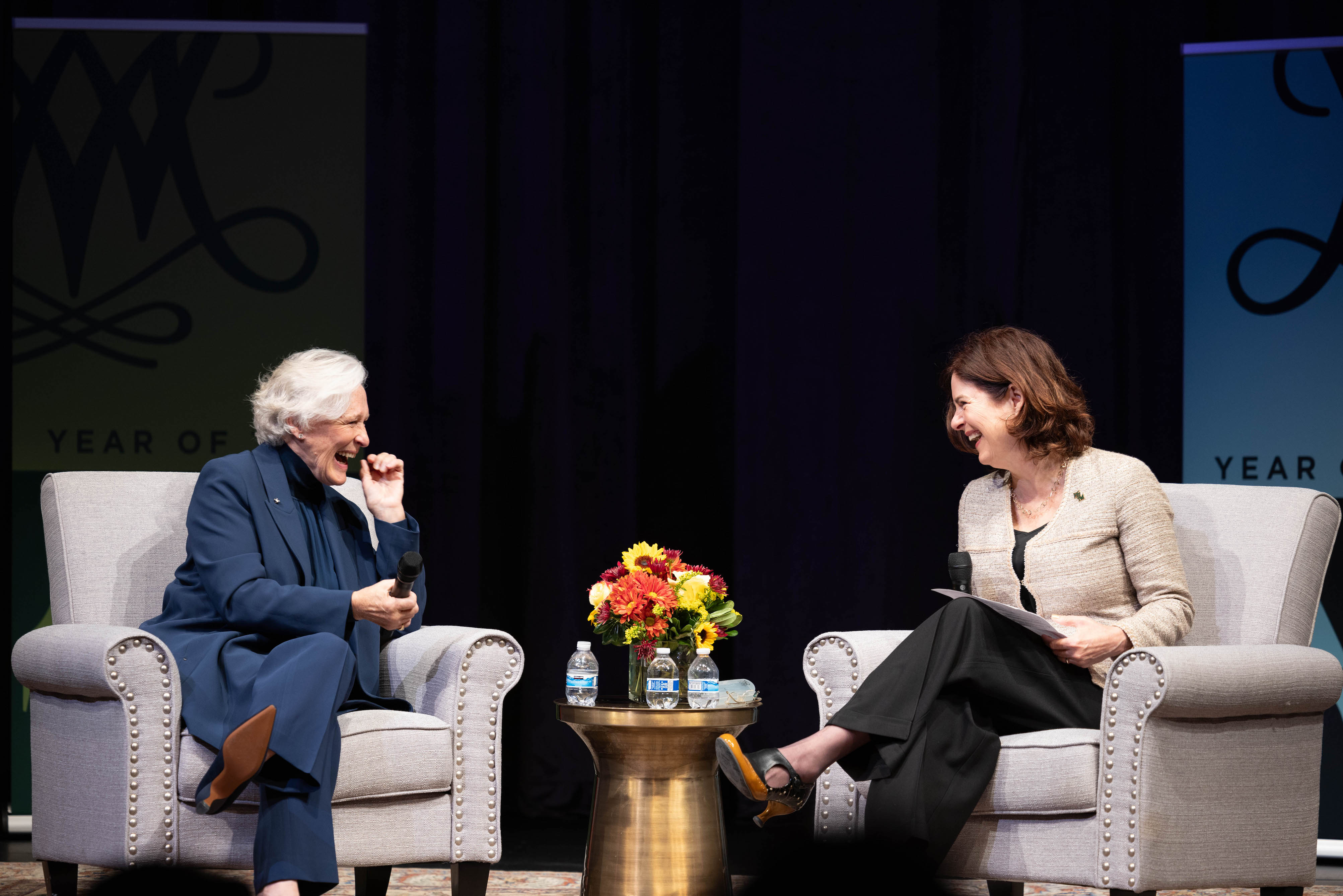 Photo by Alfred Herczeg P '23
Presidential Conversation
On Saturday morning, Glenn Close and President Rowe sat down in the newly named Glenn Close Theatre for their Presidential Conversation about the role of the arts at William & Mary. Close shared memories from her time as a student, during which she performed in a variety of campus productions and was mentored by longtime W&M theatre professor Howard M. Scammon Jr. '34. She described how she has used her liberal arts education in her career and how it helped her better understand the characters she portrayed.  
"Art is about human expression, isn't it? I think a part of a great liberal arts education is how to learn to express yourself as an individual … I think the arts is where you explore the human condition, and I think the more you can do that, the more you will have empathy for what it means to be a human on this particular planet," said Close.
"If you are lucky enough to come to a place like William & Mary that is a great liberal arts institution, no matter what you want to do for the rest of your life, that is the most incredible way to begin your life as an adult because it keeps you curious. That's what it did for me. It keeps you curious about things other than what you want to do." 
A recording of the event will be available on the Presidential Conversation webpage for a limited time. 

Photo by Skip Rowland '83
Homecoming Tailgate 
On Saturday, the Dimeslots (founded by members of the Class of 1983) and Deeme Katson '81 performed in the main tent while alumni, family, friends, students, faculty and staff enjoyed lunch from local food trucks and enjoyed the sunny fall weather in the Sunken Garden. Alumni in reunion years took class photos, which will be available for download.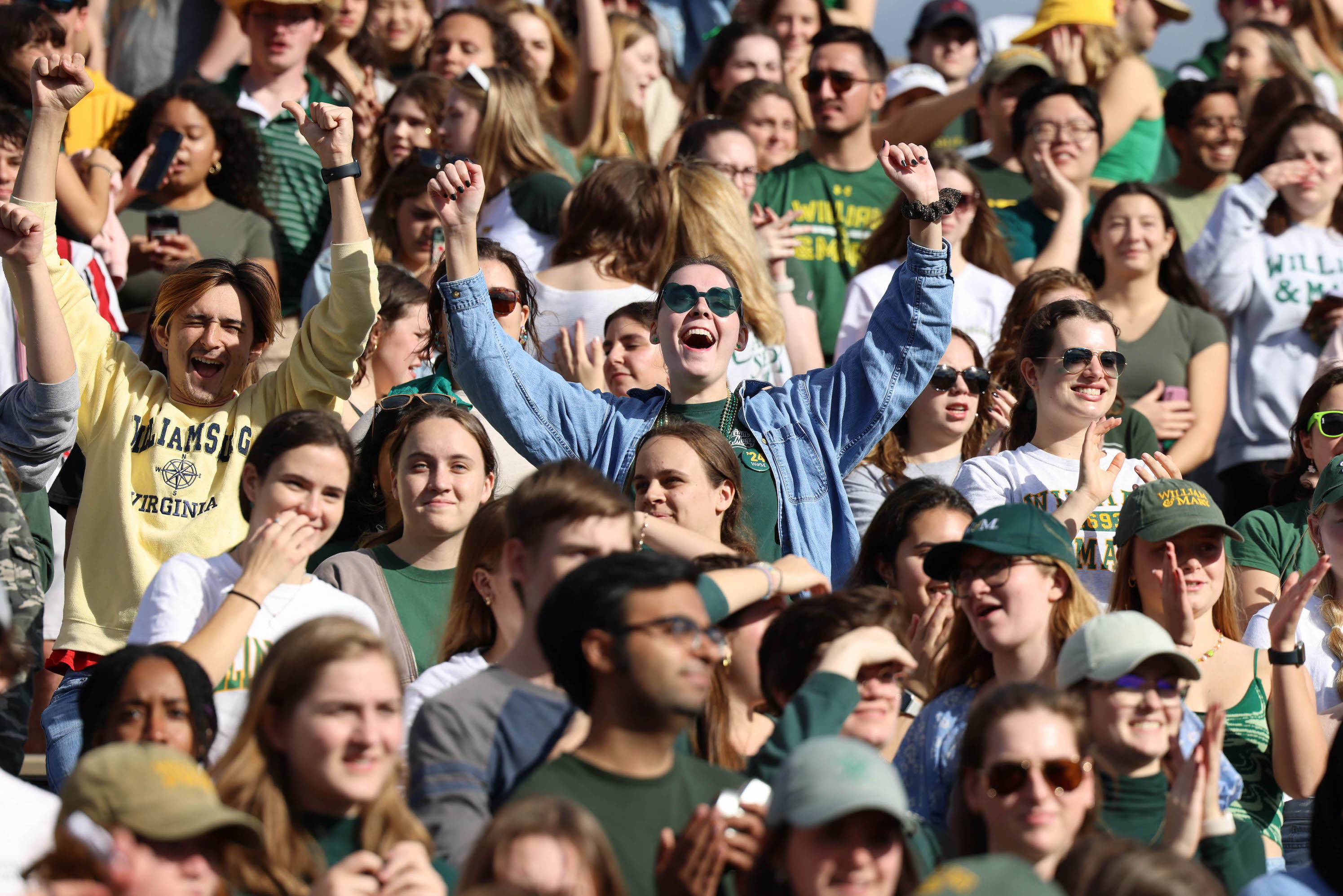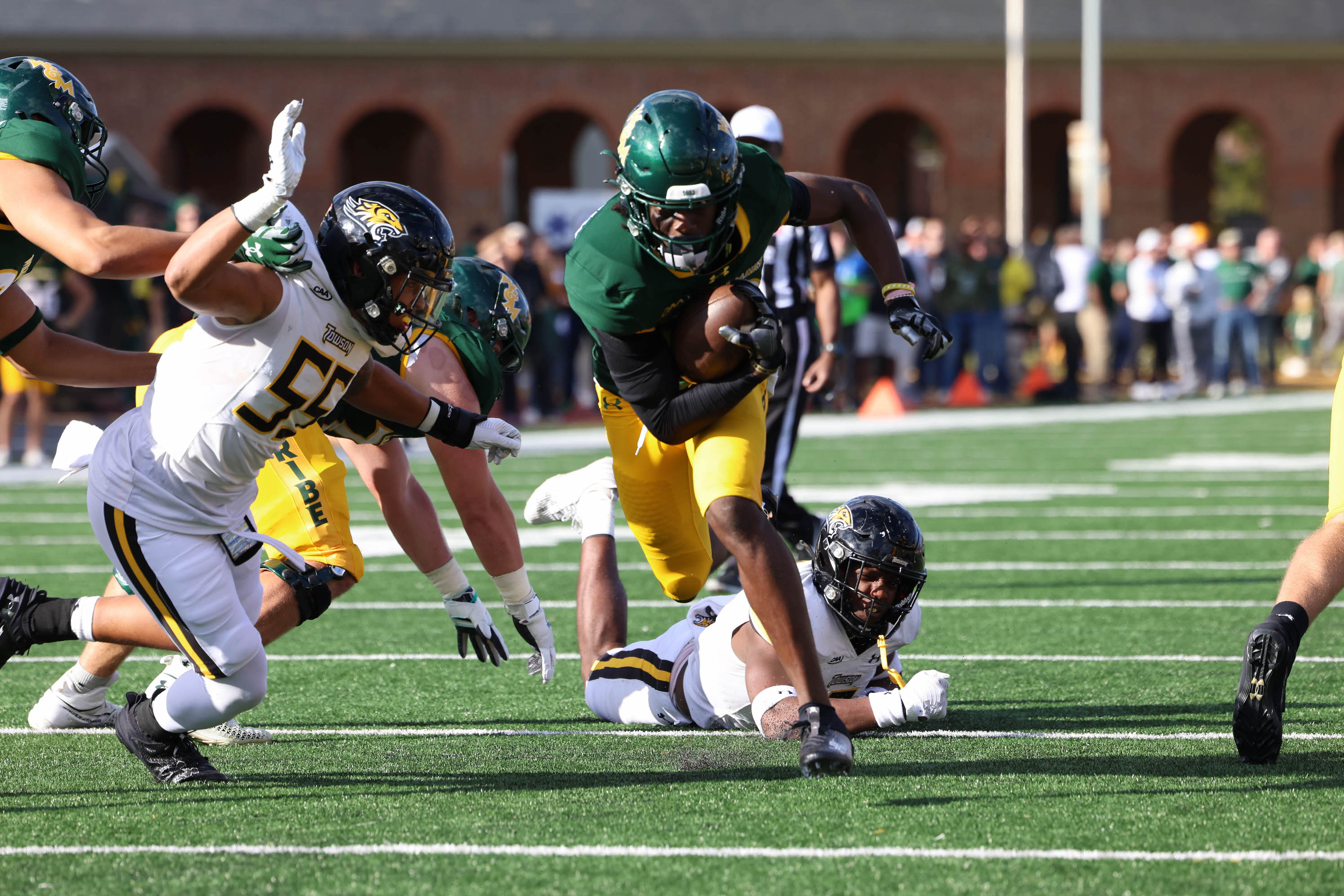 Photos by Alfred Herczeg P '23
Football Game  
The energy in Zable Stadium was electric as one of the biggest crowds ever cheered on the Tribe in its match against Towson. The Pep Band, student section and alumni of all ages showed off their best Tribe Pride for a beautiful fall afternoon of football and camaraderie. Despite an early lead, William & Mary lost to Towson 34-24. Read more about the game from W&M Athletics.
During halftime, class ambassadors from the reunion classes of 1978 through 2018 were recognized on the field for their volunteer leadership. Reunion classes collectively raised $31.8 million to advance university priorities, including providing scholarships, preparing lifelong learners to thrive from their first job to their last, and fostering high-caliber, high-engagement teaching, research and athletics excellence. More than 6,400 alumni from the fraternity and sorority community raised over $26.5 million this year, and the winners of our Fraternity and Sorority Alumni Challenge — Theta Delta Chi and Delta Sigma Theta — were also recognized on the field.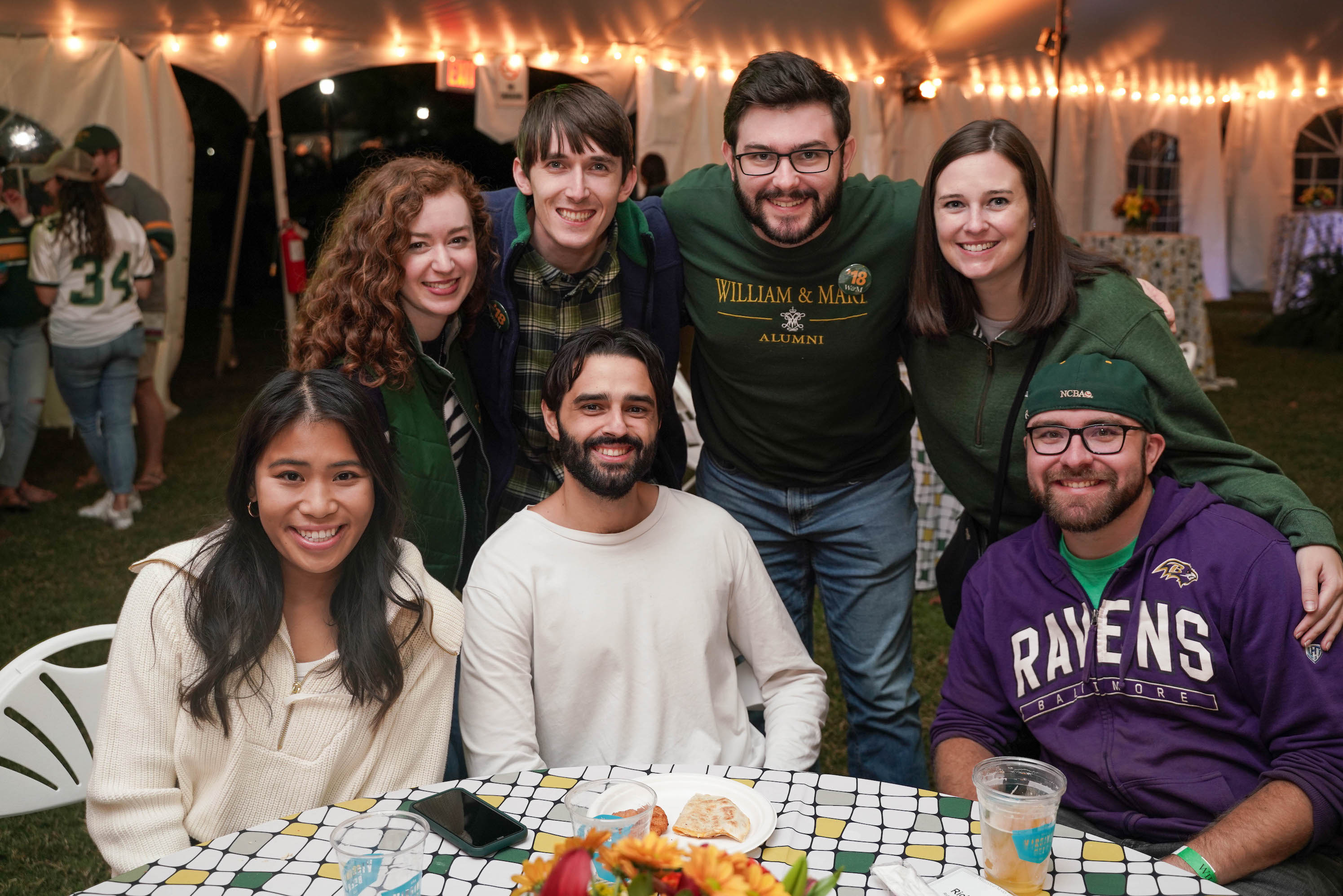 Photo by Skip Rowland '83

Photo by Skip Rowland '83
Class Reunions
On Saturday night, alumni celebrated their 5th through 45th reunions in and around the Sunken Garden with food, drinks and music from their class year. The Class of 1968 and the Class of 1963 celebrated their reunions with receptions and class photos in the Alumni House (50th reunions are celebrated during Traditions Weekend in spring). The Young Guarde (graduates from the past 10 years) also enjoyed a Saturday evening reception. The Olde Guarde (graduates from 50 years ago or more) reunited the previous day at a Friday morning brunch featuring special guest Suzanne Raitt, dean of the Faculty of Arts & Sciences.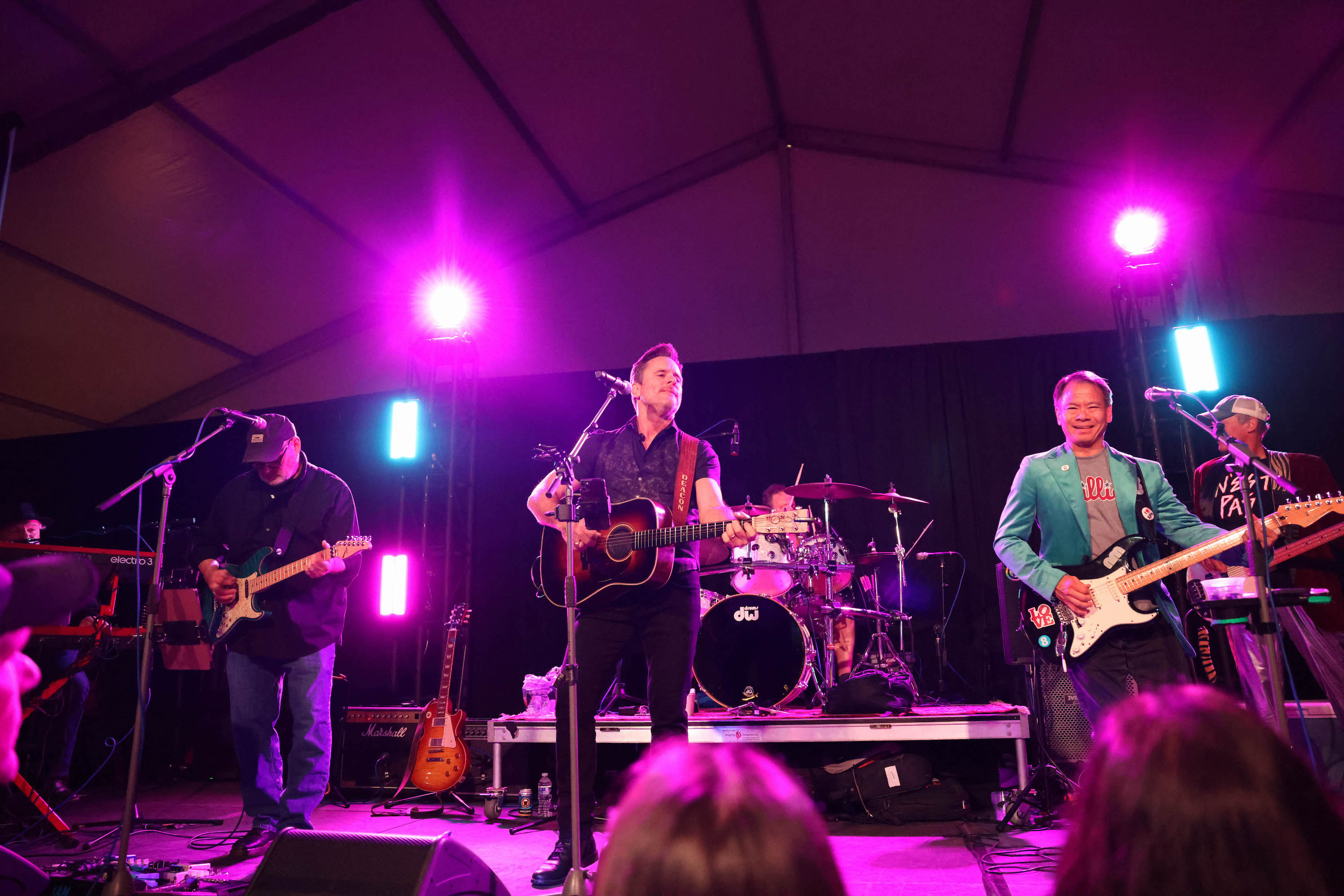 Photo by Alfred Herczeg P '23
Saturday Night Bash
At the final signature event of the weekend, alumni band N'est Pas brought the house down at the Saturday Night Bash. The band, which includes Chip Esten '87, P '22 (star of TV shows "Nashville" and "Outer Banks"), Dennis Whelan '87, Chris Neikirk '88, Art Schmalz '88, Clem Cheng '86, P '19 and John "Rocker" Hendrickson '88, gave a lively performance that inspired dancing and singing from the crowd late into the night.
Many departments across campus also held open houses and receptions for alumni, faculty and students.
Find more Homecoming memories on Instagram at @WMAlumni and #wmHomecoming.