All

Online Exclusives
Lighting the Way for Out-of-State Students
$2.5-million scholarship and applied learning gift will open doors for Pell Grant-eligible students from outside Virginia
October 20, 2023
By Tina Eshleman

When new William & Mary students formally begin the academic year during Convocation, they pass through the Wren Building and receive an enthusiastic welcome from the university community on the other side. The pathway toward their future is illuminated not only by the Wren's green and gold lights, but also by cheers, noisemakers and colorful handmade signs letting them know they belong at W&M.
A $2.5-million scholarship and applied learning endowment recently established by D. Bruce Christian '73 and his wife, Spas Christian, will extend that warm welcome for out-of-state, Pell Grant-eligible students starting next fall in the 2024-25 academic year.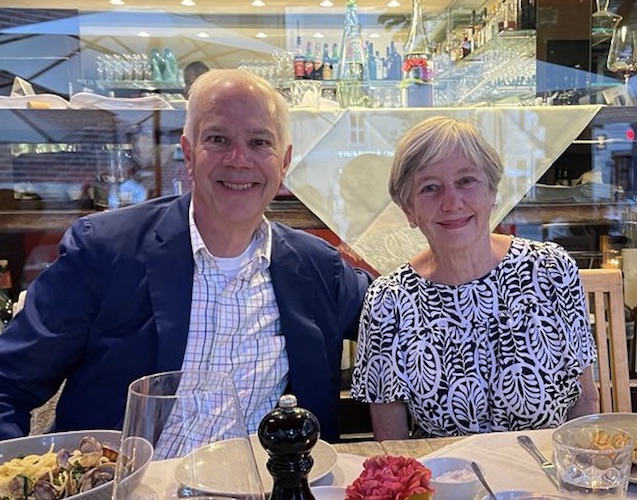 The aptly named Lighting the Way Scholarship will fully cover the cost of each recipient's attendance — including tuition, fees, housing, food and books and supplies — when combined with a Pell Grant and university funding. Its accompanying applied learning endowment will provide additional funds for each scholarship recipient to pursue opportunities such as internships, research and study abroad. This is the first scholarship that includes fully paid applied learning experiences for Pell Grant recipients.
Bruce Christian said the couple wants to afford prospective students with limited income the opportunity to attend William & Mary by helping to eliminate financial obstacles, recognizing that for an out-of-state student, the total cost of attendance is significantly higher.
"William & Mary is exactly the right place for so many people," Christian said. "It was exactly the right place for me, and I would hate to think that there was anyone who could not come for lack of resources."
The new scholarship aligns with William & Mary's commitment to increase access and affordability for students, and to ensure that each undergraduate has the opportunity for a funded internship or other applied learning experience.
"There is no more fitting or festive occasion to announce this landmark gift than Homecoming. Two bright lights in our community, Bruce and Spas Christian ensure that the Alma Mater of the Nation shines for future generations of students," President Katherine Rowe said. "We are most grateful for their partnership to increase affordability." 
As part of the university's commitment to affording opportunity, William & Mary has successfully increased the enrollment of Pell Grant recipients from Virginia. In the 2023-24 academic year, W&M began ensuring scholarship aid to cover at least tuition and fees for all in-state undergraduate Pell Grant-eligible students. Currently, about 18% of in-state students are Pell Grant recipients, a number that has increased 30% over the past decade. Because of the difference in tuition for out-of-state students, scholarships such as Lighting the Way are essential to help raise the percentage of undergraduate Pell Grant recipients from outside Virginia, now just over 4%.
According to U.S. Department of Education data, more than 93% of Pell Grant recipients come from families earning less than $60,000 per year, and nearly half of all first-generation college students receive Pell Grants.
Since 2011, the university has raised more than $350 million for scholarships, and 35% of undergraduates now receive need-based aid. This support has not gone unnoticed: The Princeton Review has ranked W&M 13th among the best value public colleges.
W&M has the highest four-year graduation rate for Pell Grant recipients of any public university in Virginia, at 87%. In addition, W&M students who received federal aid, including Pell Grants, earn 35% more in median income — nearly $17,000 more per year — than the national median. The percentage of William & Mary students who graduate with debt, 31%, is less than half of the national average of 64%.
The Princeton Review also named William & Mary the best public institution for internships, highlighting the university's commitment to preparing students for successful careers. 
Pell Grants provide students a maximum of $7,395 per year, based on their family income. Once the amount of the Pell Grant is subtracted, the Lighting the Way scholarship will pay for up to half of the student's remaining cost of attendance, with William & Mary providing the rest. Two students will be selected for the scholarship every four years, with a goal of increasing the number to three or more students as income from the endowment grows.
The name of the scholarship is a nod to the Christians' gift in 2022 of permanent lighting for the exterior of the Wren Building which allows it to glow with green and gold for events such as Convocation and Commencement, and other colors for different occasions. The lighting gift honors Sue Hanna Gerdelman '76, P '07, P '13, chair of both William & Mary's For the Bold campaign and the All In campaign for W&M Athletics. An additional gift from the Christians this past summer will extend the lighting of the building and grounds to the Sunken Garden.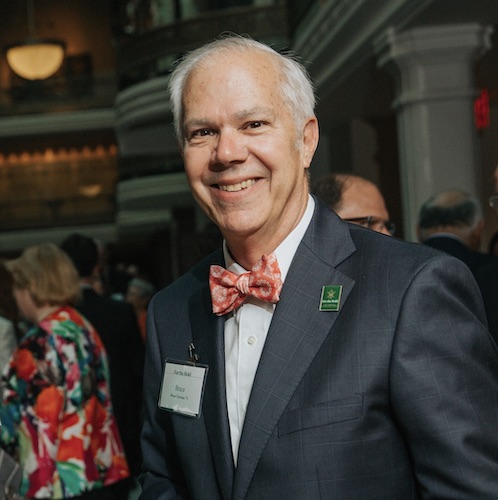 Although he grew up in Lynchburg, Virginia, Bruce attended graduate school at Tulane University in New Orleans and Spas is from the Chicago area, so they have seen the value of getting to know people with wide-ranging life experiences.
"At Tulane, I was surrounded by people who were from all over the U.S. and different parts of the world as well," Bruce said. "That's what I want for William & Mary — to bring people who think differently and come from different backgrounds. All it can do is build us into a better university and a better overall community."
While the new scholarship will bring students from outside Virginia to campus, an earlier gift from the couple provides opportunities for William & Mary students to study far from Williamsburg. Named in honor of the late Professor Judy Ewell, Christian's advisor and mentor during his time at William & Mary, the Christian-Ewell Scholarship Endowment enables students to engage in summer research in Latin America.
Christian said his own research under Ewell's guidance at William & Mary led him to graduate school, which included the opportunity to study in Mexico. He is looking forward to seeing what kinds of applied learning programs the Lighting the Way Scholarship recipients are able to pursue.
"I think this scholarship is exciting because it will afford students many opportunities to broaden their horizons as well," he said.
In addition to the Christians' longtime philanthropic support for William & Mary, Bruce's list of volunteer leadership roles at William & Mary includes his current position as chair of the Council of Arts & Sciences. He has also served on the W&M Foundation board, the W&M Libraries Board, the W&M Alumni Association board, the steering committee for the university's strategic plan under President Emeritus W. Taylor Reveley III LL.D. '18, HON '18 and the National Campaign Steering Committee for the Campaign for William & Mary in 2007, among others. For his dedication and service to his alma mater, he was honored with the Alumni Medallion in 2013.
Christian said that the quality of his experience at William & Mary, both as a student and as an active alumnus, and his belief in the university's mission are what motivate him to give back.
"There is a quote I love and often use from Thomas Jefferson which says, 'Let us in education dream of an aristocracy of achievement arising out of a democracy of opportunity.' This Lighting the Way Scholarship allows William & Mary, in some way, to do just that."