"There's something really special about cocktails," says CC DesRosiers '14. "There's an effort that goes into them. They can be fun and celebratory, and they can bring people together." 
That spirit of bringing people together is integral to the canned cocktail company DesRosiers founded in 2018 with her husband, Reed. It's called Troop Beverage Co., because the drinks are designed for "just kicking back with your troop."
"I thought about calling it Tribe, in honor of my time at William & Mary," says DesRosiers. "That idea of belonging and finding your community, your troop, your tribe, is very much part of this."
DesRosiers shared her advice as an entrepreneur and some of her favorite cocktail recipes with the William & Mary community in a virtual event on May 7. View the recording.
Mixing the Right Ingredients
When DesRosiers graduated from William & Mary with a degree in finance, she wasn't sure what she wanted to do next. For three years, she worked as a consultant for IBM in Washington, D.C. She learned a lot, but she worked an intense schedule and was often traveling. She and her coworkers would look forward to going out for drinks together every so often, but D.C. bars were crowded and loud and the drinks were expensive.
"We wanted to get together and build community, but that just wasn't happening in those environments," she says.
On the weekends, though, she and Reed would facilitate outdoor adventures with their friends, then make food and cocktails with them in their kitchen. They would catch up on each other's weeks, relax and go on outdoor adventures. 
"We found food and beverage can just bring people together unlike anything else," she says.
Still, the time felt right for a change. When a job opportunity for Reed came up in San Francisco, they decided to take the leap. Slowly, they built a community out there around the same ideas: going on outdoor adventures and enjoying great food and cocktails.
Packing cocktails to go, though, wasn't always easy, and there weren't a lot of canned options on the market—especially not for health-conscious consumers. The idea for Troop was born.
"All the ready-to-drink cocktails that existed were very vague in terms of what ingredients went into it. Alcohol is not regulated by the FDA, so there's no nutritional labels. People are really focused on what they're putting in their body when they think about food, or cosmetics, or even cleaning products — but when it comes to alcohol it's like everything goes out the window," says DesRosiers.
So, Troop lists all their ingredients directly on their cans (for example, their mojito contains rum, soda water, mint, lime and cane sugar), and most of their ingredients are sourced in Northern California.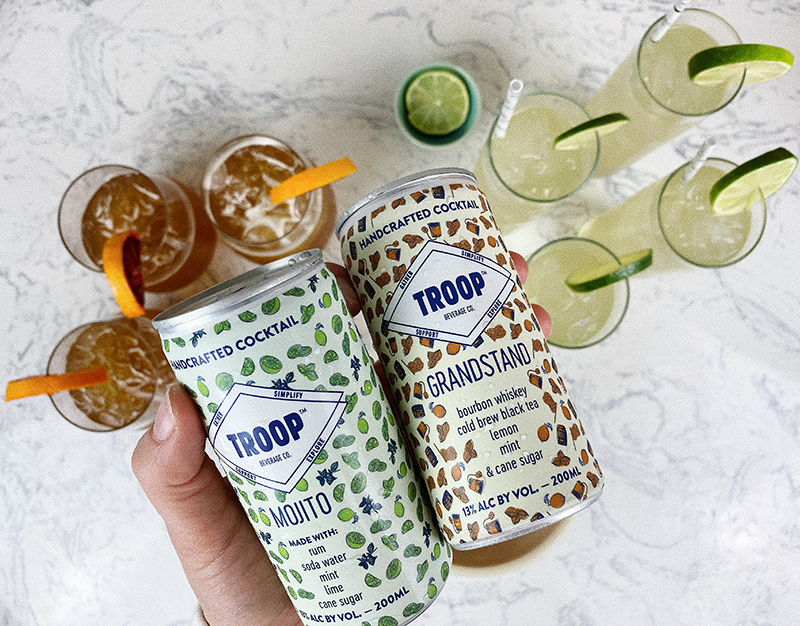 Their cans are recyclable and able to be brought to locations that don't allow glass, such as some beaches and parks. And as a member of 1% for the Planet, they also give 1% of their profits to environmental protection nonprofits.
Troop has expanded quickly, from 90 cases sold in just a few local grocery stores to hundreds now sold online, throughout California and now in Colorado. In May 2019, they were selected to be the only canned cocktail pouring at the Aspen Food & Wine festival, a big break for their company, and they are now raising funding to continue expanding.
They currently make just two varieties: a mojito and the "Grandstand," which is a lemonade/tea/bourbon blend. While many canned cocktails are marketed towards women, these are designed to be gender-neutral.
"Normally, alcohol marketing is about how you're going to feel when you drink the alcohol. But we view it as, 'What are you doing when you're drinking alcohol? What you think of when you're having a cocktail?' We want that to be building honest connections and being together," she says.
Going to the Source
DesRosiers is from Pittsburgh originally. Her mother, Annie Kirk Gensheimer '84, attended William & Mary.
"She spoke so highly of her time there, and we would visit a lot," DesRosiers says. "I actually came off the waitlist for William & Mary on my mom's birthday, and I thought, 'This is a sign.' I enrolled and I am so glad I did. It was an incredible four years."
She joined a sorority, Pi Beta Phi, and is still good friends with many of the people she was close with in college.
"I think there's just something that you share so deeply when you go to the same school on shared experiences like that," she says. "It's been surprising to lose touch with somebody for a couple years, and then you pick up the phone and you call them and it's like no time at all."
She also stays in touch with some of her professors and draws often on the skills she learned at the Raymond A. Mason School of Business. For example, in Bill Stauffer's 8 a.m. business law class, she explored the technical aspects, the "nuts and bolts," of building her own business. In Chris Adkins' business ethics class, she learned how to express her values through her business. 
"Right now we're in the process of raising a seed round of funding, so I think of Adkins' class often — not just for presentation skills we practiced there but also how to explain what we stand for as a company," she says. "There's so much in the alcohol business that's really shady, but for us, honesty is our policy — and that's more important than product sales."
The hardest part about being an entrepreneur is the loneliness you can sometimes feel, DesRosiers says. She feels pressure to always put her best foot forward and be optimistic about her company, even when things aren't going well and other entrepreneurs seem to be experiencing wild success.
She helps mitigate this through her membership in a women-only coworking space, The Assembly, in downtown San Francisco, where she's found a supportive community of other women founders. She also focuses on the best part of being an entrepreneur: being able to follow her passion every day.
"I wake up every day feeling liberated and rewarded, like I'm doing something that's making a positive impact for people and the environment — and bringing joy into the world."
Her advice to aspiring entrepreneurs?
"If there is something that's really pulling you that you that you really want to do, I encourage you to do it," DesRosiers says. "It's scary and it seems impossible, and at times I feel like 'How could I possibly keep doing this?' But it's an incredible feeling when you put yourself out there. All these different people from my life, from William & Mary, have come together to support and help me. You'll find a way to make it happen if it's what you want to do."