In the fall of 1953, the W&M football team accomplished what no other college is likely to repeat. The team of only 24 players lost only once in its first six games and finished with a winning 5-4-1 record. The success of that team, known as the Iron Indians, restored a spirit of pride on campus. [Editor's note: From about 1916 to the 1980s, W&M Athletics teams were known by the nickname "Indians." W&M strives to be an inclusive place for all communities and no longer uses that moniker for our sports teams. Learn more about the university's reconciliation efforts.]
Coached by Jackie Freeman '44, this remarkable team, not expected to win a single game, defeated Richmond, three Atlantic Coast Conference Schools — Wake Forest, N.C. State and Virginia Tech — and tied a nationally ranked Navy. Eleven team members played every minute of every game and captured the imagination of students, the media and football fans throughout Virginia and across the country. A Life magazine story featured the team, and the players were honored in a special post-season convocation — the last event held in Phi Beta Kappa Hall before it was destroyed by fire two weeks later during the Christmas holidays.
The remaining members of the team will be honored during the Homecoming & Reunion Weekend football game on Oct. 20.
Two former sports information directors from that era, Rene A. Henry '54 and Pete Kalison '57, P '92, share personal memories of that team below.  
THE IRON INDIANS – A REMARKABLE STORY
Thanks to the William & Mary football team in the fall of 1953, a positive atmosphere and spirit returned to campus that had been missing for more than two years. And if some alumni, faculty and even opponents had their wish, it would not have happened.
Coach Jackie Freeman '44 was given the challenge of fielding a team with only 24 players, one a 125-pound placekicker and another a walk-on who had never played football. Only 15 of the players had scholarships. Scheduled opponents joined alumni, fans, media and faculty in calling for W&M to cancel its football season and to not play any games.
Against the odds, the team began the season with a surprising 16-14 upset victory over heavily favored Wake Forest in the Tobacco Bowl in Richmond. The following week, the team got national attention when it tied a nationally ranked Navy 6-6. Life magazine featured the game in its Oct. 12, 1953, issue. The team went on to lose only once in its first six games and finished the season with a remarkable 5-4-1 record. The players and coaches had complete support from the entire W&M family as it faced overwhelming opposition every weekend.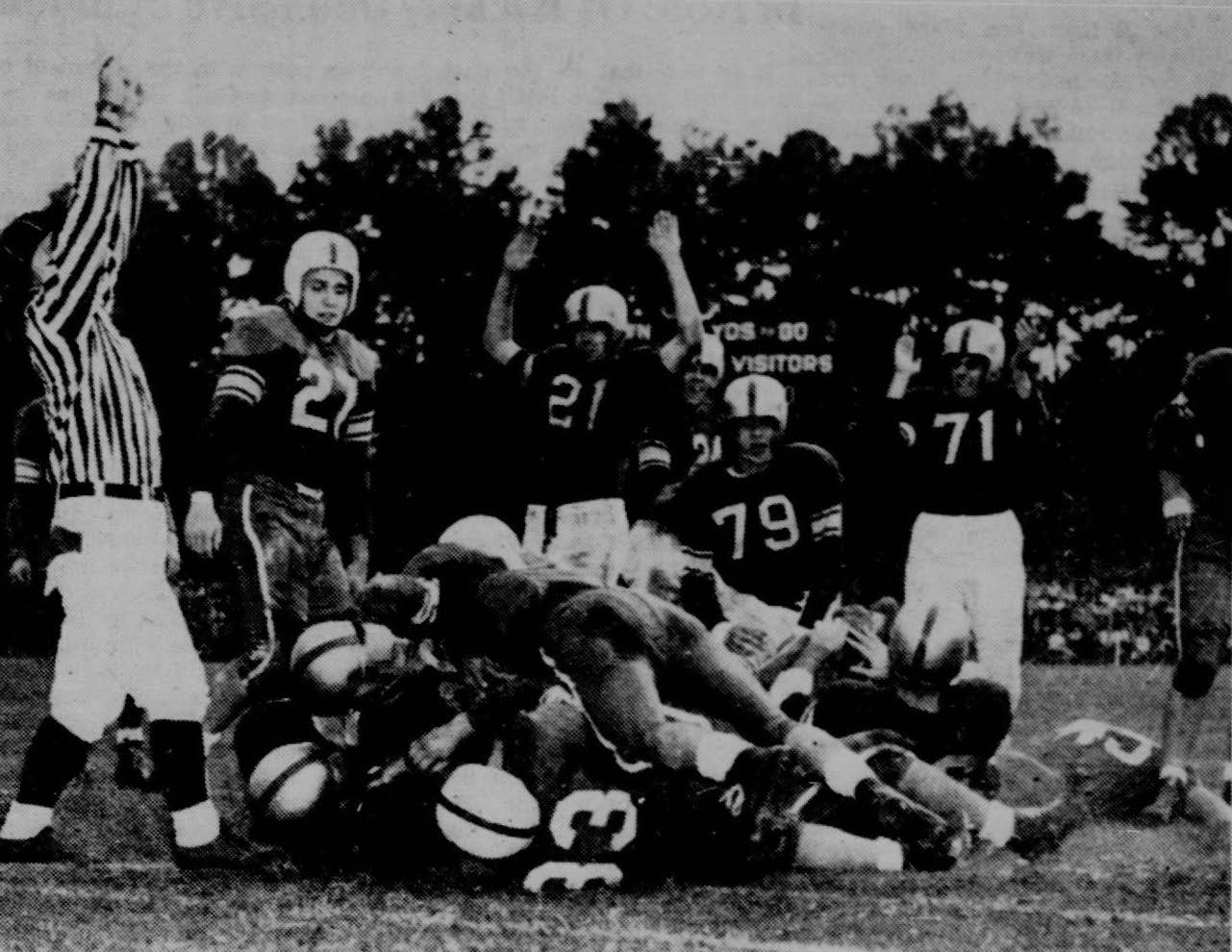 This revitalized spirit supported the team as it went undefeated in three games against rivals from the new Atlantic Coast Conference: Wake Forest, Virginia Tech and N.C. State. Wins included a 21-0 victory over archrival University of Richmond. Sportswriter Jennings Culley of the Richmond Times-Dispatch nicknamed the team the Iron Indians (see editor's note above).
Injuries plagued the team as it continued through the schedule, and it lost three of its last four games. For the last game against Boston University, only 14 players were physically able and dressed to play. Had the team been at full strength all season, it likely would have won even more games.
"Practices were quite a struggle," Freeman said in an interview with Pete Kalison '57 before Freeman's passing in 2003. "Even when we had all 24 players, we never really scrimmaged. Later in the season, when guys were hurt and couldn't play or we didn't want to risk injury, our practices were limited to walk-throughs of plays and info on our upcoming opponent. The NCAA change to eliminating two-platoon football that season really saved our bacon. With the previous substitution rules, we would have been wiped out.
"Our coaching staff was small, but they did a wonderful job despite multiple responsibilities for all of them. We had no personnel for advance scouting. We were limited to film we received from other colleges who played our next opponent. Our coaches would literally stay up most of the night, the only time they had to watch them. Our students and townspeople got behind the players with pep rallies, bonfires, and greeting the team on its return from big wins at the Tobacco Bowl in Richmond and the big tie at Navy."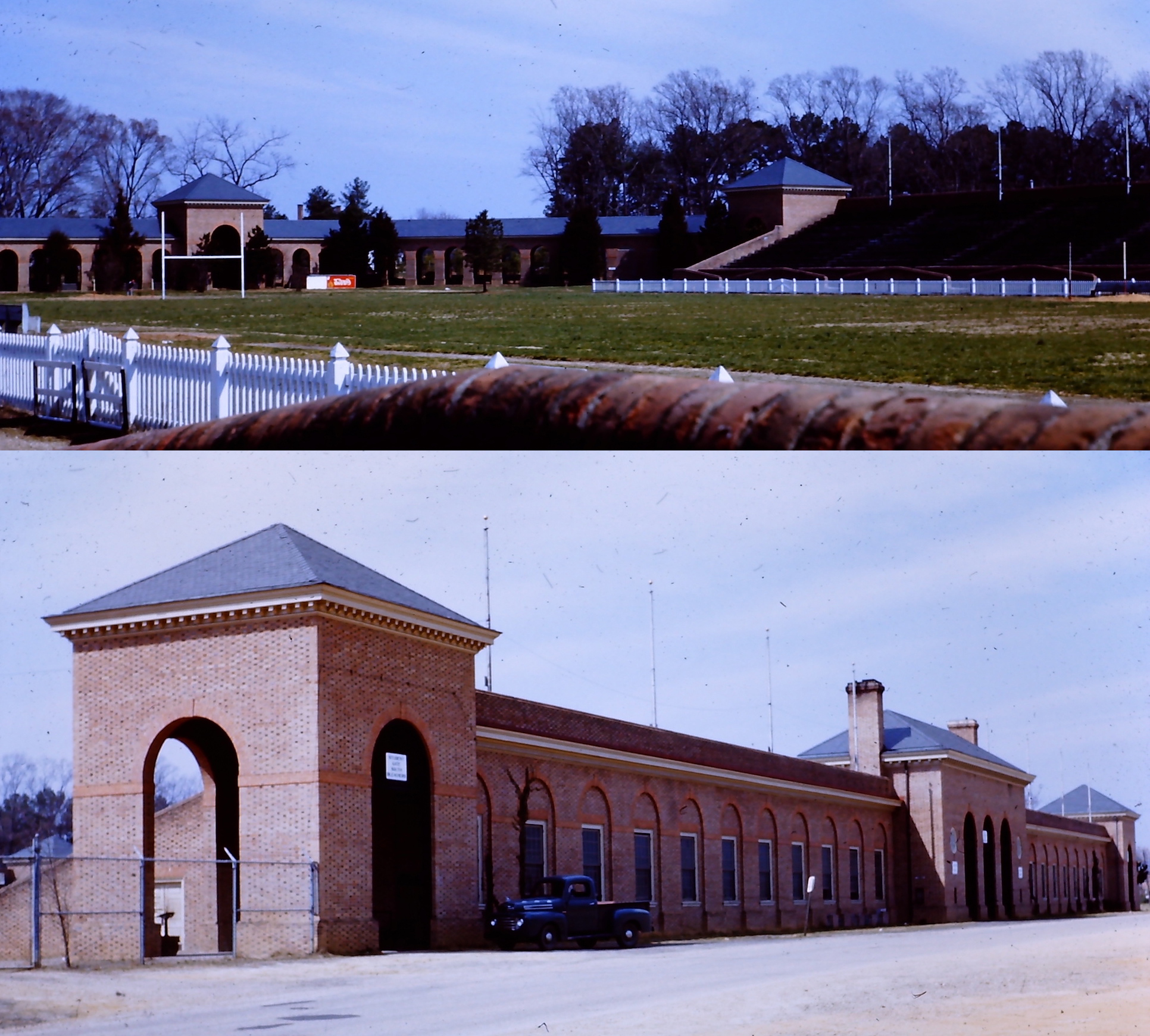 The team's success over shadowed sports crises that left a negative pall on campus. In the spring of 1951, there was a scandal about athletes' grades and high school transcripts being altered. Rube McCray, the athletic director and head football coach, and Barney Wilson, the head basketball coach, and several administrators in the registrar's office resigned. Some faculty called for the football to be terminated.
Soon J. Edwin Pomfret resigned as president. He was loved by students and often walked on campus between class breaks to talk with them. He remembered and called many by name. Over strong objections by the faculty and W&M family, the Board of Visitors named retired Admiral Alvin Duke Chandler '22, LL.D. '63 as president. Under Chandler's leadership, the culture on campus immediately changed. He was never seen on campus talking to faculty or students and his leadership team seemed far removed from campus life.
Things got worse in January 1953 when an ROTC final exam was stolen. Some 40 athletes, including eight starting football players and the two co-captains, violated the Honor Code. Most were expelled, and some students were suspended for a year because they did not report their roommates — a violation of the fourth section of the Honor Code at the time, "for tolerating those who lie, cheat and steal."
To celebrate all the 1953 football team had done for W&M, the university held a special convocation in December to honor the players and coaches. It turned out to be the last event held in what then was Phi Beta Kappa Hall (now rebuilt as Ewell Hall). A fire during the Christmas holidays destroyed the building.
The players were remarkable young men in addition to being outstanding athletes. Many were campus leaders. Most excelled in the classroom. Jack Place '54, B.C.L. '57, M.L.T. '57, P '81 was Phi Beta Kappa and elected to Omicron Delta Kappa. Several were on the Dean's List. Two were pre-season Academic All-Americans. Several grew up in small Pennsylvania coal towns. All had successful careers after graduating. Jeep Bednarik '54, Shorty Herrmann '55, Bill Martin '55, Tommy Martin '52 and Jack Place were veterans who returned from active military service in Korea or the South Pacific. Tommy Martin was awarded a Purple Heart when he was wounded in combat. Almost all served in one of the armed forces after graduation, putting their professional careers on hold for two years. Bob Elzey '55 became a Navy pilot and flew Vietnam combat missions off of a carrier. He later was head coach of an undefeated Pensacola Naval Station team with Roger Staubach as his quarterback.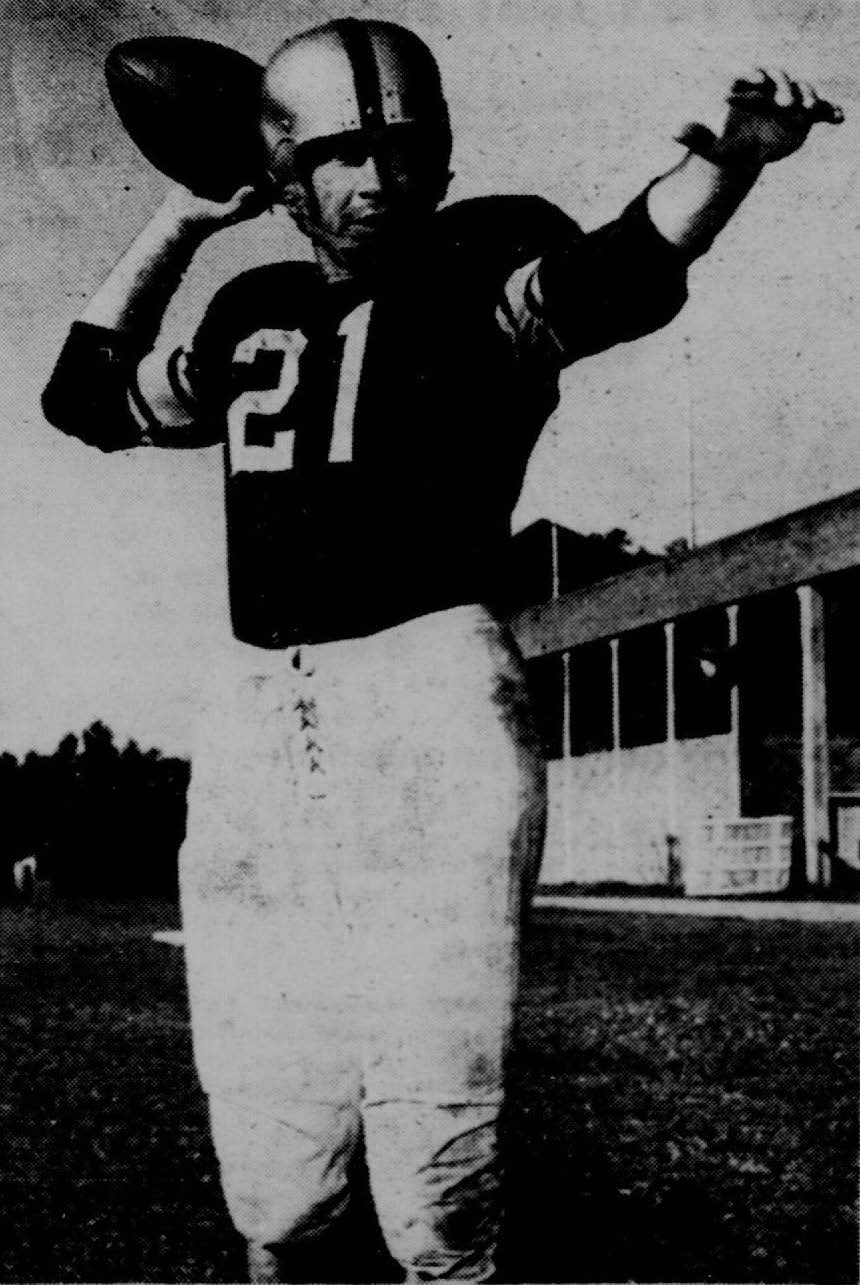 Bill Bowman '54, Jack Place and John Risjord '55 became prominent attorneys, Bill Marfizo '56, P '86, G '22 a dentist and Tommy Martin  a senior agent with the FBI. Six of the players were drafted or signed professional contracts with National Football League teams. Bill Bowman and Charlie Sumner '55 had outstanding careers in the NFL and Jerry Sazio '55 in the Canadian Football League. Many married their college sweethearts in what became lifetime relationships. Jerry Sazio married Dorothy Bailey '53, M.Ed. '68 the Homecoming queen, who also happened to be Miss Virginia. Sam Scott '55 married "Miss William & Mary" Lollie Egger '55. Both Bailey and Egger also were cheerleaders. They all were outstanding individuals.
"Sam and I played next to each other all through high school. We practiced together. We could anticipate each other's moves," Linwood Cox said. "Jerry Sazio and George Parozzo '54 were on the other side of the line with Bill Marfizo at center." The same as all of the players on the team, Cox played both ways on offense and defense.
Since both were from Windber, Pennsylvania, a small coal mine town, Jackie Freeman drove Jim Kaplan '57, P '92, G '17, G '24 to campus in early August to be the team manager and have everything ready for the first day of practice. Jim got an early start on his freshman year. Bill Marfizo '56, P '86, G '22 also graduated from Windber High School, a year ahead of Jim, and gave freshman coach and head basketball coach Boyd Baird information to recruit him and how he set the Pennsylvania state high school scoring record of 30 field goals and 68 points in a single game. The record was later broken by Wilt Chamberlain.
"The Iron Indians will always remain my biggest coaching memory," said Marfizo. "Football was my life, from a young child throughout high school, I missed much of my senior year because of a fractured sternum and I wasn't able to play again until the All-Star Game (now known as the Big 33). Jackie Freeman attended that game and my journey to William & Mary in the fall of 1952 began, with a full scholarship.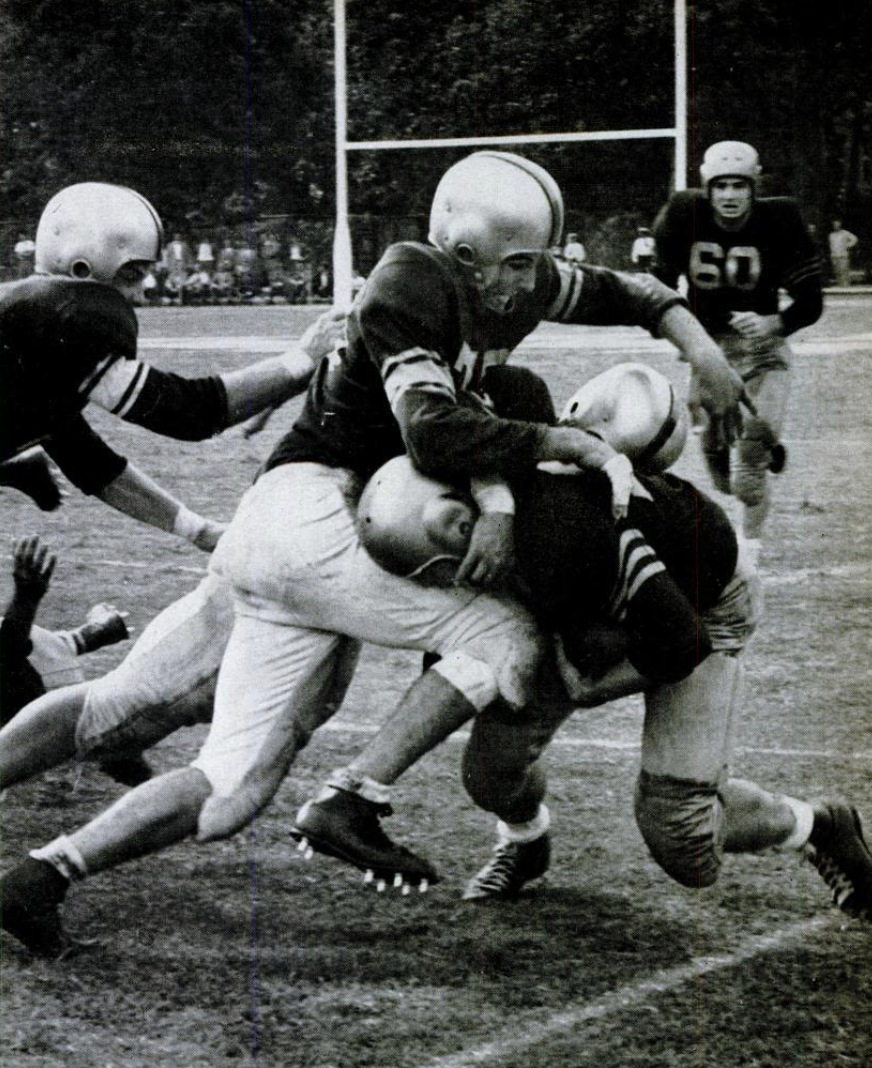 "The Iron Indians team really cared for each other. No one was out for themselves. We had a sense of pride because of our true love for William & Mary and yes, we wanted to win! Despite injuries, I played my usual center and linebacker, offensive and defensive end, offensive tackle and defensive halfback. Coach Freeman kept me in for every game. Beating Wake Forest in our first game gave our team encouragement that we can beat all odds.
"We were in a school bus for our trip to Annapolis and everyone was quiet with thoughts of their assignments from our coaches. We were all mentally prepared as we exited the bus and walked around inside the empty stadium without a spoken word. While getting dressed in the locker room, Coach Freeman and all the coaches came around to each player and said, 'We can do this.' On our trip home was totally different. Excitement filled the air. Coach Freeman asked each player to come to the front of the bus to review the good and bad of each play. Although we did not win every game after, never was our sense of pride diminished.
"I recall the special convocation at Phi Beta Kappa Hall as if it was yesterday: the overwhelming sense of pride and honor and my love and gratitude for William & Mary. To this day, I value the teamwork skills I learned from my coaches and fellow Iron Indians. I will be forever grateful for the mutual respect we had for one another To be honored into the William & Mary Hall of Fame with the entire Iron Indians team was the highlight of my life. I had another the following year when I blocked a punt in the end zone against Richmond for our 2-0 win. They were the only points I ever scored in my life!"
After serving in the U.S. Army, he received his Doctor of Dental Medicine degree from Temple University and graduated third in his class of 150. His dentistry practice was in Harrisburg, Pennsylvania, and he and his wife, Angel Marfizo P '86, G '22, now live in Mechanicsburg, Pennsylvania.
Linwood Cox was one of four players recruited from Hopewell High School, which was undefeated and won three straight Virginia high school state championships. The other three were Sam Scott, Walt Brodie '57 and Roosevelt Takesian '55. "While we were small in numbers, our 1953 W&M team had an advantage to truly being a team," Cox said. "We had played together since our freshmen years. Rube McCray had recruited us with the intention of winning a national championship."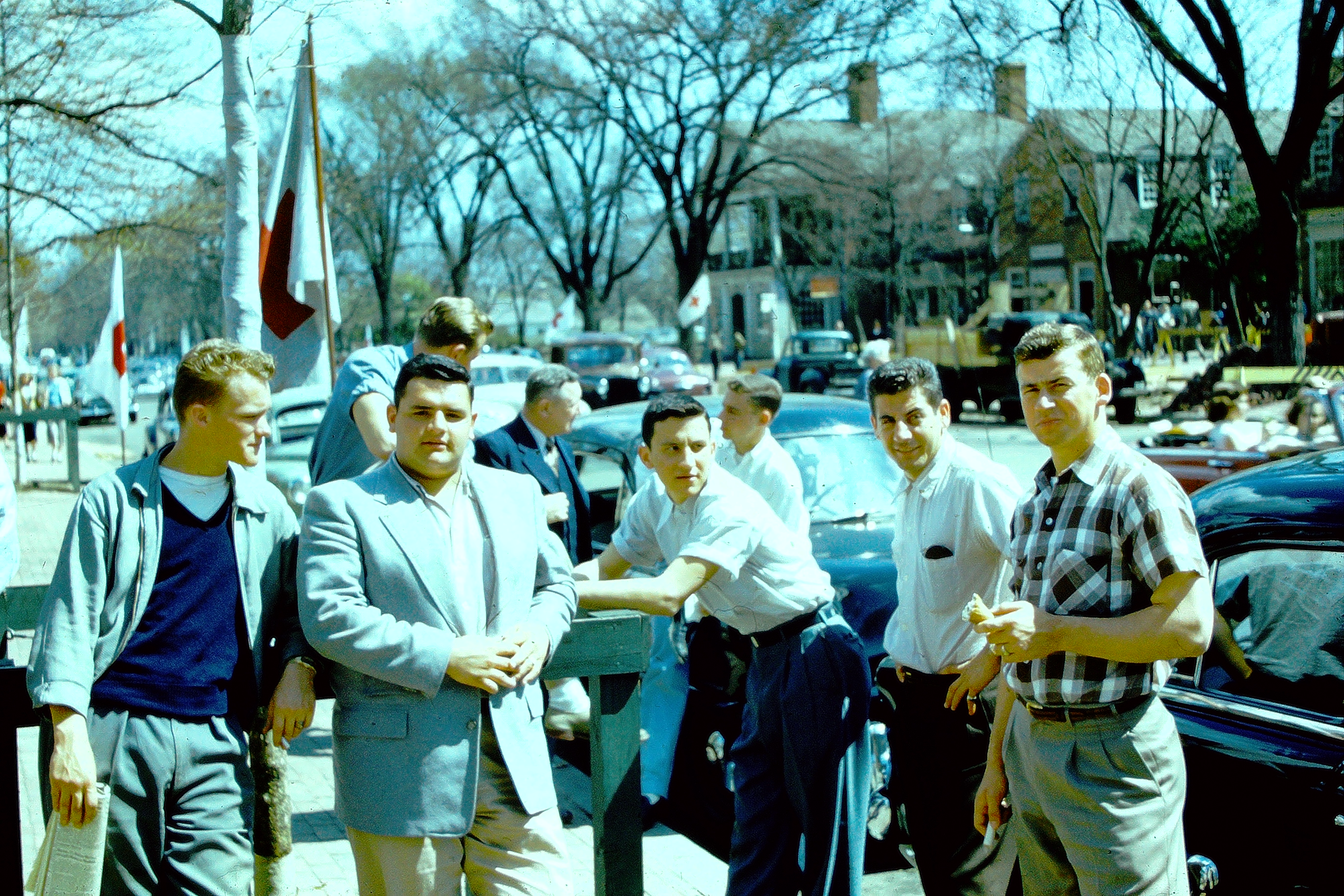 "Tape and gauze held us together because you're going to get beat up playing both offense and defense and often for the entire game with no substitution. The rules then were if you were taken out of the game you could not re-enter. I believe this made the team even stronger. In one game I was knocked out and don't remember coming to until we were in the dressing room. A couple of the players standing over me said, 'Great game!' and I asked, 'What game?' Rules today would never allow that," said Cox.
After serving in the Marine Corps, Cox was an executive with an aerospace company and the CIA before retiring. He and his late wife, Shelly Jane Bailey Cox '55, lived in Leesburg, Virginia, and had a second home on the Rappahannock River.
John Risjord was a track and field athlete who had never played football and walked on. "During the summer, Coach Baird send me a pair of football cleats and suggested I come back to campus early and go out for the football team," he said. "I'm so glad I did."
Another Dean's List student, Risjord got a law degree from the University of Wisconsin and had 40 outstanding years as an attorney trying many product liability cases across the U.S. He twice argued before the U.S. Supreme Court and one case was featured by Mike Wallace on "60 Minutes," which won an Emmy. He splits his time between homes in Snowman Village, Colorado, and Koloa, Kaua'i, Hawaii.
The Schedule
The Roster
| | | | | | | |
| --- | --- | --- | --- | --- | --- | --- |
| Name | Year | No. | Age | Height | Weight | Hometown |
| John "Jeep" Bednarik, End | '54 | 17 | 25 | 6-0 | 215 | Bethlehem, Penn. |
| Bill Bowman, FB | '54 | 24 | 21 | 6-2 | 205 | Birmingham, Ala. |
| Charles Copeland, T | '53 | 57 | 20 | 6-0 | 225 | Hampton, Va. |
| Linwood Cox, G | '55 | 54 | 21 | 6-0 | 180 | Hopewell, Va. |
| Bob Elzey, HB/QB | '55 | 14 | 21 | 5-10 | 170 | Salisbury, Md. |
| Aubrey Fitzgerald, G | '56 | 56 | 20 | 6-0 | 190 | Waynesburg, Va. |
| Al Grieco, QB/HB | '56 | 71 | 20 | 5-8 | 160 | Newark, N.J. |
| Doug Henley, FB | '57 | 12 | 19 | 6-0 | 187 | South Norfolk, Va. |
| Shorty Herrmann, HB | '55 | 56 | 24 | 5-10 | 170 | Warwick, Va. |
| Quinby Hines, PK | '55 | 11 | 21 | 5-8 | 125 | Suffolk, Va. |
| George Karschner, QB | '56 | 30 | 18 | 6-0 | 200 | Williamsport, Penn.     |
| Bill Marfizo, C/E/LB | '56 | 76 | 18 | 6-3 | 194 | Windber, Penn. |
| William "Bill" Martin, HB | '55 | 10 | 23 | 5-10 | 180 | Linden, N.J. |
| Tommy Martin, HB/E | '52 | 23 | 24 | 5-11 | 205 | Roanoke, Va. |
| Steve Milkovich, G/C | '54 | 47 | 22 | 5-11 | 195 | Johnstown, Penn. |
| Bill Nagy, G/T | '56 | 63 | 20 | 5-11 | 180 | Baker Whitley, Penn. |
| George Parozzo, T | '54 | 90 | 22 | 6-2 | 235 | Newark, N.J. |
| Jack Place, HB | '54 | 15 | 23 | 5-11 | 175 | Spencerville, Ohio |
| Bill Riley, E | '56 | 55 | 19 | 5-11 | 160 | Holsoppe, Penn. |
| John Risjord, E | '55 | 79 | 20 | 6-2 | 170 | Kansas City, Mo. |
| Jerry Sazio, G/T/LB | '55 | 35 | 25 | 6-0 | 220 | Irvington, N.J. |
| Sam Scott, T | '55 | 56 | 21 | 6-2 | 200 | Hopewell, Va. |
| Charles Sumner, QB/HB | '55 | 21 | 22 | 6-1 | 185 | Salem, Va. |
| Chet Waksmunski, G/T | '56 | 83 | 18 | 6-1 | 197 | Hastings, Penn. |

Coaches: John J. "Jackie" Freeman '44 (head coach and athletic director), Eric Tipton; Herbert "Neepie" Miller '46 John Clements; Boydson Baird (freshman coach); Joseph Mark '51, M.Ed. '54; and Frank H. "Sonny" Cowling '53, P '82, student assistants
Team manager: James Kaplan '57, P '92, G '17, G '24                          
Trainer: Guilford M. "Bill" Joyner
Equipment Manager: Frank Cody
Business Manager: William S. "Pappy" Gooch
Sports Information Director: Rene A. Henry '54
Game Cinematographer: George Haycox '54
Official Scorer and Statistician for home games: Richard G. "Snake" Drake '49, M.Ed. '53
Cheerleaders: Mickey MacCoy '54, head cheerleader; Bill Armbruster '57, P '81; Dick Blanchard '56; Bette Bodley Dunker '54; Lollie Egger '55; Mary Jane "Wopopsie" Compe Foard '55; Jane Hutton Hurst '57; Bud Jay '54 (also W&M 1954 class president); Joan MacWilliams Russell '56; Jack Parker '54; William "Winkie" Wilde '55; Carlton "Gordon" Wilde '57; Kay Wirth Novotny '57
Mascots: Vern Arvin '56; Peggy Hedrick '55; Donna Melnick Moskow '55
Game coverage by Flat Hat sportswriters: Nate Carb '54, Dave Heinrich '54, Mac McDaniel '56, Dick Rowlett '56 and Dave Rubenstein '56
Rene A. Henry authored a history of the 1953 football team,"The Iron Indians," that was published in 2001. He collaborated with Gabor Nagy, his partner in a video and film production company, to author a movie screenplay that is registered with the Writers Guild of America.
For more on the 1953 football team, see "Iron Men" in the winter 2019 edition of the W&M Alumni Magazine. That issue also contains a history of William & Mary football, "125 Years of Football," by Pete Kalison '57, P '92.