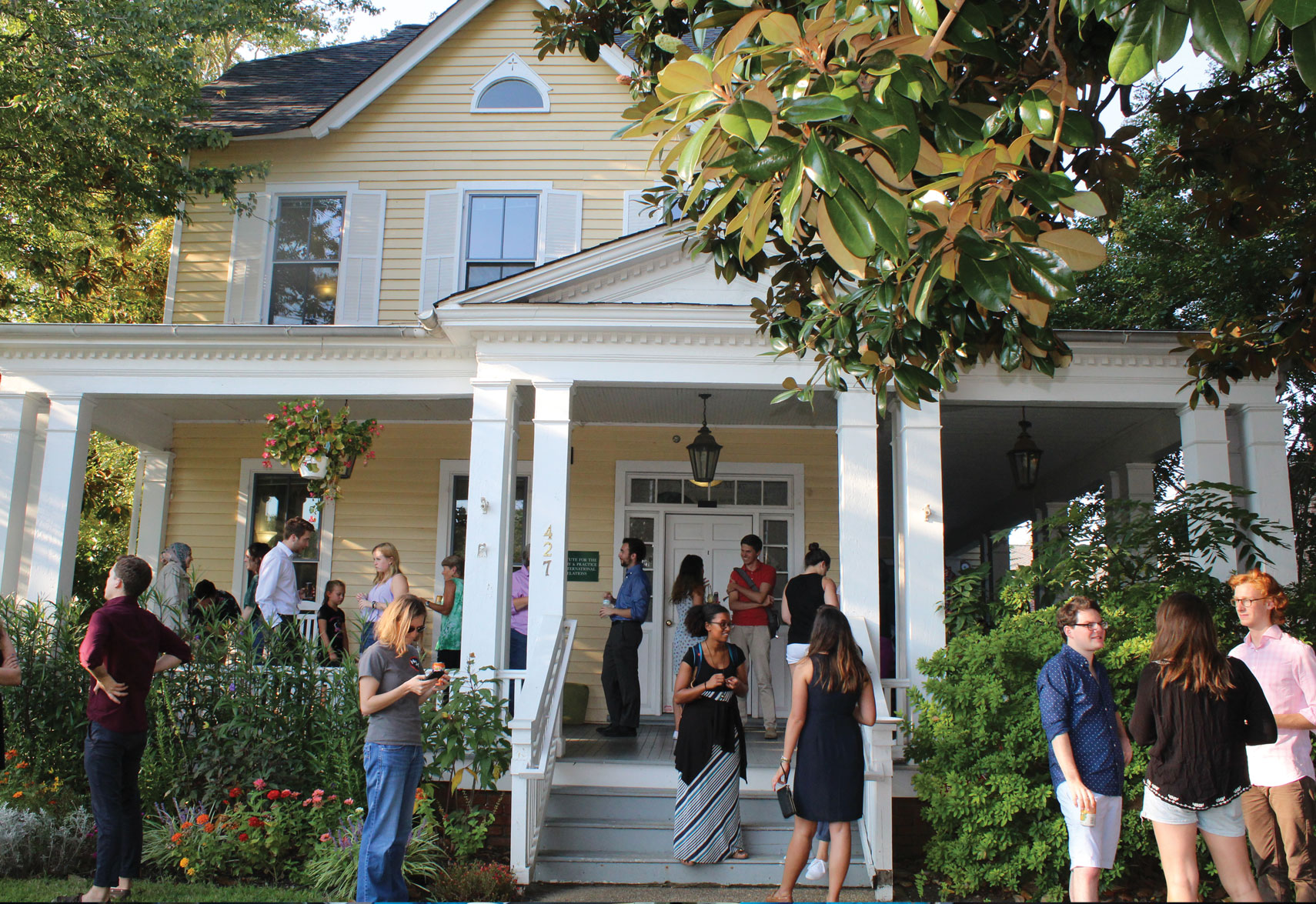 The Global Research Institute was born out of questions from students.
In the early 2000s, Mike Tierney, a professor in the government department, heard from a student that the data he needed for his project on the impact of foreign aid on the environment didn't exist. How should he go about getting it?
Sue Peterson, Wendy & Emery Reves Professor of Government and International Relations, had a similar encounter. Why, a student wondered, was there a difference between how his professors taught and studied international relations?
Tierney and Peterson began working together to find answers to questions like these, and had a question of their own: What would happen if William & Mary had an interdisciplinary center working on the world's pressing problems?
Now, they are co-directors of the Global Research Institute, which this year will involve more than 200 students per semester, host more than 10 courses and engage nearly 250 faculty and student researchers. Its seven research projects have been awarded more than $50 million in investment from external partners. Its research has been covered by leading news outlets (including the Washington Post, Economist, Guardian, WSJ, Foreign Policy, New York Times, NPR, CNN and BBC) and published by the likes of Science, World Development, Stanford University Press and Oxford University Press. It operates on five major tenets:
don't underestimate an undergraduate
our sum is greater than our parts
diversity drives innovation
look beyond the ivory tower
ideas are powerful
"Even as we've grown, our model remains the same. We work to incubate, pilot, scale and sustain ideas that make a difference in the world," says Institute Co-Director Tierney. "We've kept students at the center of our work."
More than 1,000 students have been involved with the Global Research Institute — formerly the Institute for the Theory and Practice of International Relations, or ITPIR — since it launched, taking classes, working on one or more of the many projects housed in the Global Research Institute and joining the global debate on some of the world's thorniest policy questions. From the sunny front porch of the Institute's house on Scotland Street, students have gone on to work in technology, government, law and more. They've built a community of alumni that remains strongly connected to William & Mary and the Institute that shaped their lives and careers.
Don't Underestimate an Undergrad
Layla Abi-Falah '17, J.D. '20 has wanted to be a human rights lawyer since she was 14 years old.
"I was so frustrated thinking I'd have to spend years and years in school before I could do something to help people in need," she says. "But here, I found this community of professors and practitioners who felt the exact same way I do about bringing change to the world. I'm doing research and joining the global conversation every day."
In her classes, Abi-Falah wrote papers on mass wartime rape, a crisis she is passionate about. But she wanted to do more.
So, as a senior, Abi-Falah became a fellow in the Project on International Peace and Security (PIPS), the Institute's undergraduate think tank, presenting her policy proposals directly to military, intelligence and public policy practitioners. Her experience is typical: in 2018 alone, Global Research Institute students had more than 150 meetings with policymakers. 
"I wouldn't be involved in the global debate over mass wartime rape if it wasn't for the Institute and if it wasn't for PIPS. My faculty mentors said, 'We see your passion, we see your excitement, and we want to foster that. We will help you learn how best to talk about the issues that you care about in a way that resonates with a wider audience. You're not just an undergraduate. You're a policy practitioner.'"
Now, this summer, Abi-Falah will be working at The Hague in their International Residual Mechanism for Criminal Tribunals, focusing on the cases and appeals that are left from the tribunals for international crimes in Yugoslavia and Rwanda. It's her dream job, made possible through connections with Global Research Institute alumni.
"There's a long line of William & Mary students who have been doing great work in The Hague. I hope these dictators who commit terrible atrocities are scared of us! We're a force to be reckoned with."
Our Sum is Greater than Our Parts
When Alexander Nocks '19 became a fellow last year, he had an idea for what he wanted his policy paper to be about. He soon found, though, that the collaborative process opened his eyes to entirely new ideas.
Every Friday, fellows brought three policy ideas each to their meetings, and then taught their colleagues about those ideas and received extensive feedback.
"Presenting to the other fellows trained me to listen to why people were saying what they were saying, and to spot any incorrect premises," he says. "That's something I feel is especially valuable in any conversation, to understand why someone thinks what they do." 
He ultimately wrote about emerging threats from the democratization of geospatial intelligence capabilities. Significant research was required, some of which came from program alumni, intelligence community professionals, military professionals and others. He took an Institute class at William & Mary's Washington Center in Washington, D.C., as well, asking questions directly of practitioners at the Pentagon, State Department, World Bank and more.
"You consume this ocean of information and see what's being debated at the cutting edge of these conversations — that's the easy part," Nocks says. "Then you try to take one step beyond the edge of the conversation. What isn't being discussed? What's next?"
For Nocks, what's next meant getting involved in the Institute's Shark Tank competition, in which students compete for funding for projects with real-world impact. His idea, to map Hezbollah-sponsored public construction projects, won funding at the competition during Homecoming & Reunion Weekend 2018 and is now in progress. 
Ever busy, he's also working on the Institute's programs team and serving as a teaching assistant for a new Blockchain and Development class. Run by the Institute, the class attracted a diverse mix of students, including computer science students, development professionals and a business professor.
Next, Nocks is off to law school.
"Everything we do is hyper-collaborative and team-based in a very non-hierarchical way," he says. "That's what I want from wherever I work in the future."
Diversity Drives Innovation
The multidisciplinary nature of students' work at the Institute opens a wide variety of opportunities for them to follow their interests. No two students' experiences are alike.
As a freshman, Kelvin Abrokwa-Johnson '18 considered becoming an international relations major, so he signed up for a project at the Institute working on surveys. He then became a geocoder at AidData, assigning latitude and longitude coordinates to development projects worldwide. This research lab's mission is to equip policymakers and practitioners with better evidence to improve how sustainable development investments are targeted, monitored and evaluated. In 2018, they mapped and released data for more than $273.6 billion dollars of Chinese financing, making transparent transactions that had long been hidden.
When the Institute offered a summer class on data analysis, Abrokwa-Johnson thought it would be useful for the work he was doing at AidData. It was his first introduction to coding, and he loved it. He returned to AidData on the data analysis team, working with Scott Stewart, business intelligence analyst in William & Mary's IT department.
"Scott Stewart was a really great mentor to me," says Abrokwa-Johnson. "He gave me these projects that were outside my experience and the resources to learn the things I needed."
His love of programming led him to a math major and an internship with Google. Now Abrokwa-Johnson works as a software engineer for Square in San Francisco.
"The Institute showed me that it's really important to have a breadth of knowledge and breadth of experience," says Abrokwa-Johnson. "Being open to those new experiences really does pay dividends."
We Look Beyond the Ivory Tower
Some students and faculty also spend time in other countries through the Institute, conducting research and working closely with international partners. The American Bosnian Collaboration brings together W&M and Bosnian students to foster cross-cultural understanding and work towards positive change for the youth in Bosnia. The Center for African Development (CAD) engages directly with communities in Liberia and Tanzania. And in the Dominican Republic and Guatemala, student researchers in SOMOS and MANOS examine how the collective capacity and self-efficacy of a community translates to health outcomes.
Another opportunity is the summer fellows program, which is supported by the Robert and Susan Trice International Fellowship Endowment and provides international experiential learning opportunities to W&M students.
Suzie Bae '20 spent 10 weeks last summer in Vientiane, Laos, as a Global Research Institute summer fellow, working for an international development organization called Village Focus International.
"Hopping from the U.S. to Laos is a complete 180-degree turn. I had to learn to think on my feet, adapt to new experiences and immerse myself in a new environment," Bae says. "It wasn't just an internship — I really was part of the community. Even though we didn't speak the same language, they welcomed me into their homes and celebrations, and made sure I had something to do on Saturday afternoons."
Bae wants a career in federal consulting and saw this opportunity as a unique chance to get hands-on, boots-on-the-ground experience working within another culture.
"The Global Research Institute gives opportunities to freshman unrelentingly. They don't view freshmen or underclassmen as less experienced or less able to bring skilled contributions — it's indicative of the positive and inclusive culture that the Institute creates," Bae says. "That they are willing to invest in student's futures in a bold and nontraditional way really speaks to how much the Institute and William & Mary value real-world experiences."
Ideas are Powerful
Through all the projects, programs and classes offered by the Institute, a theme emerges: real-world problems don't respect disciplinary boundaries. They require ideas and methods from across the curriculum and throughout the world to solve. 
"At the Global Research Institute, we have an audacious goal: we want to be the best place in the world for undergraduate students to do applied, global research. We are equipping students with the skills and experiences they need to solve complex global problems, and we're having fun while doing it," says Institute Co-Director Sue Peterson.
In just 10 years, the unique combination of students, faculty and staff working directly with alumni, policy practitioners and professionals has created a learning laboratory where big ideas can thrive — and be translated into actions that make a difference in the world. 
To learn more about the Global Research Institute, visit www.wm.edu/globalresearch.