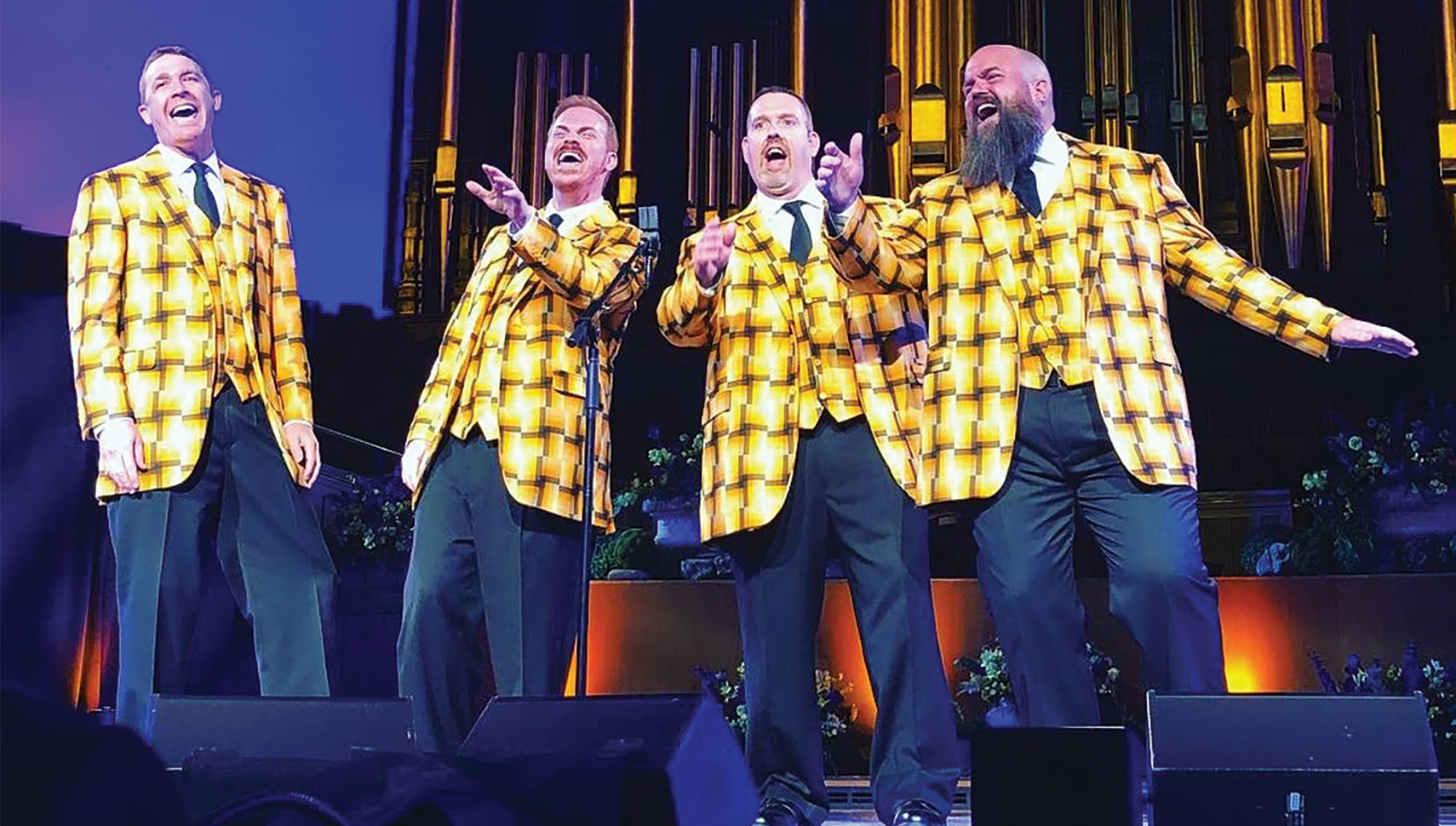 Roughly twice a month, Dr. Michael "Mike" Fitch '93 leaves the emergency department at Atrium Health Wake Forest Baptist Medical Center in Winston-Salem, North Carolina, and drives two hours to a small Virginia town to sing in an empty church.
He and three other vocalists from North Carolina and Virginia are all part of a competitive barbershop group called Forecast Quartet. They come to this central location to practice their music, where sounds of long-sustained chords, tight harmonies and bouncing bass lines can be heard late into the evening.
"One of the blessings and challenges of this quartet is that we span that long distance, and I think that's helped us to find opportunities to sing everywhere we do," says Fitch, an emergency physician and professor at the Wake Forest University School of Medicine, where he also serves as vice chair for academic affairs in emergency medicine and as the associate dean of faculty affairs.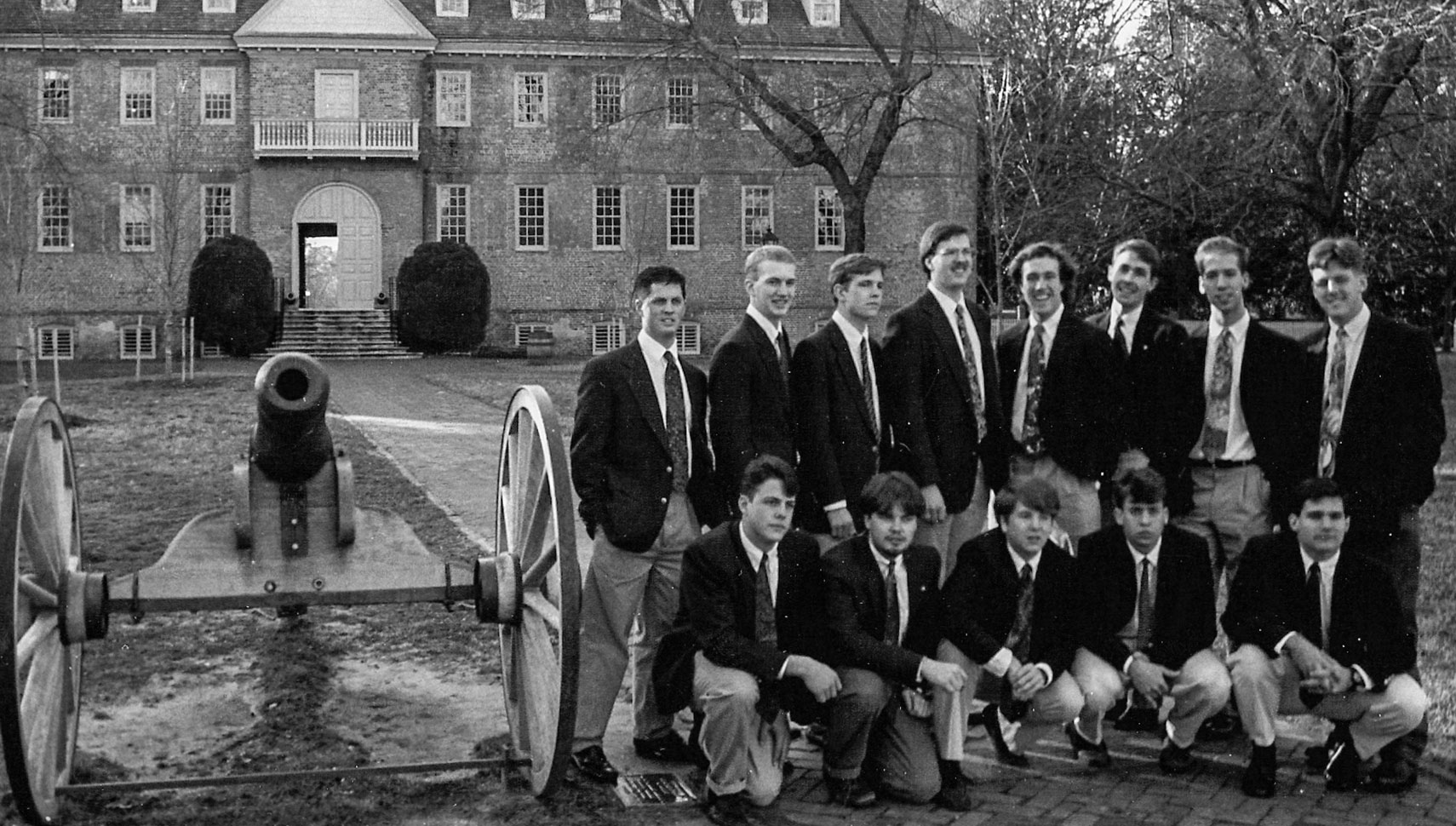 DISCOVERY OF A PASSION
For Fitch, co-founder of the Gentlemen of the College, one of the oldest a cappella groups at William & Mary, music — and barbershop in particular — has always been a major part of his life.
When he left his small Ohio town to come to William & Mary in the fall of 1989, he didn't know what he wanted to study. "Where I came from, it wasn't a given that everyone was going to go to college. I was attracted to William & Mary because it was an institution that focused on educating undergraduates," he recalls. "I came to Williamsburg not knowing what I wanted to pursue — I didn't even know what high school Advanced Placement classes were until I met my new classmates at W&M — but I did know I wanted to find a group to sing with."
In high school, Fitch had connected with local quartets and groups in the Ohio-Indiana border region and fell in love with the close harmonies and ringing seventh chords that are trademarks of this genre of singing. On campus in Williamsburg, though, there were no existing groups that fit the bill.
Fitch and a fellow student decided to form their own group to fill what they saw as a missing niche in the music scene. They brought together a collection of interested men across campus and soon realized they were on to something. In January 1990, the Gentlemen of the College — also known as the Gentlemen, or just the "Gents" — was officially formed.
"We held our first rehearsals in the basement of Tazewell and in Ewell Hall 151 and had a handful of performances that spring. Our first 'solo' gig was at the 'Change of Pace' concert series, and our last one that semester was live on the WCWM radio station," he says.
As the academic year drew to a close, they began looking toward the future of the group beyond when the seniors graduated. Fitch remembers, "That fall we had our first auditions, got officially approved by student activities and started doing more and more performances. Things took off from there with tours, singing for alumni chapters and venues in the area and really building a camaraderie with the group that we could watch grow — even after those of us who were there at the beginning later graduated and went away."
Now, more than 30 years later, the dream of creating a self-sustaining, long-lived student-run group at William & Mary has been realized — the Gentlemen of the College is William & Mary's oldest men's a cappella group, and has performed for heads of state, at the White House and U.S. Capitol, on live television, internationally and much more, with over 15 albums recorded to date.
"It was a great creative outlet while you were getting this great education," Fitch says, "And it's still that and so much more for the group today."
DISCOVERY OF A CALLING
While leading the Gentlemen as the group's first music director, Fitch took courses in biology under the mentorship of Larry Wiseman, now a professor emeritus. It was due in large part to Wiseman's guidance and direction that Fitch realized his desire to study medicine.
"I had an inspiring science teacher in high school which I think started my interest. So, when I came to W&M, I signed up for Biology 101 and met my to-be mentor, Professor Wiseman. He helped me see biology and science as a career interest for me and we've stayed friends to this day."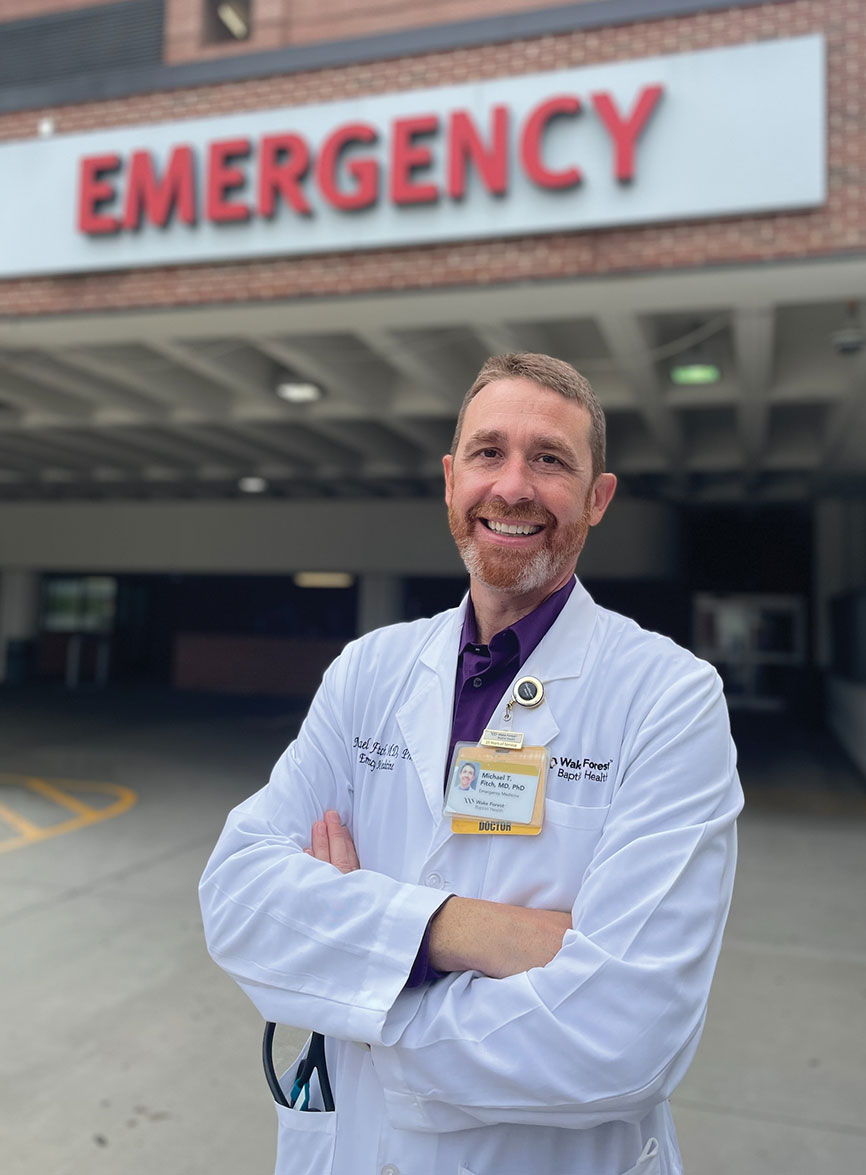 In the summers, Fitch participated in undergraduate research at William & Mary's Virginia Institute of Marine Science, joined a program at the University of North Carolina at Chapel Hill performing biomedical research and eventually joined another mentor, now-retired professor Lloyd Guth, to perform neuroscience research at William & Mary.
"Getting to know him and doing this work I started to think, 'All right, maybe I should look into medical school,'" he says.
Fitch went on to receive his Ph.D. in 1999 and his M.D. in 2001 from Case Western Reserve University School of Medicine. He completed his residency at the Carolinas Medical Center Department of Emergency Medicine in Charlotte, North Carolina, and then secured a teaching and emergency medicine position at Wake Forest.
"Now, as an academic emergency physician, a great part of my job is that I get the chance to provide mentorship and teaching moments to doctors and specialists who are in residency here. On top of that, I really enjoy working with a team to address anything and everything that comes in on a daily basis," he says.
Fitch also does interviews for the Atrium Health Wake Forest Baptist Health System on local and national television. He is often tapped to provide medical advice during holidays and major weather events, as well as on how to respond to the COVID-19 pandemic.
"Sometimes when they call me to do a media spot, it's because the outlet wants a physician to answer questions that your mom probably knows the answer to and would give you the correct direction," Fitch quips, "but they want to hear it from a doctor. I like to joke that I get to give a lot of my mom's advice as a doctor."
The singing group he is currently in, Forecast Quartet, has been singing together in its current lineup for about six years.
"I still look for creative outlets and have since graduation. Singing, for me, is a passion, and I like to call it a 'very serious hobby,'" he says with a laugh. "As Forecast, we have had some wonderful opportunities to sing at some great venues across the country, perform custom arrangements and in recent years have shifted our focus to finding fun performing experiences."
Forecast Quartet performs barbershop versions of songs by the Zac Brown Band, Michael Bublé, the Jive Aces, Big Bad Voodoo Daddy and more, and has appeared on stages including Planet Hollywood in Las Vegas and the Birchmere in Alexandria, Virginia, in Salt Lake City at the home of the Mormon Tabernacle Choir and as part of a weekend of World War II reenacting in Pennsylvania.
The effects of the pandemic on the quartet's performance schedule allowed them the opportunity to record their first, self-titled studio album, "Forecast," which can be found on all digital platforms.
"After the pandemic restrictions started to lift, we did our first performance at a retirement community to an empty amphitheater — we were being filmed and sent to the residents' televisions, but it was an interesting and fun experience," he says.
Fitch says there is no comparison to the joy of a live show. Forecast has continued expanding their performances, including their most recent large performance when they opened for Steve Martin at the Tanger Center for the Performing Arts in Greensboro, North Carolina.
During the pandemic, he even started a quartet with his wife and two daughters: "We call ourselves 'Which Fitch?' and we have a great time singing together as a family."
30 YEARS OF MUSIC, 30 YEARS OF CONNECTIONS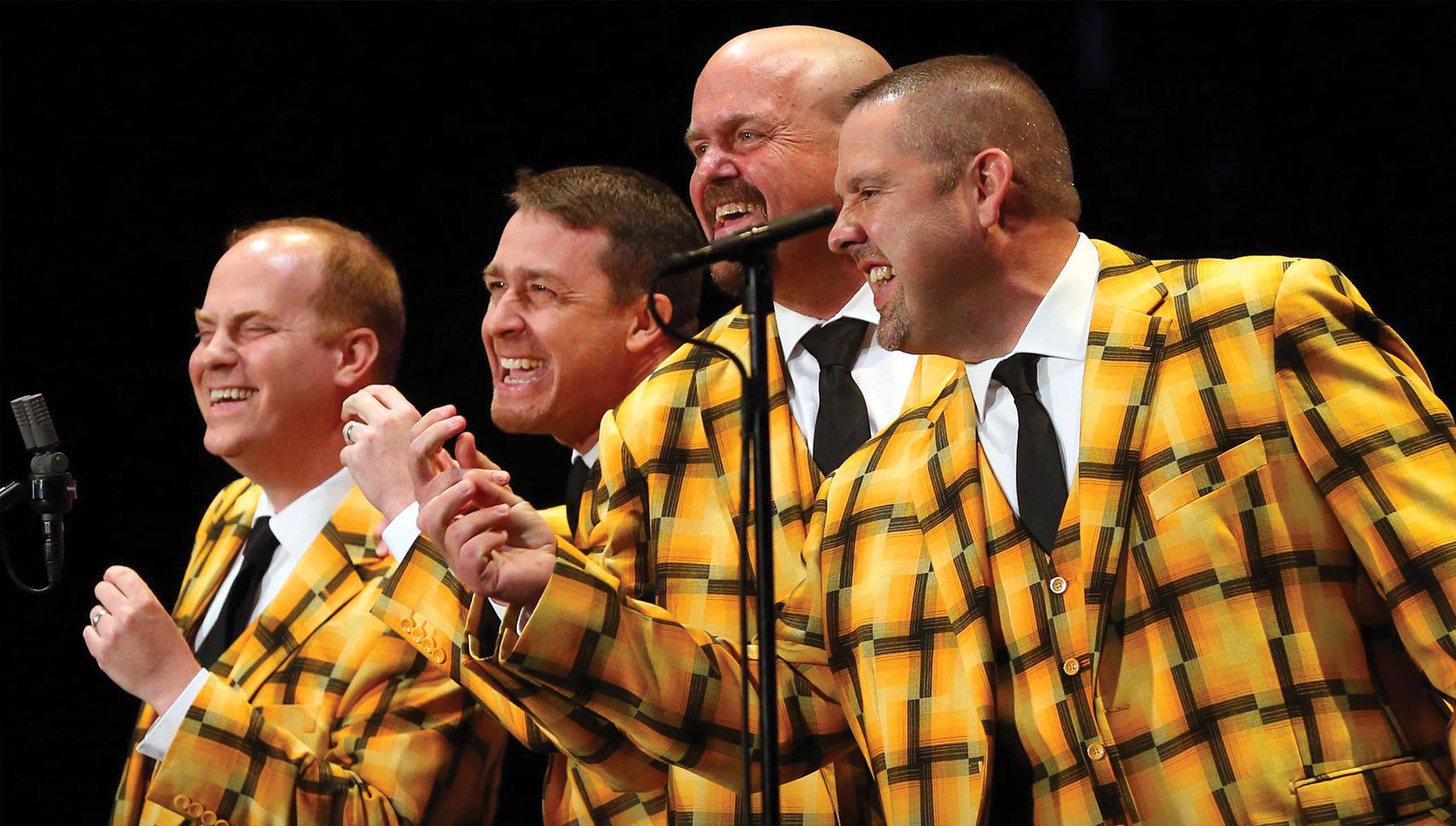 One of the most important connections throughout Fitch's life has been back to William & Mary and the Gentlemen of the College. Since he graduated in 1993, Fitch returned to campus every spring for the group's "Final Concert," its last musical performance of the academic year, which serves as a showcase of work since the previous fall. Even as an emergency physician, school of medicine associate dean and semi-professional musician, Fitch makes time to come back to W&M.
"It has been exciting to see the group both evolve and hold on to those things that make the group so unique. One of the things I have seen is that the current members have a real connection with the alumni and our history as the Gentlemen," he says.
From the Gentlemen's "silly-tie" uniform to old-standard songs, close-knit camaraderie and senior send-offs, the traditions of the group are as storied as the alumni who come back each year. Traditions, Fitch says, are not only what makes William & Mary special, but they are what has kept the Gentlemen connected to each other and to the alumni across the decades.
"Even though a lot of things have changed and new traditions have developed, so much of what makes the Gentlemen special has stayed the same and a big part of what I love in life — bringing people together over a shared love of creating music together."