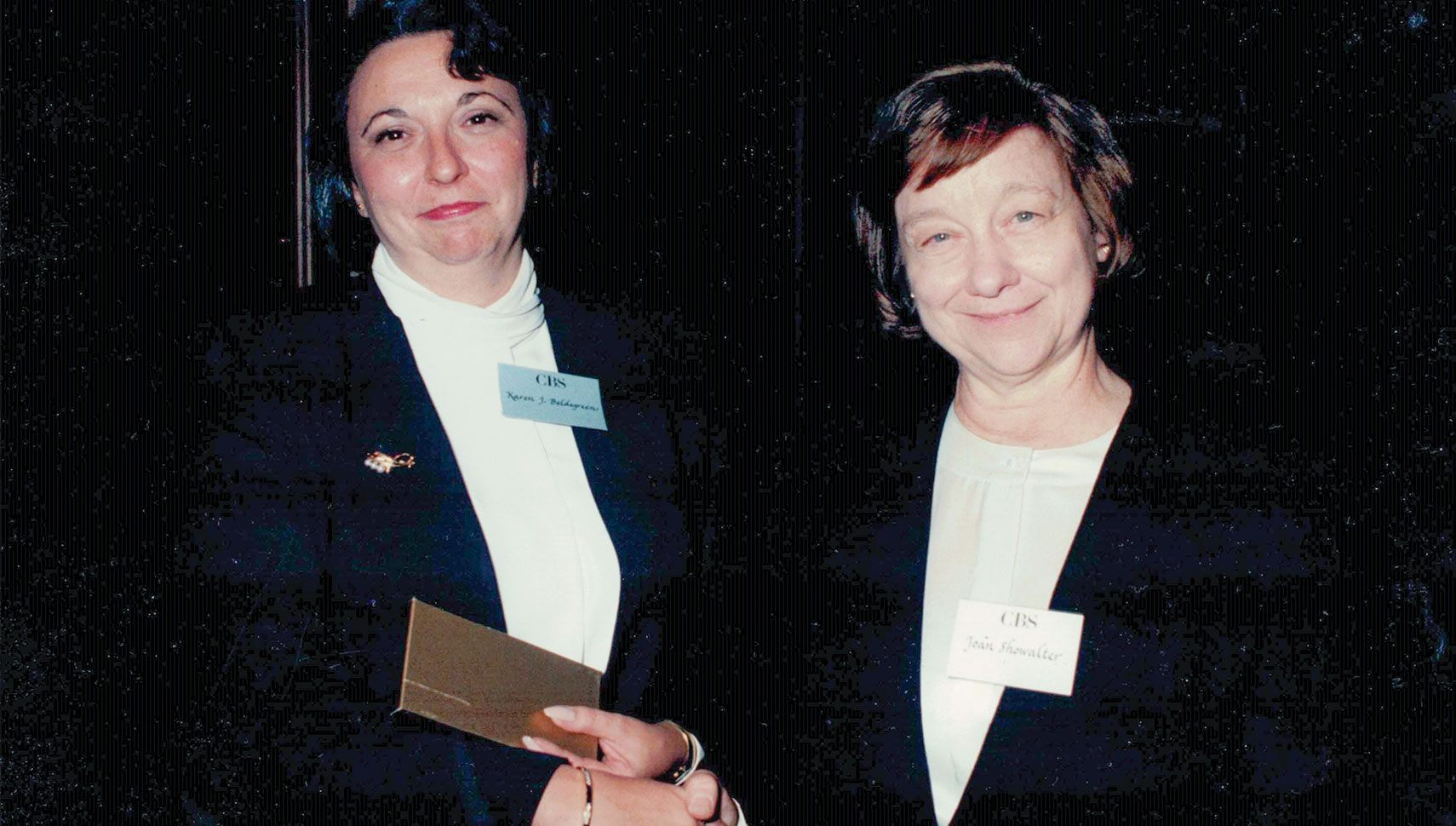 When Joan Showalter '55 spoke, people listened.
Former Raymond A. Mason School of Business Dean Lawrence B. Pulley '74, P '13, P '15 says that's because of the trailblazing CBS executive's charismatic presence — and because her advice was on the mark.
Showalter rose through the ranks at the network to became senior vice president of human resources during a time when few women occupied high-level positions. Pulley recalls feeling nervous the first few times he talked with her when he was beginning his tenure as dean of the business school in 1998.
"I knew that counsel would be coming," he says. "I also knew it would be good counsel. I learned through my conversations with Joan over the years that you need to stay clearly focused on setting a vision and thinking about how we can make progress on a day-to-day basis."
For Showalter, who passed away Feb. 12 at age 88, Pulley became a treasured friend and confidant, as well as a liaison to her beloved alma mater. She maintained connections to the university by serving on the boards of the William & Mary Foundation and Business School Foundation.
She and Karen Beldegreen HON '06, a longtime friend of Showalter's and a former colleague at CBS, formed close relationships with other William & Mary alumni during dozens of Alumni Journeys to destinations such as Kenya, Italy, Egypt and Russia. Beldegreen died at age 71 on June 24, 2021.
Through their estates, Showalter and Beldegreen provided a $14.4 million bequest to establish four new graduate and undergraduate scholarships at the business school and expand the existing Lura Dixon Showalter Merit MBA Fellowship established in 1994 in honor of Showalter's mother.
With the new gift, William & Mary surpassed the goal of raising $350 million for scholarships, an effort that continued after the For the Bold campaign concluded in June 2020. Scholarships remain a top fundraising priority for the university.
Showalter was especially interested in helping underrepresented students and scholars from Virginia who otherwise might not be able to attend William & Mary, Pulley says. Two of the new scholarships are named for Showalter and Beldegreen. The other two are named for their fathers, Edwin Dove Showalter and Ernest Beldegreen.
Kate DeBruin, executor of the estates for both Showalter and Beldegreen, says that by 2025, it is estimated that there could be 25 students receiving Showalter-Beldegreen scholarships.
"The impact will be huge — the doors it will open, the lives it will change and the connections it will make," says Pulley, who retired on June 30. "The students who receive this sort of support will be mindful of that. They will remember and they will give back."
When they do, they will be following Showalter's example. She had been a generous donor over the decades since she graduated from William & Mary with a bachelor of science in psychology in 1955.
Showalter saw education as crucial for her own career advancement and that of others. After graduating from William & Mary, she worked as a licensed social worker in Virginia for several years. She then moved to California, where she became personnel manager and later director of personnel at the Reuben H. Donnelly publishing company.
After earning a master's degree in psychology at Columbia University in New York City, Showalter joined Columbia Broadcasting System — now CBS — in 1966.
Nancy Widmann, one of the authors of the book "I Didn't See It Coming – The Only Book You'll Ever Need to Avoid Being Blindsided in Business," worked with Showalter at CBS and the two became friends. In the book, Widmann writes that "Joan became the respected and admired head of HR and was known affectionately as the 'godmother' of CBS."
Showalter's legacy included helping employees prepare for retirement through development of the network's Pre-Retirement Education Program. In a 1981 interview with The New York Times, she said there was a need to address questions about inflation, tax laws, pensions and benefits as employees made decisions on when to retire. "I think 10 years from now it will be the rare major corporation that doesn't have something like this," she told the newspaper.
She was a mentor for other women at CBS, among them Jessica Savitch, whom she hired in an entrylevel role, helping her gain an audition for a broadcast news job in a smaller city, according to the book "Hard News: Women in Journalism." Savitch later became a weekend news anchor for NBC.
Showalter was also a mentor and lifelong friend to Beldegreen, who started working at CBS as a secretary in 1971. A native New Yorker, Beldegreen graduated from the University of Wisconsin-Madison, where she majored in French, and then attended secretarial school in New York City. When Beldegreen met Showalter and expressed an interest in working in human resources, Showalter offered her a position on the condition that she obtain a master's degree.
"Karen was terrified because she hadn't been in school for years," says DeBruin, daughter of Joan DeBruin, Beldegreen's college sorority sister, and Beldegreen's goddaughter. "She was trepidatious, but she did it."
Beldegreen completed her MBA at New York University in 1983 and advanced to the role of vice president in human resources at CBS. She retired in 1999, three years after Showalter, who had moved to her hometown of Roanoke to care for her mother.
Beldegreen joined her friend in Southwest Virginia and the two women lived next door to each other at Smith Mountain Lake beginning in 2003.
In retirement, the former career women remained active with volunteer work and enjoyed traveling with friends. They took a total of 34 Alumni Journeys through William & Mary, beginning with a 1999 safari in Kenya. On that trip, they formed friendships with Tom Zeni M.B.A. '75 and Lauris Zeni '72, Betsy Calvo Anderson '70 and the late Alvin Anderson '70.
"Joan was a great storyteller," Lauris Zeni says. "She never met a stranger. She was kind, always interested in other people's ideas and what they had to say. She was remarkable."
Showalter served on the W&M Business School Foundation board from 1980-1990 and remained engaged as an emeritus member. She also served on William & Mary Foundation from 1984-1990. She received the Alumni Medallion — the most prestigious award given by the W&M Alumni Association — in 1985 and the Douglas N. Morton '62 Alumni Service Award in 2002.
A savvy investor, she started a Women's Investing Network at Smith Mountain Lake. Even during the last year of her life, when she was in a long-term care facility after being seriously injured in a fall, she would meet regularly with a stockbroker.
After Showalter introduced Beldegreen to William & Mary through the alumni trips, Beldegreen participated in the Roanoke alumni chapter's Habitat for Humanity projects and served as its website administrator. In 2006, the W&M Alumni Association board recognized her as an honorary alumna.
A large portion of Beldegreen's estate was left to Showalter and combined with her estate to form the $14.4 million bequest. Their decision to use their estates to create scholarships stemmed from a desire to help others succeed as they had done, DeBruin says.
"They knew that they could make an impact with the amount of money they had available to them," she says. "It was an opportunity to help generations of people get started in their careers."
One student already benefiting from their generosity is Katelyn Housler M.B.A. '23, a recipient of the Lura Dixon Showalter fellowship. She hopes to pursue a career in marketing for a company that promotes sustainable initiatives.
Housler met earlier this year with Kate DeBruin and her mother, Joan, and learned a bit more about Joan Showalter.
"It was amazing to hear about her legacy as one of the first heads of HR at CBS," Housler says. "Just to be able to look up to someone like that inspires you to pave your own path and try to work as hard as you can, so you can leave a similar legacy."