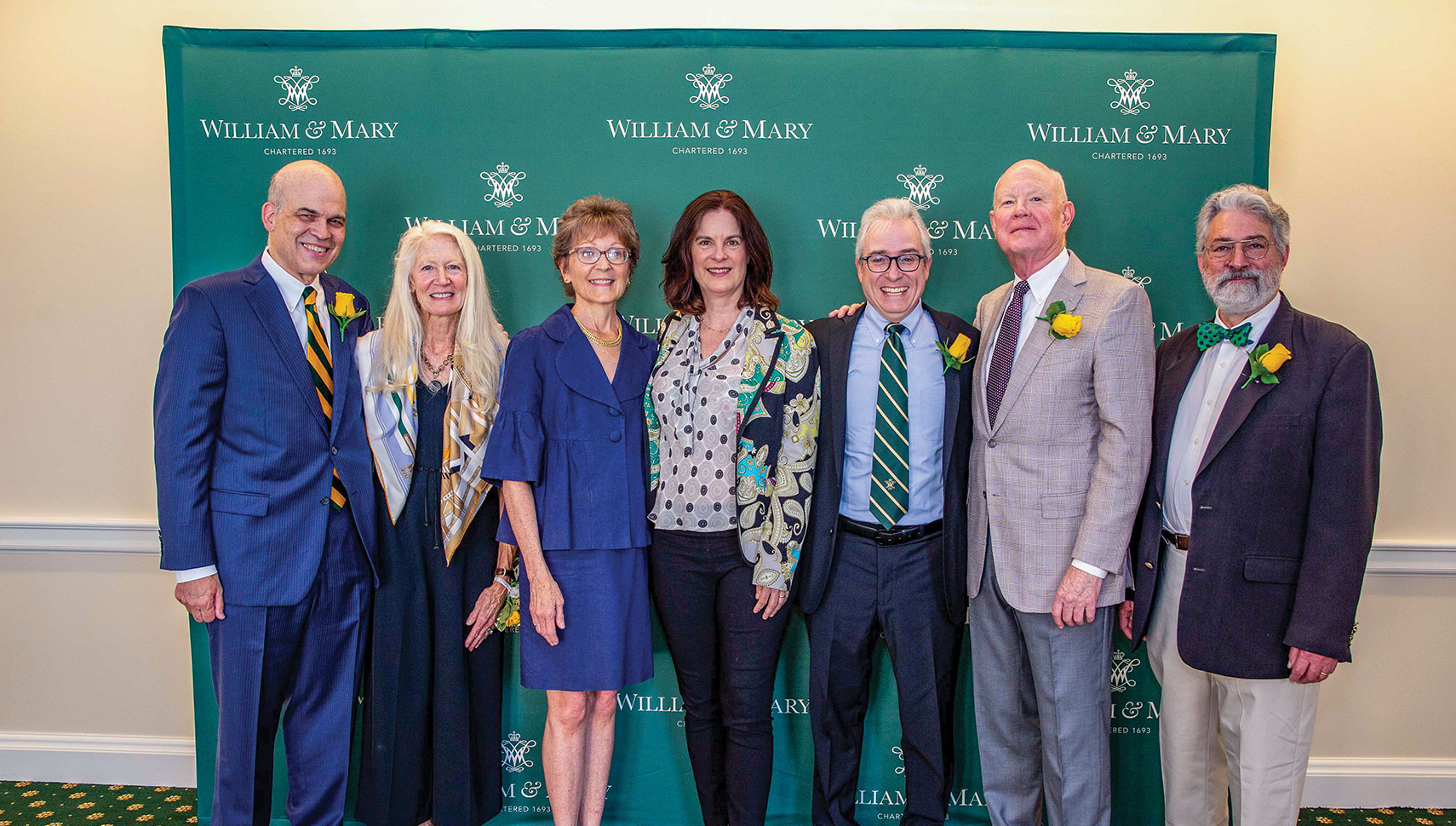 This year, four exemplary individuals — James "Jamie" Armstrong P '21, Thomas Duffy, Jody Forsyth P '15 and Peter Meredith P '01 — were nominated by members of the W&M community and chosen by the William & Mary Alumni Association (WMAA) Board of Directors to receive honorary alumni status. The recipients were selected for their exceptional service and commitment to William & Mary.
JAMES "JAMIE" ARMSTRONG P '21 is a retired associate professor of music and former director of choirs at William & Mary. From 1996 until his retirement in May, he taught courses at varying levels and influenced generations of students. In honor of his exceptional teaching and research, he has received the 2006 WMAA Faculty Service Award, the 1999 WMAA Fellowship Award for Teaching and the Julius Herford Prize for Distinguished Doctoral Research in Choral Music.
Under Armstrong's direction, the choir represented the university on the world stage on many occasions, including eight international concert tours and performances for former President Bill Clinton, the late Queen Elizabeth II, the sesquicentennial commemoration of the Emancipation Proclamation and more. Armstrong has said that the choir is "woven completely into the life of the college and the campus." He and the choir have elevated key W&M events with their music, including Charter Day, awards ceremonies and Homecoming & Reunion Weekend.
According to those who know him, his genuine love for music, for his students and for William & Mary is passionate and abundant. During the pandemic, Armstrong organized a video of over 200 students and alumni singing "Our Alma Mater" to raise spirits and connect the W&M community. Generations of students, parents and fellow professors share an utmost respect for "Dr. A," as he is affectionately known, because of his dedication to students, deep appreciation for music and authentic love of teaching.
THOMAS DUFFY, a volunteer assistant coach for the W&M men's soccer team, has been an active and engaged member of the Tribe community for more than 23 years. As a friend, mentor and leader for generations of players, he shows his commitment and love for the team and for William & Mary as a whole. Not only does he set an example for the members of the team with his experience, patience and determination, but he is also instrumental in teaching them values that are the cornerstone of W&M: excellence, integrity, respect and service. Duffy goes above and beyond his role as an assistant coach, preparing the gear for every game, organizing the equipment year-round, keeping the locker room in prime condition and counseling players on and off the field. Colleagues and students alike have remarked on his mentorship, taking the time to interact with athletes and support them both in life and on the field.
When he moved to Williamsburg more than two decades ago, Duffy was encouraged by his wife, Peggy, to connect with William & Mary. Now, she frequently attends games where Duffy coaches, cheering the soccer team on to victory from the sidelines. In 2012, the men's soccer program created the Tom and Peggy Natoli Duffy Endowment, a demonstration of appreciation for all that the Duffys have done for generations of players on the men's soccer team.
JODY FORSYTH P '15 currently serves on the William & Mary Foundation Board as a member-at-large on the Executive Committee — he also has served as the vice chair of the Investments Committee, chair of the Scholarship Committee and as a member of Budget & Finance and Development Strategy committees. A prominent leader and critical partner on the board, Forsyth travels multiple times per year to Williamsburg from his home in Canada to attend board meetings. In addition to his foundation service, Forsyth previously taught as an adjunct professor at W&M Law School, from which his daughter graduated in 2018, and his class on private equity was popular among students.
Described as a dedicated leader, insightful mentor and committed friend, Forsyth has touched the lives of many in the W&M community, especially students who would not have had the opportunity to study at W&M without his generosity. He and his family have provided funding for Swem Library's Special Collections Research Center and have established the Forsyth Family Scholarship and the Forsyth Family W&M Scholars Undergraduate Research Experience in support of W&M Scholars, who are students who have overcome unusual adversity and/or are members of underrepresented groups who would contribute to campus diversity. Many are the first in their families to attend college. In recognition of his generosity, Forsyth has been inducted into the Green & Gold Society, the James Blair Society and the Chancellor's Society. Forsyth personally gets to know the beneficiaries of his scholarships, inspiring and encouraging them as a supportive mentor.
PETER MEREDITH P '01 comes from an extended family of 12 William & Mary graduates, and his love for W&M runs deep. Meredith's dedication and generosity to the university is abundant, as demonstrated by the establishment of the Harper Family Scholarship and the Meredith Family Scholarship, both of which provide assistance for undergraduate students with demonstrated need. For his remarkable generosity supporting future generations of scholars, he was inducted into the Green & Gold Society, the James Blair Society and the Royal Charter Society. Meredith also served on one of the For the Bold regional campaign committees, rallying alumni support in South Hampton Roads, and he co-hosted the 2019 South Hampton Roads Campaign Celebration at the Chrysler Museum — where he announced that he was doubling the size of the Meredith Family Scholarship Endowment.
Meredith's daughter, Harper Meredith Lea '01, for whom the Harper Family Scholarship was named, graduated from W&M in 2001 and deepened the family's love for the Tribe. Both Meredith and his wife, Penny Harper Meredith '73, P '01, served as chairs for the Parent & Family Council, heading fundraising efforts. He is also a proud season ticket holder for W&M Football and one of the Tribe's biggest fans.
To nominate a deserving individual to honorary alumni status, please visit the W&M Alumni Association website.