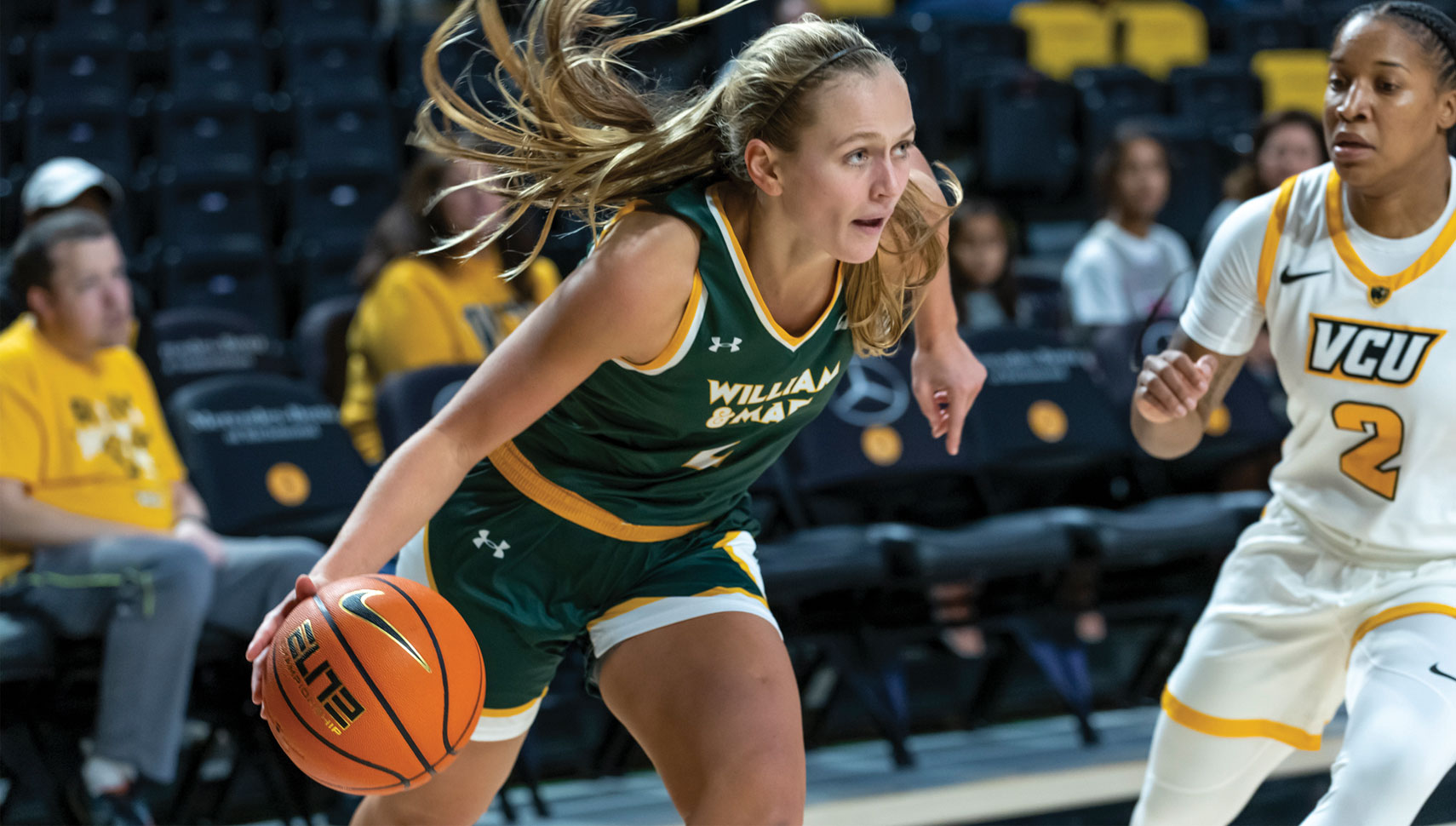 The finish line is in sight — it's the top of the ninth — we're fourth and goal in the last quarter — the shot clock is ticking down. Whatever metaphor you choose, the All In campaign for W&M Athletics is going full speed ahead with great momentum, thanks to the enthusiastic support of so many proud members of our W&M community.
Let's check the score: To date, more than $35 million has been raised of the overall $55-million campaign goal. Approximately $10 million was given in fiscal year 2022 alone, and more than $2.1 million in scholarships supported athletes. Over 6,000 donors have pledged or given over the course of the campaign.
One of the most important wins of All In has been the growth in unrestricted support for both individual sports and athletics as a whole. While scholarships remain a critical fundraising priority, unrestricted support provides flexibility for athletics staff and coaches to direct resources where they are most needed. Essentially, unrestricted support is a deep bench from which W&M Athletics can call upon in critical moments.
For example, gifts made to the Athletics Impact Fund allow student-athletes to excel at the highest level of competition by funding athletics scholarships, coaches' compensation and athletics facilities. The Women in Action funds benefit scholarships, operating costs and more across women's programs. And each sport's Excellence Fund provides programmatic and operational resources to that team.
It is easy for incredible plays to get lost in the stats. However, reaching this point — $35 million for W&M Athletics, increased scholarships for student-athletes and a new home in the Athletics Complex on the horizon — would not have been possible without a solid team and a dedicated fan base cheering them on to victory. Generosity along the way has added up.
Two such longtime members of the Tribe family who have provided unrestricted support for athletics are Charles Crone HON '04 and M. Virginia "Ginny" Ervin Crone M.B.A. '83. They are representative of the thousands of avid W&M fans who have chosen to give to the programs, athletes, coaches and staff who go All In every day.
When asked why people should give back, the answer comes back clearly and directly: "Because we have to," Ginny says. "The student-athletes who are supported by philanthropy have the opportunity to use what they get — experiences, opportunities, connections — forevermore. These are people who can do great things with a small investment from us — they get to fulfill their dreams and it can change their lives forever."
Both Ginny and Charles played sports in college. They frequently get to know members of the teams they support, creating deeper connections because they truly care about the impact they are making on the lives of each individual student.
"William & Mary athletes take things to a whole other level," says Charles. "Not only are they great athletes in competition, they're great students in the classroom. They have been given the opportunity to realize a great college education while also being star athletes, with fewer burdens thanks to unrestricted investments in their programs. Doors open for them in ways they never could have imagined."
The Crones see the impact of their generosity, and of All In as a whole, most clearly in increased opportunities for student-athletes to thrive and flourish both academically and in competition, allowing them to go on and make a difference in society.
"I hope that the students who come away from this university with that great education and those experiences will go on to put service above self," Charles reflects. "Athletes go out into the world as representatives of William & Mary, more so than the average undergraduate student. They interact with students from other schools and hear about their experiences. There are so many negative things in our world that can be changed for the better — that's why we want to empower others through our giving."
Riley Casey M.B.A. '23, a graduate student from Brentwood, Tennessee, hopes to translate her experiences as a member of the W&M women's basketball team to the real world and make a tangible difference in her future career.
"You learn a lot about yourself in athletics that you wouldn't otherwise," Casey says. "You don't know what your best is or how far you can go until you are really down to the wire, going into double overtime. Translating that to the real world, you learn teamwork, collaboration, communication, resilience, working with different leaders — those are things you wouldn't learn as readily elsewhere."
After graduating with an economics degree from Columbia University, where she played basketball all four years, Casey was drawn to W&M thanks to encouragement from her mother and her desire for a more traditional college-town feel after living in the city.
She played basketball in high school as well and comes from a "basketball family." She says playing for W&M is the most fun she's ever had playing the game. She attributes that to her coaches, her teammates, the fans and all those who support the team.
"The culture we have at William & Mary, from the fans to the athletes to everyone involved in making our experience possible, is not something you find at every school. That is a big part of what makes our community so awesome," she says. "As well as our scholarships, philanthropy makes possible all the other things that make our experience so special, from facilities to uniforms to team trips, and that's pretty incredible."
With a few more plays left to make and $20 million to go to reach All In's $55-million goal, athletes like Riley need support from the entire community. We still have the final push to go to make it to the goal line, reach home plate and make that buzzer-beater. It is a team effort. Join the Crones, get in the game and support the future of W&M Athletics.
"In five or 10 years when I look back on my time at W&M," Casey says, "I will want the women on the basketball team to have as much fun as I did when I was here. You want the next generation to have as good an experience, if not better, than you did, and the way you make that happen is by paying it forward."