All

Online Exclusives
Traveling the Way
Harris family establishes a study abroad scholarship to encourage William & Mary students to explore Spain's Camino de Santiago
July 7, 2023
By Tina Eshleman

Walking the Camino de Santiago in Spain is a meaningful way to prepare a William & Mary student for life as a global citizen. Just ask Jonathan Harris '94, who traveled the centuries-old pilgrimage trail by foot the summer after his sophomore year at the university.
During the 500-mile trek from the French-Spanish border to Santiago de Compostela, Harris experienced the landscape, culture and history of Spain in a deeply personal way. While doing so, he walked alongside a Brazilian ship's captain and a Dutch land-rights negotiator, among others who came seeking spiritual renewal, a deeper understanding of their place in the world and a human connection away from everyday distractions.
"It opened my eyes to our shared journey in life, and that people are more similar than we sometimes think," Harris says. "On the Camino, everybody is doing the same thing. It's not about status or position, but taking it step by step."
To make this kind of experience possible for other William & Mary students, Harris' family, including his parents and siblings, has established the Harris Family Study Abroad Scholarship Endowment. The donor group includes Don Harris '57, P '91, P '94, P '98 and Ruth Harris P '91, P '94, P '98 and their sons and daughters-in-law: Tim Harris '91 and Amy Brown Harris '91, M.A.Ed. '96; Jonathan Harris '94 and Stacey Reid Harris; and Chris Harris '98 and Rian Harker Harris '98.
Two additional donors who wish to remain anonymous partnered with the family to fund the endowment for a combined gift of $100,000. The scholarship will provide support for W&M students to participate in Camino pilgrimages or, if those opportunities are not available in a given year, other study abroad opportunities in Spain.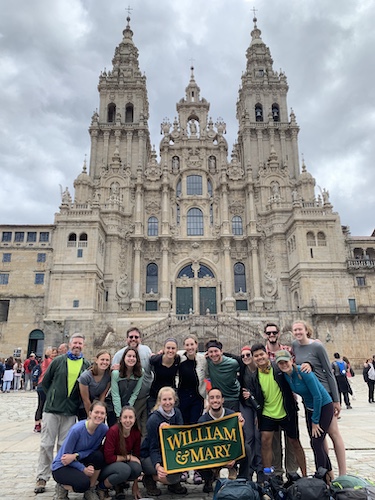 The Camino de Santiago, also known in English as the Way of St. James, comprises a network of trails that pilgrims have traveled since the ninth century to reach the Cathedral of Santiago de Compostela in Galicia, Spain. The cathedral was built at the site where, around the year 813, a hermit discovered a tomb believed to contain the remains of the Christian apostle James the Greater and two of his disciples. As recounted in the Book of Acts, James was martyred, and tradition holds that his body was transported from the Middle East to what is now northwestern Spain, where he had spent time evangelizing.
Today the pilgrimage routes continue to attract people from near and far, and interest has grown over the past 20 years. According to statistics published by the Oficina de Acogida al Peregrino (Pilgrim's Welcome Office), more than 437,000 made a pilgrimage to the Cathedral of Santiago de Compostela in 2022.
"Spiritually you get something out of it because you're out of touch with the ordinary world," Don Harris says. "You meet strangers with similar experiences and it's very enriching. For some people, it deepens their faith."
A Boston-area native, Don randomly picked out a William & Mary catalog at his high school library in the early 1950s and was captivated by pictures of the historic Wren and Brafferton buildings. Harris' three sons followed in his footsteps to become William & Mary alumni. Tim and Jonathan run the Williamsburg-based family business, La Tienda, which Don founded in 1996 with his sons' help. Previously, he had served as Episcopal chaplain for William & Mary students, based at Bruton Parish Church, after retiring from the Navy, and Ruth Harris served as music librarian at W&M from 1989 to 2004. The leading online U.S. retailer of gourmet food and cookware from Spain, La Tienda expanded with a retail shop and tapas bar in 2010.
As La Tienda's CEO, Tim is responsible for the operational and financial side of the business, while Jonathan is president and head of product development. Their younger brother, Chris, works for the U.S. Department of State and will soon move from the Republic of Georgia to Madrid, where his wife, Rian, will serve as deputy U.S. ambassador to Spain.
In addition to establishing the scholarship, the Harris family encourages cross-cultural learning through their business. Because La Tienda's employees represent at least eight different nationalities in Latin America, Asia and Europe, the company made it a priority early on to provide English literacy classes during work hours. More recently, they have added Spanish instruction for English speakers as well. La Tienda regularly employs William & Mary students as interns and provides case studies for business analytics students at the Raymond A. Mason School of Business.
"Williamsburg turned out to be a wonderful place for La Tienda to be based because we have so many neighbors who worked in the State Department, CIA or the military and have spent time in Spain," Tim says. "A lot of William & Mary professors have also been over there to study or travel.
"That's why we decided to open the restaurant and retail store on Jamestown Road as a way for my father, in particular, to continue to connect with people face-to-face, and share the way that the Spaniards celebrate life with their families around food — that's his favorite part."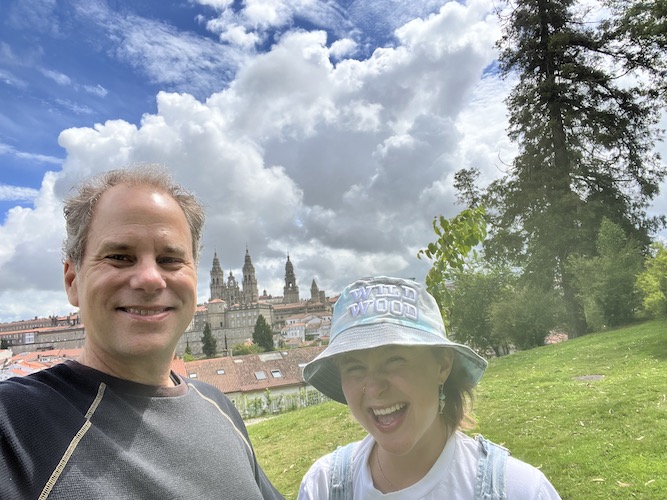 The family first discovered the Camino de Santiago when Don was serving as a chaplain in the U.S. Navy in Spain in the late 1960s and early 1970s. While there, the Harrises came to love the warmth of the Spanish people, the flavorful cuisine and the beauty of Romanesque art and architecture.
Since then, family members have returned periodically. Jonathan and Stacey walked a 62-mile stretch of the Camino for their honeymoon; they recently traveled there again to share the experience with their daughters, one of whom was making a pilgrimage with a college group, just as Jonathan had done.
Tim has traveled portions of the trails multiple times. While attending William & Mary, he studied with George Greenia, co-founder of the university's Program in Medieval and Renaissance Studies, now a professor emeritus of Hispanic studies. An authority on the Camino de Santiago. Greenia founded the W&M Institute for Pilgrimage Studies and has taken undergraduates backpacking on the Camino de Santiago to conduct interdisciplinary field research. He noted in a 2019 interview that his students had conversed with fellow pilgrims in English and Spanish as well as in French, German, Polish, Russian, Chinese, Japanese, Korean and even Hebrew.
In addition to establishing the scholarship endowment, the Harris family is providing funds through La Tienda to maintain the infrastructure in communities along the Camino de Santiago, such as installing water fountains and helping with repairs to the boarding houses or albergues where travelers stay.
"We encourage the La Tienda community to support this effort along with us and maybe go over there and help out," Tim says.
The goal of the Harris Family Study Abroad Scholarship is for at least one or two William & Mary students each year to have the opportunity to walk the Camino de Santiago on the W&M faculty-led summer program managed by the Reves Center for International Studies. Since 2012, 117 William & Mary students have participated in the Santiago de Compostela program. Faculty directors have represented Hispanic studies, theatre, sociology, chemistry and education. Typically, students spend two weeks walking from León, Spain, to Santiago de Compostela and then a few weeks in the medieval city completing their projects.
The Harris scholarship ties in with the university's commitment to study abroad experiences as a way to enhance academic excellence and prepare students for successful careers in a global economy. W&M ranks fourth among public universities in the nation in study-abroad programs, with almost 60% of undergraduates studying abroad before earning their degrees.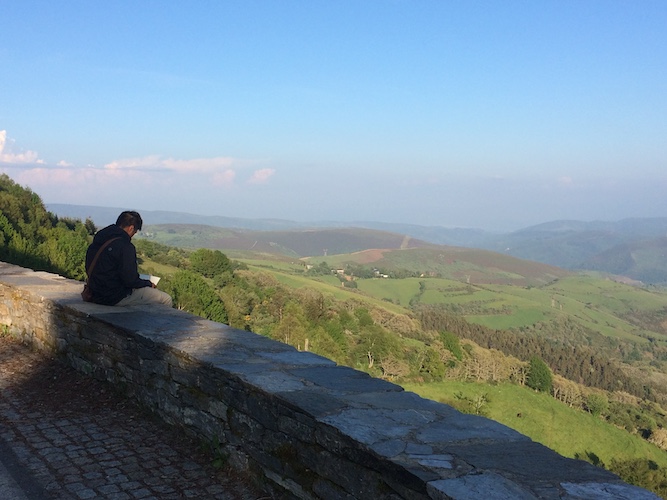 By participating in the Santiago de Compostela program and other study abroad opportunities, students can fulfill the university's COLL 300 requirement — part of the W&M College Curriculum courses designed to integrate knowledge across the academic disciplines. COLL 300 programs introduce students to people and ideas outside of their familiar surroundings.
"Study abroad on the Camino de Santiago hits all the right notes for a William & Mary experience — interdisciplinary inquiry, experiential learning, close student-faculty collaborations and global learning," says Ben Boone '07, M.Ed. '09, Ph.D. '19, assistant dean for undergraduate education in Arts & Sciences. He has led the program twice and wrote his dissertation on the Camino de Santiago and study abroad.
The Harrises hope that students who walk the Camino will connect with other pilgrims and bring back stories of learning and growth to share with their family and friends, Tim says. "We believe this experience will give them a different perspective on the world and on their lives."