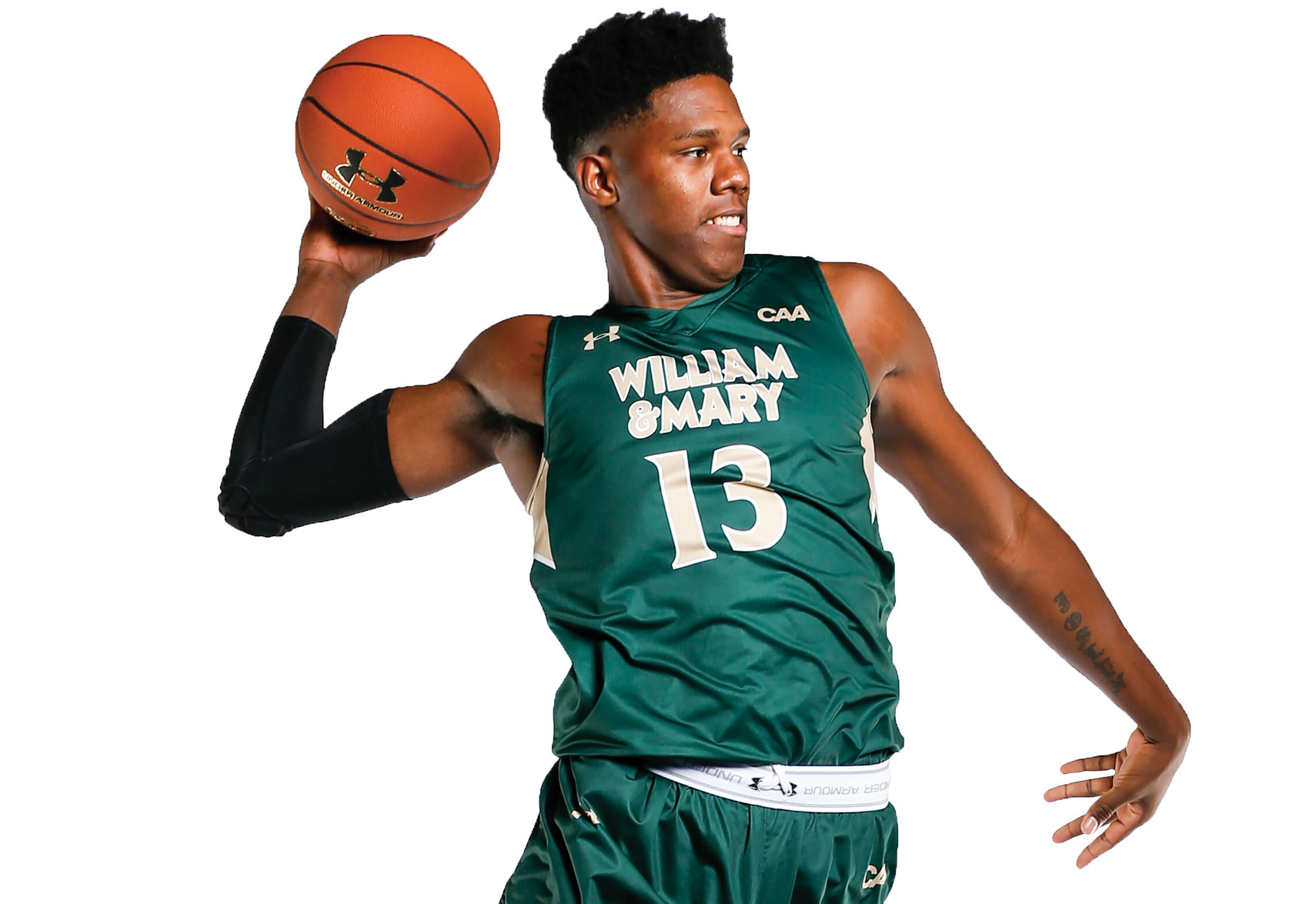 Last spring Nathan Knight '20 traveled across the country playing basketball during the pre-draft process for the NBA. From Utah to Boston to Charlotte, Knight and other college athletes tested their skills — and fate, in a way — all envisioning what it would be like to put on an NBA jersey of their own one day. The hoop dreams of boyhood were upon them, dreams that could all become reality with the swipe of a pen.
Knight is holding off on that dream for now. After a month of working out for various NBA teams, he decided to end his pre-draft tour and return to William & Mary for his senior year. Knight spoke publicly about his reason to stay at W&M last fall during the Scholarships Luncheon over Homecoming & Reunion Weekend.
"I found myself deeply conflicted and uncertain as I considered which path was the right one for me," Knight says. "The moment I made the commitment to myself to return to finish my studies, I recognized the opportunities a degree from William & Mary would offer me in the future. The connections I have built and the lifelong benefits I will reap from my time here are what brought me back."
A Welcome Return
Knight, a business analytics major, is a forward for William & Mary's men's basketball team, standing at 6 feet, 10 inches and weighing 245 pounds. To refer to Knight as a standout in William & Mary Basketball would be an understatement. His performance as an athlete has placed him in the university's record books.
During the 2018-19 season, Knight averaged 21 points, 8.6 rebounds, 3.5 assists and 2.3 blocked shots per game. He is the first college basketball player since Tim Duncan at Wake Forest in 1996-97 to average 20 points, eight rebounds, three assists and two blocked shots per game. Knight's scoring average is the highest for a Tribe player since 1968. Though his accolades don't define him, they did position him well for the pre-draft — so well that deferring his lifelong dream to play in the NBA was not easy.
"It was the most difficult decision I have ever made in my life," Knight says. "Playing in the NBA was something I have always wanted to do. When I weighed the pros and cons, ultimately I felt like I would have regretted not finishing my degree." His decision was greatly anticipated at William & Mary.
"We are ecstatic to have Nathan return for his senior season," Head Coach Dane Fischer said at the time of Knight's return. "He is one of the top big men in college basketball and a tremendous leader in our program. Nathan gained valuable experience and knowledge about his game throughout the pre-draft process, and he has a bright future ahead of him both here and beyond."
A Son of W&M
Knight grew up in Syracuse, New York, the youngest of four raised by his mother, Joslyn McGriff. Knight said his mother worked tirelessly to give him and his siblings the tools they needed to succeed. "My mother did what she had to do to make sure we survived.... I didn't grow up with much and the things that I have now, as simple as they may seem, I dreamed of having those things when I was a kid," he says.
One of those things was a college education. William & Mary was his and his mother's first and only stop on his college tour. Knight felt an immediate connection during that initial visit. He says that connection went beyond the opportunity to play basketball.
"Obviously, W&M is an amazing academic institution that offered me endless opportunities as an athlete, but I was really looking for a place where I could develop as a person," says Knight, a scholarship recipient. "I knew that this was a place where I could grow from a young boy into a man."
McGriff says she is proud of the man her son has become, but acknowledges that Knight's journey from upstate New York to Kaplan Arena has been riddled with adversity. A symbol of that road is etched on his basketball jersey. He wears the number 13 to honor the memory of his oldest sister, Yeisha Howard, whose birthday was April 13. She was killed when Knight was 9 years old.
"I'm proud because of everything he has come from and everywhere he is going," McGriff says. "Syracuse is one of the poorest cities in the country and that is where we come from. It's not just me that's proud of him. This whole city is proud of him."
McGriff says that Knight made the right decision to return to W&M.
"I asked him to think about what he had to face when he returned to William & Mary," McGriff says. "'What are you going to do about William & Mary? Are you up for the challenge of taking them to the championship?'"
Knight told her he is up for the challenge.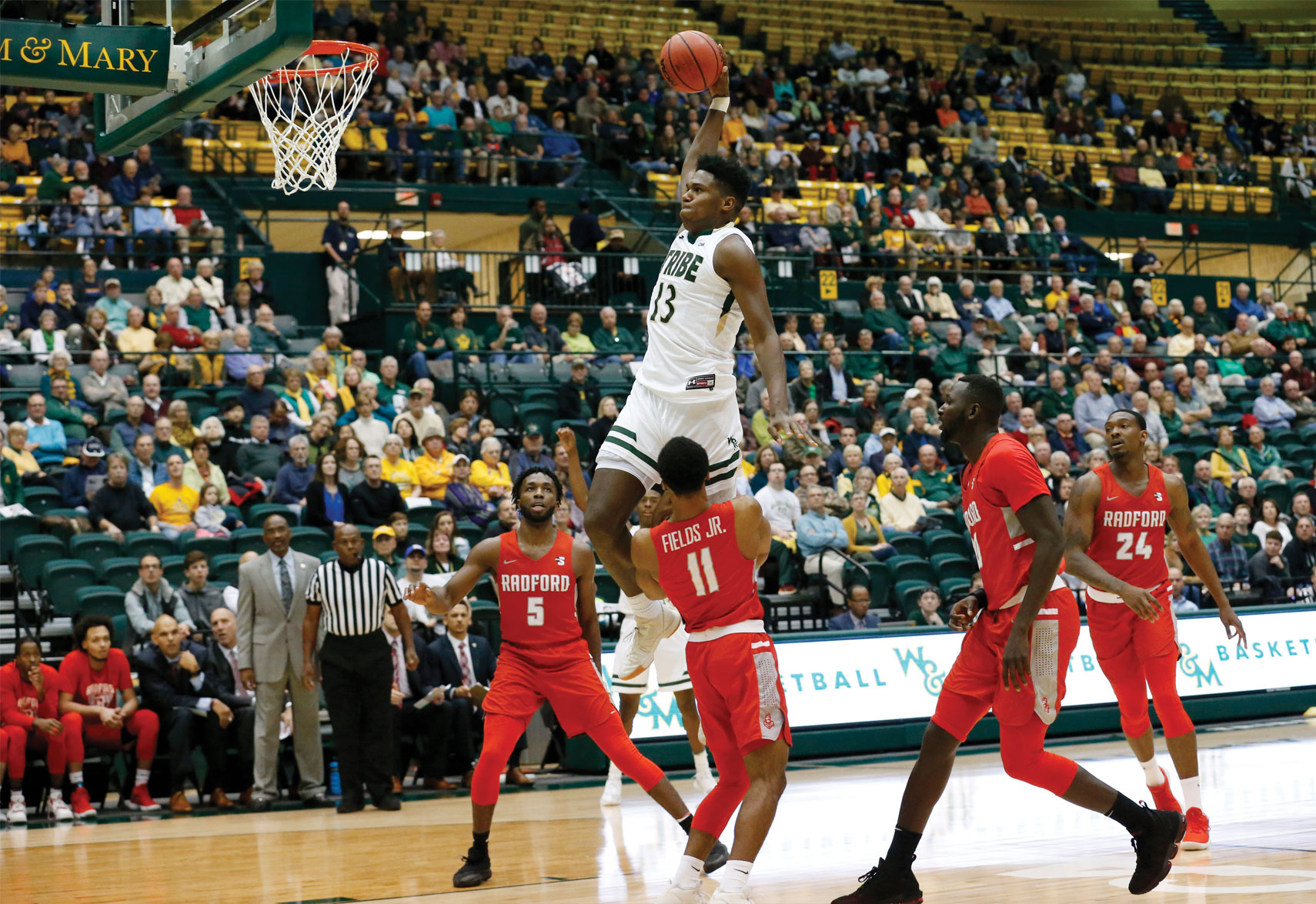 A Dream Lives On
During the basketball season, Knight must split his time between studying and 20 hours of practice inside Kaplan Arena. He has a careful routine on game days. His routine doesn't change, he says. It's the same every time.
Knight arrives 90 minutes before the game to shoot around, eat and listen to music. He makes sure his music choices are relaxing. Right now, Jhene Aiko's album is his favorite. Then, he eats a piece of Trader Joe's multigrain bread with peanut butter and honey on it, exactly 70 minutes before the game.
The routine helps him be ready for anything out on the court.
"I enjoy basketball because it is fast paced," Knight says. "Anything can happen on that court. Basketball is a sport where you can't be complacent. Right when you think something won't happen, it usually will."
Knight plans to give the NBA pre-draft a second try after completing his degree in the spring.
"I would like to go work out with more teams," Knight says. "Hopefully, I will stick somewhere. That's my dream."