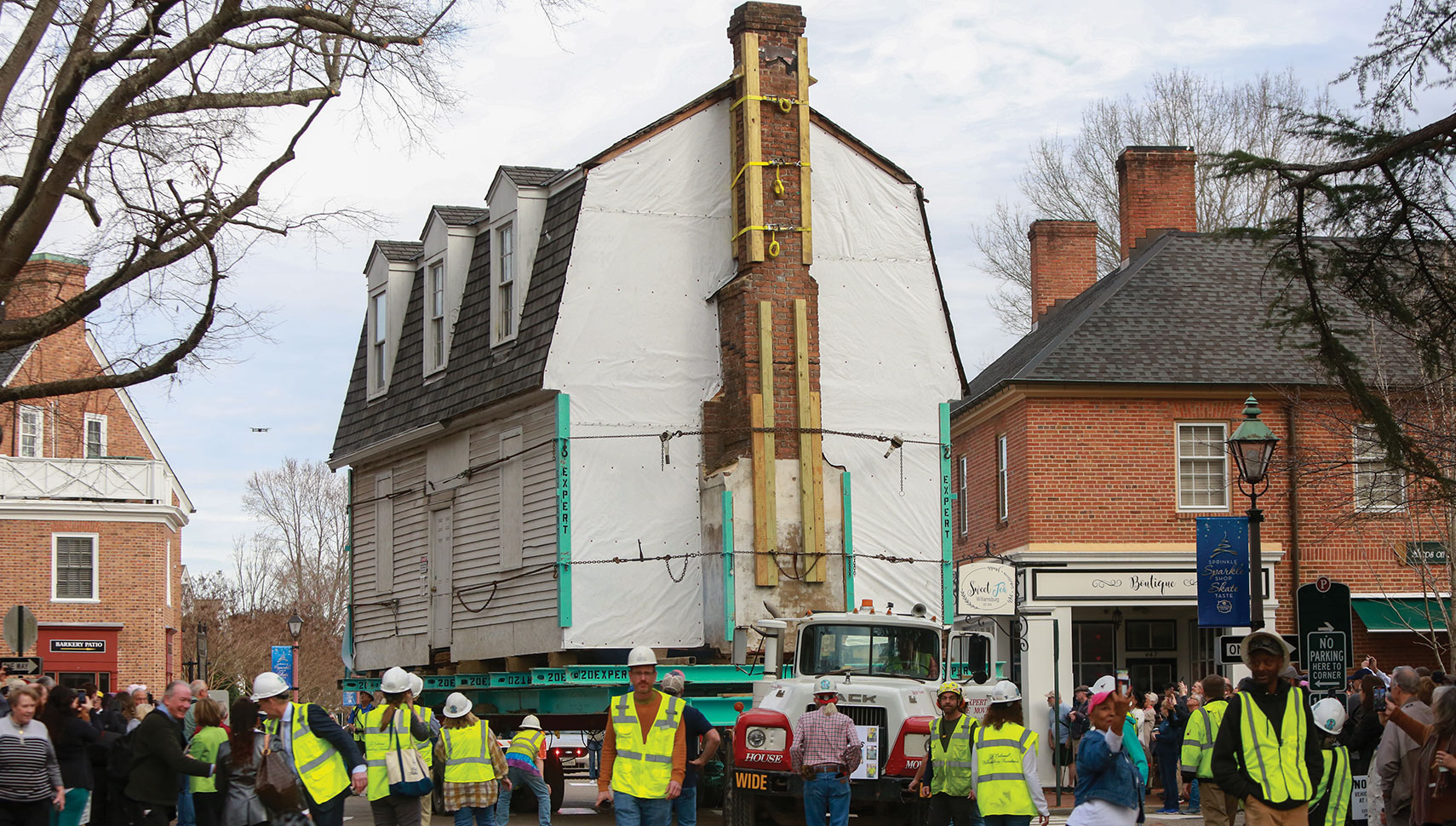 History is all around us in Williamsburg — and on W&M's 330th Charter Day, an important piece of America's story moved slowly through Williamsburg's streets on its way home.
The historic Williamsburg Bray School building, which was established in 1760 to educate free and enslaved Black children, was relocated to a lot in Colonial Williamsburg's Historic Area where it will be preserved and interpreted. William & Mary and the Colonial Williamsburg Foundation are working together to uncover the stories of the students who attended school there, their teacher, the building itself and the impact of the school on the community.
Hundreds gathered on the lawn of the Art Museums of Colonial Williamsburg for the Williamsburg Bray School Preservation Launch. Along with W&M President Katherine A. Rowe, speakers at the event included Virginia Gov. Glenn Youngkin; Williamsburg Mayor Doug Pons; Cliff Fleet '91, M.A. '93, J.D. '95, M.B.A. '95, president and CEO of The Colonial Williamsburg Foundation; and Maureen Elgersman Lee, director of the Bray School Lab and Mellon Engagement Coordinator for African American Heritage. The event also included a reading of the names of children who were known to be students in the Bray School and a song about working together in unity.
The Williamsburg Bray School closed in 1774 on the eve of the American Revolution, and the building that held it was eventually lost to history. The building's identity was rediscovered about 20 months ago after years of research started by Chancellor Professor Emeritus of English Terry Meyers led archaeological and architectural experts to the Bray-Digges House on the William & Mary campus.
It will be the 89th original structure restored by the Colonial Williamsburg Foundation and is located next to an excavation of a previous site for the First Baptist Church of Williamsburg, which was founded by free and enslaved Black people and was one of America's earliest Black congregations. The foundation anticipates restoring this nationally significant structure by 2024, which marks the 250th anniversary of the school's closure on the eve of the American Revolution.