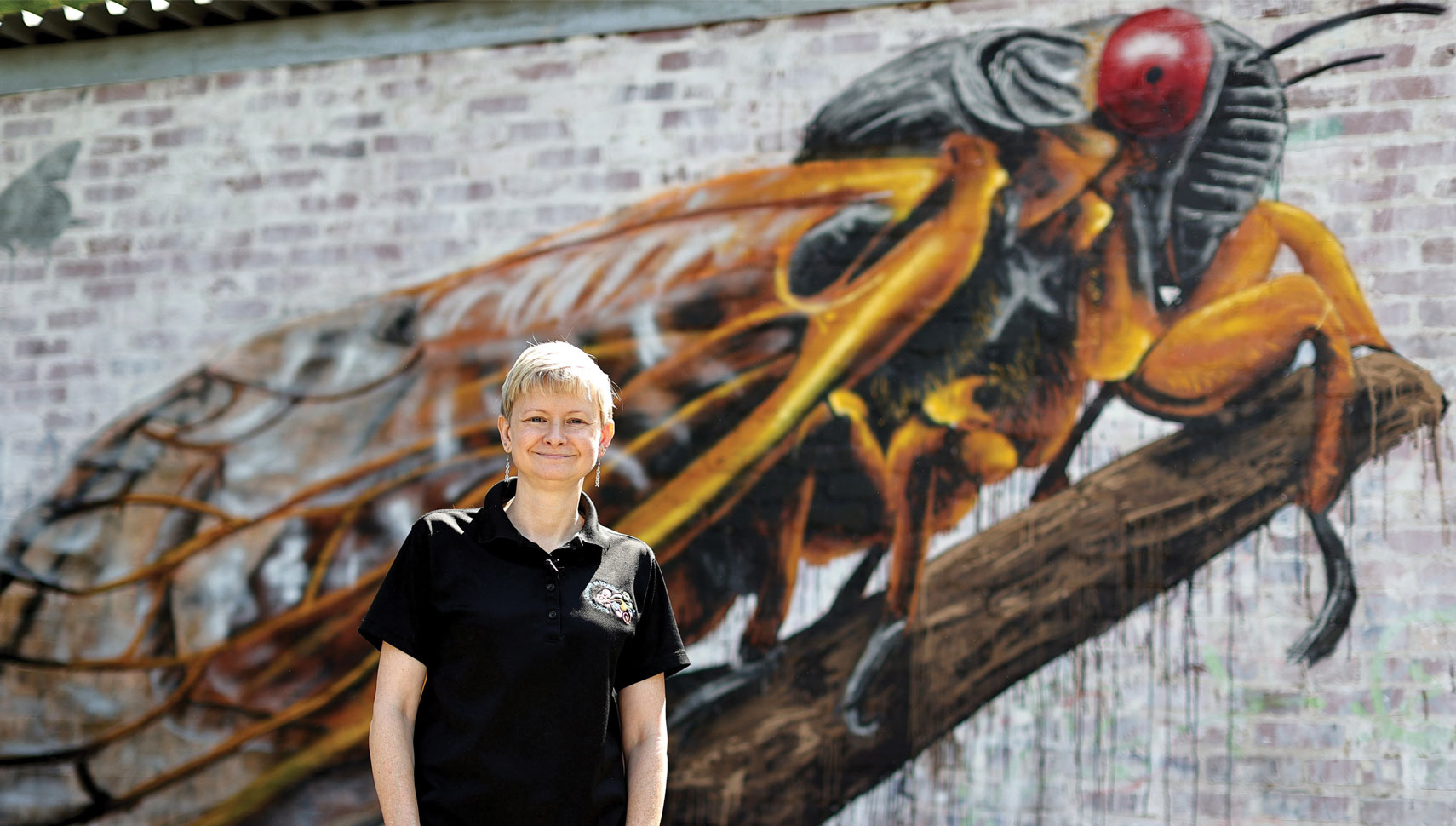 When Timshel Purdum '93 was growing up, she was fascinated by dinosaurs, but in her mind, that didn't translate into a career. As a William & Mary student, she was interested in science, but a laboratory or a hospital never seemed like the right place for her. She didn't realize immediately that there are careers in science beyond stethoscopes and test tubes.
After trying her hand at research in aquatic toxicology and finding she was too accident prone to do it for her career, she led children on wilderness expeditions — but discovered she wanted a better platform to teach. It wasn't until she volunteered at the Baltimore Aquarium that she started to think she had found her passion.
"Once I started teaching there, I remember feeling like, 'Wow, I can do this? This is really awesome,'" she says. Constantly learning new things in the realm of science and presenting that information to young minds excited her in ways she hadn't expected.
After a brief stint working at various nature centers, Purdum entered the world of museums. A common theme in all of them? They had dinosaur exhibits. She worked at the Academy of Natural Sciences in Philadelphia for 15 years and then, just over four years ago, her love for science led her back to her home state to the Science Museum of Virginia in Richmond.
Purdum's official title is the Virginia C. Ellett Director of Education. "One of my biggest roles is to have as much fun as possible in what I do. Sometimes that includes putting on weird costumes and making videos dressed as a honeybee. But it's always having fun with science."
The Science Museum offers a number of programs to educate guests of all backgrounds about science, with Purdum heading many of them. Most recently, she hosted Minds of All Kinds, the Science Museum's free disability-friendly event. People of all ages with disabilities are invited to the Science Museum to learn about all things STEM (science, technology, engineering and math) — complete with American Sign Language interpreters, sensory tables, quiet rooms and accommodating audio and visual effects.
However, Purdum's favorite event to host is Girls in Science, an event she wishes she could've attended as a young girl. Girls in Science is an event that invites girls from around the area to spend the night at the Science Museum and do experiments.
"When I'm teaching, I always try to model how cool it is to be in STEM," she says. "Modeling and mentoring are so important. I think that's why I really like being part of a science museum. We're all about those incredible moments of people seeing that it's OK to be passionate and curious and want to know about science from all different walks of life."
Finding unique ways to educate children and adults who come to the Science Museum is what occupies most of Purdum's time. "I love the freedom to get into character and bring science to life," she explains. One of her favorite projects included dressing up as Eleanor of Aquitaine, who was queen of England and France in the 12th century, to talk to adults about medical treatments in the Middle Ages — including showing adults real live leeches and talking about their uses — and relating that to modern science.
Jennifer Guild, manager of communications and curiosity at the Science Museum, appreciates having Purdum as a creative and enthusiastic presence. "The thing that is so fantastic about Timshel is that she's so passionate about science, and it permeates every part of her life. She's never not seeing things through a scientific lens."
Throughout her professional career, Purdum has nurtured her childhood passion by participating in a paleontology group called Elevation Science that goes on paleontological digs in southern Montana and northern Wyoming. "It's fantastic," she says. "You're avoiding rattlesnakes and scorpions, while at the same time, you're digging up something that no one's seen in 150 million years. That never stops being thrilling."
Anyone can volunteer to go on these digs, spending as little as a day or as long as a couple of weeks with the group. "I just love when it's the first time somebody is out with us," Purdum says. "We wander around looking for new fossil sites by sticking rocks to our tongues, and they're like, 'What are you doing?' and we explain that fossils stick to your tongue because there are capillaries from the gaps in the bone that a regular rock doesn't have."
In her search for the right college, Purdum only ever considered William & Mary, because of its strength as a liberal arts & sciences university. "Science is a human endeavor," she explains as the reason she chose W&M. "It's all about humans trying to understand the world. And if I didn't understand history, or art or English, I couldn't do what I do — for example, talking about the Middle Ages and how science was then and how it's changed — if I didn't have those perspectives."
After all the museums she's worked at and dinosaur expeditions she's gone on, Purdum's heart still lives at W&M: "My favorite life experiences were the four years I spent there."
And for some parting advice, Purdum offers this: "Don't accept less than you're worth when chasing your passion."