With so many great events to choose from, every corner of William & Mary was buzzing with activity at this year's Homecoming & Reunion Weekend, held Oct. 6-9. More than 3,000 alumni, parents, students, family and friends returned to campus to reconnect and celebrate the many ways they make William & Mary their own — the friendships, activities and traditions that define each person's W&M experience. View a photo recap.
All-alumni band N'est Pas kicked off the weekend's celebrations at the Friday Night Fest. Chip Esten '87, star of TV shows "Nashville" and "Outer Banks," and his bandmates Clem Cheng '86, John "Rocker" Hendrickson '88, Chris "Nike" Neikirk '88, Art "RT" Schmalz '88 and Dennis Whelan '87 (with special appearances by Jeff Williams '88 and Cory DeAngelo '90) set the tone for a weekend full of fun and reminiscing.
On Saturday morning, the Presidential Conversation explored the role of the media in democracy in the U.S. and around the globe, and President Katherine Rowe deepened our understanding of Vision 2026 and the democracy initiative. Alumni journalists David Culver '09, correspondent for CNN; Brendan Hoffman '02, freelance photojournalist based in Ukraine; Valerie Hopkins '10, international correspondent for the New York Times; and Weijia Jiang '05, senior White House correspondent for CBS News, spoke with moderator Drew Stelljes, associate vice president for student engagement and leadership, on issues including how the media can encourage diversity of voices and freedom of expression in this increasingly polarized environment. 

And what would Homecoming be without tailgating? Before the Tribe took on the University of Delaware Blue Hens on Saturday afternoon — and pulled off an impressive 28-21 win — the W&M community gathered for the Homecoming Tailgate in the Sunken Garden and affinity and identity group tailgates on the Alumni House Lawn, hosted by the Crim Dell Association: William & Mary LGBTQ+ Alumni, the Hulon Willis Association (alumni of Black and African descent), the Latinx Alumni Association (Latino/a), Asian-Pacific Islander-Middle Eastern Alumni and the Society of 1918 (women's giving society). New this year, a student showcase highlighted W&M's talented student groups. Hip-hop dance group Syndicate won the showcase's top prize.
Homecoming Grand Marshals Bill Armbruster '57 and Betty-Wright Armbruster '58, along with W&M student groups, the cheer squad, dance team and twirlers, led the crowd in the spirited Green & Gold Walk before the football game, culminating in front of the Alumni House with a pep rally led by Athletics Director Brian Mann.
During the game, Armbrusters were honored for their many years of devotion to William & Mary. They have been attending Homecoming and other W&M events for more than 60 years and are longtime volunteer leaders and supporters of W&M Athletics and the W&M Alumni Association.
At halftime, William & Mary celebrated the induction of retired 1st Lt. Michael K. Powell '85, D.P.S. '02 into the 2022 U.S. Army ROTC Hall of Fame. Read more about this important honor.
The Association of 1775 hosted its popular military and veterans breakfast with special guest speaker Lt. Gen. Maria R. Gervais, deputy commanding general and chief of staff for U.S. Army Training and Doctrine Command. The Olde Guarde (alumni who graduated 50 years ago or more) enjoyed a Friday brunch. The Order of the White Jacket (OWJ) held a 50th anniversary celebration of their commitment to awarding significant scholarship opportunities for William & Mary students, strengthening bonds between alumni, alma mater, and the William & Mary Alumni Association, and honoring the work ethic of students and alumni who worked in food service to finance their education.
Alumni from class years ending in 2 and 7 celebrated their 5th through 45th Reunions on Saturday night, with special additional celebrations for the Young Guarde (alumni within 10 years of graduation) and the classes of 2020-2022. Reunion classes also took class photos. To access your class photo, visit homecoming.wm.edu/photos.
Though Homecoming has changed in various ways over the six decades the Armbrusters have been attending, they always enjoy their tailgate with friend Don Beck '64, getting together with the Olde Guarde (of which Bill is a former chair) and OWJ and catching up with friends, including Bill's Kappa Alpha brothers.
"It's always an incredible experience, spending time with the friends who have meant the most to us," says Bill Armbruster. "It is like coming home."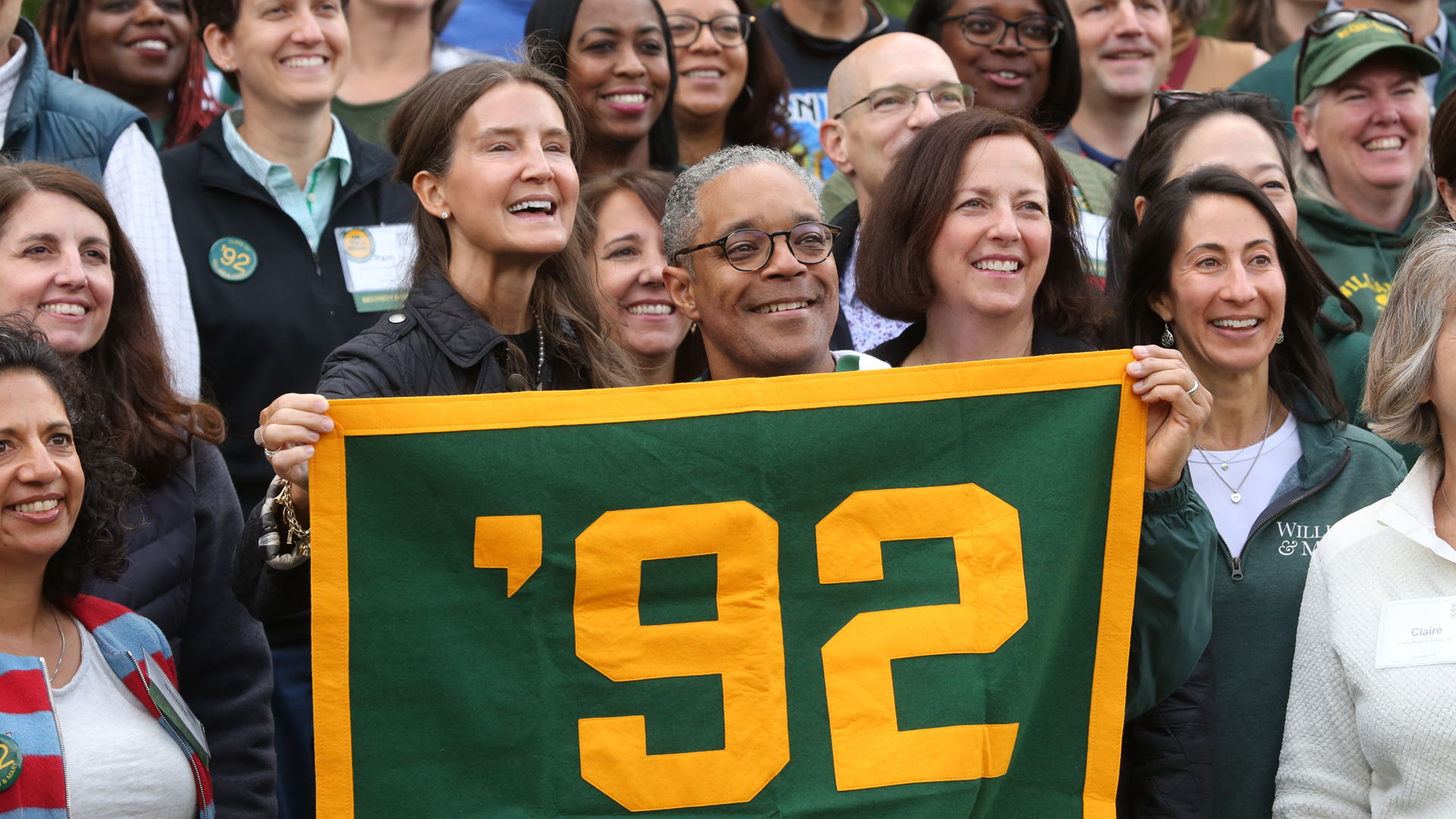 Photo: Skip Rowland '83