All

Online Exclusives
AidData Seeks Expanded Role in Global South
$1.5M grant from The William and Flora Hewlett Foundation supports William & Mary research lab's efforts to inform the design and delivery of foreign aid and credit to the Global South, and give leaders and citizens in developing countries more voice
October 16, 2023
By Tina Eshleman

War. Pandemic. Migration. Food insecurity. Climate change-induced drought and flooding. Economic and gender inequality. Political polarization. Debt distress. These crises affect people worldwide, but they are disproportionately felt in developing countries, often referred to as the Global South.
As international powers including the United States, Russia and China compete to exert influence in the Global South, leaders and citizens in developing countries need more of a say in protecting their interests and shaping their future when high-stakes negotiations are taking place, says Brad Parks '03, executive director of William & Mary's AidData research lab and professor at the Global Research Institute (GRI). 
That is why AidData aims to expand its role from that of an independent provider of objective data and analysis for policymakers to an agenda-setter and an advocate for underrepresented voices, Parks writes in a blog post titled "Where is AidData heading next?" about the lab's organizational strategy for the next three years. The strategy includes advising development finance institutions on how to respond more effectively to the needs of developing countries.
A new $1.5 million grant from The William and Flora Hewlett Foundation supports AidData in pursuing its objectives as part of the research lab's design, implementation and evaluation of policies and investments that affect the Global South. 
"Now, more than ever, decision-makers need to be able to pinpoint needs and target resources to developing country populations with higher levels of precision," Parks writes. "They need faster and cheaper ways to identify the policies and investments that are most effective at increasing local resilience to global shocks and stressors."
In addition, "we will more consistently draw upon our unique sources of data and analysis to speak to hot topics and live debates and place emphasis on those which can challenge conventional wisdom or otherwise address an evidentiary blind spot," Parks writes. 
The rising tide of debt distress in the Global South is a major focus of AidData's research on Beijing's overseas lending program. As reported by The New York Times, over half the world's poor countries owe more to China than to all Western governments combined. In addition, the International Monetary Fund has said that three-fifths of the world's developing countries are having considerable trouble repaying loans or have already fallen behind on their debts, according to the newspaper's Oct. 6, 2022, article.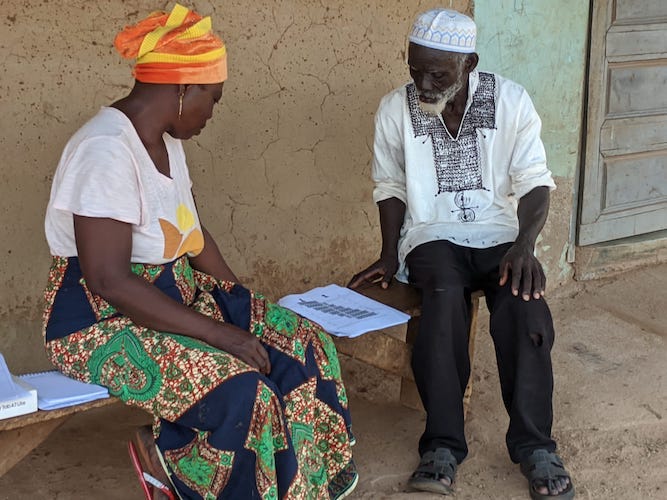 When countries are saddled with such large debt burdens, there is less money to fund education, health care and other needs.
"The biggest losers will end up being ordinary people in the developing world who are denied basic public services because their governments are saddled with unsustainable debts," Parks told The New York Times in a July 8, 2023, article.
Aside from its economic significance, the Global South is gaining attention as a geopolitical force. An example is the reluctance of developing nations to openly oppose Russia's war in Ukraine. When the United Nations General Assembly sought to pass a resolution in March 2022 that called upon Russia to "immediately, completely and unconditionally withdraw all of its military forces from the territory of Ukraine," 34 countries in the Global South followed China's lead by neither voting for nor against the resolution. Nearly all of these countries are major recipients of aid and credit from Beijing.
"Global South countries occupy a critical role in an increasingly multipolar global order," concludes a January report by the Stimson Center, a nonprofit, nonpartisan think tank. "Their resources and partnerships are essential to furthering prosperity for all and addressing global challenges." 
To help meet an increased demand for data and policy advice on challenges facing the Global South, AidData partners with policy research organizations and government agencies in developing countries to support their work and expand the use of AidData's tools, data and analysis. AidData also will begin offering in-person, hybrid and online trainings for local stakeholders in developing countries on topics such as economics and data journalism.
Later this fall, AidData will launch the next wave of its Listening to Leaders survey of 100,000 government, parliamentary, civil society and private sector leaders across 142 low- and middle-income countries. The survey provides an opportunity to hear directly from leaders about the priority problems they want to solve and how donors can better align their assistance with local needs.
The latest grant continues a 15-year partnership between the Hewlett Foundation and AidData, which operates under William & Mary's Global Research Institute, a multidisciplinary hub comprising over 60 faculty and staff and more than 200 students.
"From AidData's earliest days, the Hewlett Foundation has been a trusted partner," Parks writes, "as we have a shared commitment to evidence-informed policymaking, inclusive governance and gender equity."