All

Online Exclusives
From Ideas to Impact
As the Global Research Institute's founding labs celebrate 20 years, we look back at how they came to be
June 26, 2023
By Martha Reilly

Good ideas can come from anywhere. Twenty years ago, they came from the Green Leafe Cafe, where the honors thesis committee for Brad Parks '03 encouraged him to publish a book about his research on foreign environmental assistance.
"On one condition," he responded. "That you guys write it with me."
The group, consisting of George & Mary Hylton Professor of International Relations Mike Tierney '87, M.A. '88, P '15, sociology professor J. Timmons Roberts and economics professor Robert Hicks in addition to Parks, began drafting on a napkin. Putting pen to unconventional paper that day brought Project Level Aid (PLAID) — now known as AidData — to life.
These days, AidData is recognized as a leading expert on China's overseas lending — along with associated implications, potential risks and assessments of resulting debt. Parks and his team have conducted briefings with key decision-makers at the highest levels of government and have been cited in numerous speeches from policymakers.
Just months after the creation of Project Level Aid, another student posed a catalytic question at the Green Leafe. Tierney's research assistant, James Long '03, used one of their check-ins to ask, "Why do you teach Intro to International Relations so differently from the way you research it?"
While Long had seen many faculty members emphasize paradigms such as realism and war in the classroom, these frameworks did not guide the research he had been working on that summer, which centered on international institutions and development. He wondered if this hypothesized "mismatch" was common across the discipline.
Tierney responded with open-mindedness: "Let's see."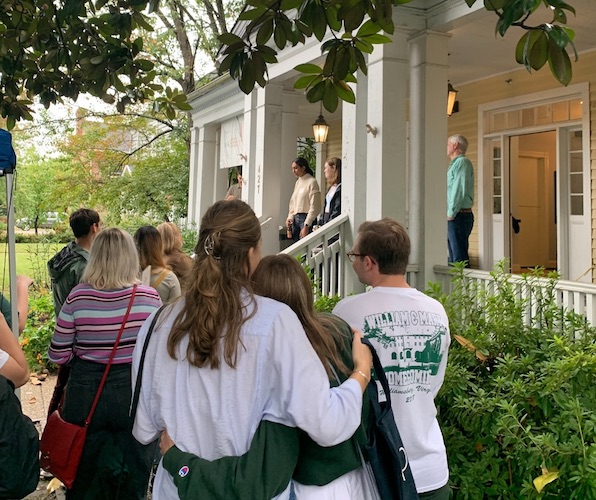 And so a survey-driven research lab — the Teaching, Research & International Policy Project (TRIP) — was founded. In the early days, Long worked with co-principal investigators Tierney and Sue Peterson, the government department chair and Reves Professor of Government and International Relations, to code journal articles for concepts, methods and paradigms — from democratic backsliding to quantitative analysis to realism.
"Now there's natural language processing and machine learning to do these things," Long said. "But we humans had to figure this out 20 years ago."
The growing team then developed over 70 questions so that international relations scholars around the country could weigh in for themselves. The lab's first survey received 1,084 responses from faculty who shared insights on the relationship between research and pedagogy, their personal subspecialties, the influence of 9/11 on curriculum and more. As the subsequent 2004 report reads, "We compare what we preach with what we teach."
While analyzing results and strategizing next steps, the TRIP project leaders had good company in the basement of William & Mary's Morton Hall: Parks' team of undergraduates, who were supplying critical data for PLAID's forthcoming book, "Greening Aid? Understanding the Environmental Impact of Development Assistance." Student researchers such as Jess Jones '05 tracked donors' spending behavior, aiming to understand why they gave foreign aid and explore the positive or negative impacts on the natural environment.
"Very quickly, this became a database effort because we had to have data on what was being invested in," Jones said. "But the available data was incomplete in a couple of different ways."
Big variations emerged in terms of quantity and quality of public information, Jones said. China and the Islamic Development Bank, for instance, were not reporting the number of projects in a standardized fashion — making it difficult to compare funding origins. Descriptions of the money's purpose were sometimes thorough but at other times sparse or clouded. Jones recalls one instance where intent was described as a single line of text — something to the effect of "investing in democracy."
"As a result, our focus became 'Can we augment existing information with new sources to come up with a clear picture of what's being done? Then can we develop a coding scheme to go through and categorize all of that funding according to a five-point scale of whether or not it's environmentally friendly?'" she said.
But key information was not available at the click of a button in 2003. Students ordered critical documents, such as annual reports from development banks, through interlibrary loans, Xeroxed these hard copies and then scanned or manually entered content.
An assortment of external grants and contracts sustained the labs for a few years. But the biggest early win emerged from within the university, once PLAID had completed its data set and asked to present it to the vice provost in 2007.
"Right after that meeting, Dean of Arts & Sciences Carl Strikwerda told us, 'I'm going up to New York to talk to people at the Rockefeller Foundation,'" Tierney said. "He talked to them about our research, and they said it sounds like it would fit nicely with a new initiative from Hewlett and Gates."
Subsequent introductions led to more presentations and more funding: $3 million from the Bill & Melinda Gates Foundation and $1 million from The William and Flora Hewlett Foundation.
"All we originally wanted to do was test hypotheses from sociology, economics and political science," Tierney said. "We never thought about the real world. After we built the data set, people from the policy world realized it might have value to them, in terms of aid transparency, aid coordination and aid effectiveness. We were like, 'Really? They don't care about cross-national time series analysis?'"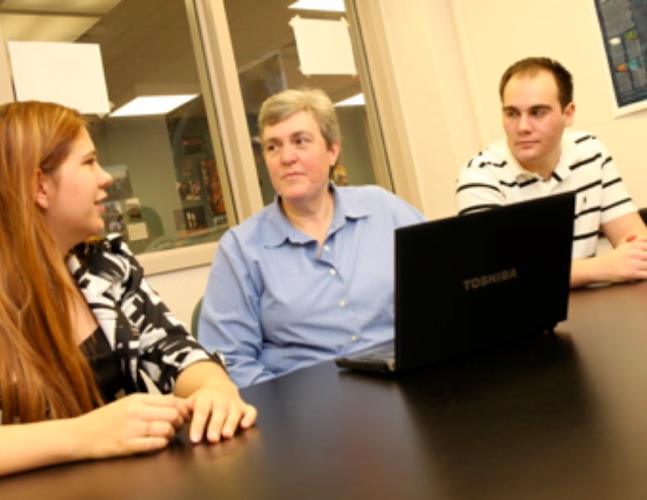 This increased financial support led Tierney and Peterson to request a meeting with the director of William & Mary's Reves Center for International Studies, the dean of Arts & Sciences and the vice provost for research. They asked for $12,000 to combine the TRIP project and PLAID under one research umbrella with a centralized grant management system.
The resulting Institute for the Theory and Practice of International Relations (ITPIR) expanded its audience beyond the ivory tower, aiming to inform public debate and policy practitioners. Today, ITPIR is known as the Global Research Institute, comprising 10 labs, employing over 200 student researchers and generating front-page coverage in publications such as The New York Times. 
"It wasn't just research for research's sake," said Jones, who worked as ITPIR's associate director from 2008 to 2009. "All of a sudden, it was research for advocacy, which was sort of a mental shift from when the goal was to have an academic publication. There was a change in how we operated."
While this on-campus network continued growing, the labs' reputations spread far beyond Williamsburg. In 2009, TRIP project research assistant Richard Jordan '10 attended an International Studies Association (ISA) conference in New York. A panel was prepared to share the TRIP project's new survey results, which documented how international relations scholars around the world viewed the discipline's purpose and substance.
"We got put in this tiny room that could hold 10 people — basically a hotel room," Jordan said. "[Tierney] insisted 'People want to come to this.' He raised a firestorm with the ISA administrators and told them that we needed to be in a big ballroom. We got moved to a space that could seat 200 people, and we filled all the chairs and had people standing."
Exceeding expectations became the norm, and that mentality trickled down to the students, Jordan said.
"There was a real sense of excitement from the labs," Jones said. "I remember one time we had a party where we painted the stairs because we were just so thrilled to have a place where students could come and feel like they were part of something."
Those researchers were laying the groundwork for practices that GRI still employs today — such as barbecues, open house events, cross-lab partnerships and project management standards.
At the time, it would have been difficult to foresee how the community would evolve, or even whether the labs would still exist by 2023.
"Especially for PLAID, it was not at all obvious that it was going to work," Jordan said. "In fact, if you had asked Mike Tierney in a candid moment, I think he would say a lot of people were pushing back and saying, 'What you want to do isn't possible.' But he was determined that no one was measuring aid in the way they needed to be, and we were going to be the ones to do it."
To read the rest of the story behind the Global Research Institute's history and growing impact, see the GRI post on William & Mary Blogs.